Toasted Spinach Pesto Ravioli
Stuffed with pesto, spinach and cheese, crisped to perfection, and ready to be dunked in marinara, these Toasted Ravioli are the kind of appetizer that win people over in one bite!
10 Servings | 1 hours & 10 Minutes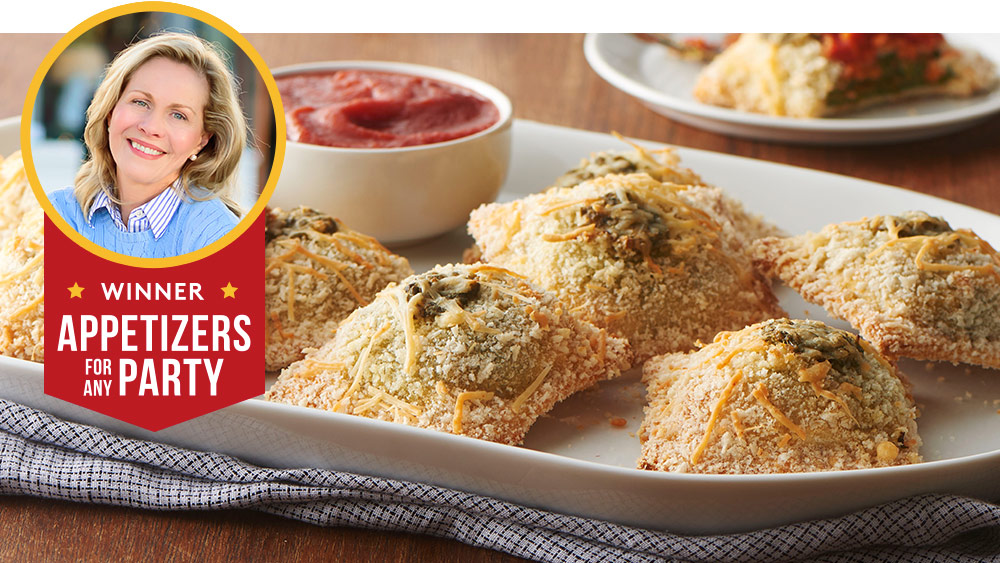 Ingredients:
1 box (9 oz) frozen chopped spinach
4 oz (half of 8-oz package) cream cheese, softened
4 tablespoons basil pesto (from 7-oz container)
3 eggs
3/4 cup shredded Parmesan cheese (5 oz)
1 can (8 oz) Pillsbury™ refrigerated crescent dough sheet or 1 can (8 oz) Pillsbury™ refrigerated crescent dinner rolls
11/2 cups Progresso™ plain panko crispy bread crumbs (from 8-oz box)
1 cup marinara sauce (from 24-oz jar)
Method:
Heat oven to 375°F. Line 2 large cookie sheets with cooking parchment paper, or spray with cooking spray.
Microwave spinach as directed on box. Drain well; squeeze dry with paper towels.
In large bowl, beat spinach, cream cheese, 2 tablespoons of the pesto and 1 of the eggs with electric mixer on medium speed about 1 minute or until blended. Add 1/2 cup of the Parmesan cheese; beat on low speed about 1 minute or until blended.
Lightly sprinkle work surface with flour. Unroll dough on surface; if using crescent dinner rolls, pinch seams to seal. Press or roll into 15x12-inch rectangle. Using pizza cutter or sharp knife, cut rectangle into 5 rows by 4 rows to make 20 (3-inch) squares. Spoon heaping tablespoonfuls spinach mixture in centers of 10 squares. Top with remaining dough squares, stretching dough to cover filling; press edges with fork to seal. Place on 1 of the cookie sheets. For easier handling, refrigerate 15 minutes.
Meanwhile, in medium bowl, beat remaining 2 eggs with whisk or fork. In shallow bowl, add bread crumbs. Set aside.
Dip each ravioli into egg, allowing excess to drip off, then into bread crumbs, coating both sides of ravioli. Place ravioli 1 inch apart on second cookie sheet. Top each ravioli with about 1/2 teaspoon of the remaining pesto; sprinkle with remaining 1/4 cup Parmesan cheese.
Bake 16 to 18 minutes or until golden brown.
In small microwavable bowl, cover and microwave marinara sauce 30 to 60 seconds on High or until warm. Serve ravioli with marinara sauce.
Chef's Notes:
For best results, work with cold dough directly from refrigerator.