Peanut Butter Crunch Layer Bars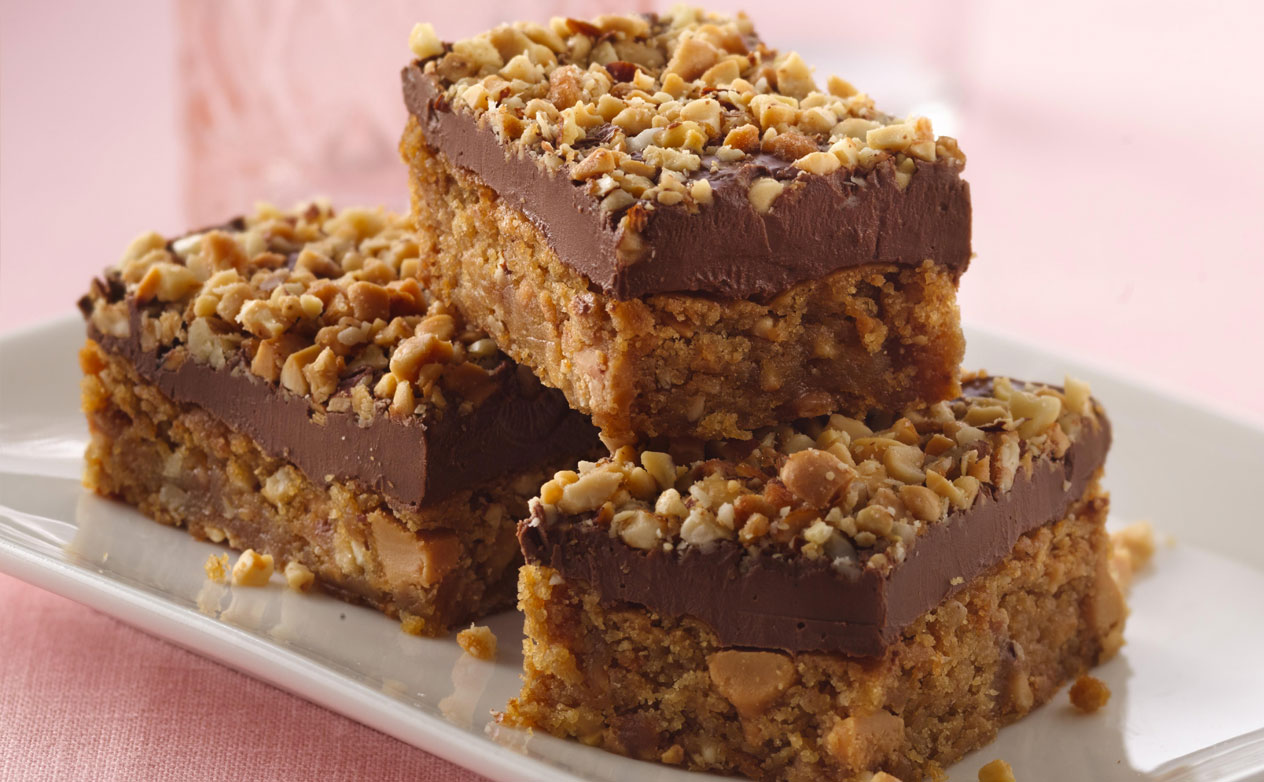 Ingredients:
2 rolls Pillsbury® refrigerated peanut butter cookie dough
3/4 cup Heath® Bits 'O Brickle® toffee bits
1 cup Reese's® peanut butter baking chips
1 3/4 cups Fisher® Nut Topping
1 teaspoon McCormick® Pure Vanilla Extract
1 bag (12 oz) Hershey's® semi-sweet chocolate baking chips
1 bag (11 oz) Hershey's® butterscotch baking chips
1/4 cup Jif® Creamy Peanut Butter
Method:
Heat oven to 350 degrees F. Spray 13x9-inch pan (dark pan not recommended) with Crisco® Original No-Stick Cooking Spray. In large bowl, break up 1 1/2 rolls of cookie dough. (Refrigerate 1/2 roll cookie dough for another use.) Add toffee bits, peanut butter chips, 1/2 cup of the nut topping and vanilla. Mix with wooden spoon or knead with hands until well blended. Press evenly in bottom of pan.
Bake for 18 to 24 minutes or until golden brown. Remove from oven to cooling rack. Cool completely, about 1 hour.
In large microwavable bowl, microwave chocolate chips and butterscotch chips on High 2 to 2 minutes 30 seconds, stirring every 30 seconds, until smooth. Stir in peanut butter until smooth. Spread over cooled bars. Sprinkle with remaining 1 1/4 cups nut topping; press in lightly. Refrigerate 30 minutes or until firm.
For bars, cut into 6 rows by 6 rows. Store covered.