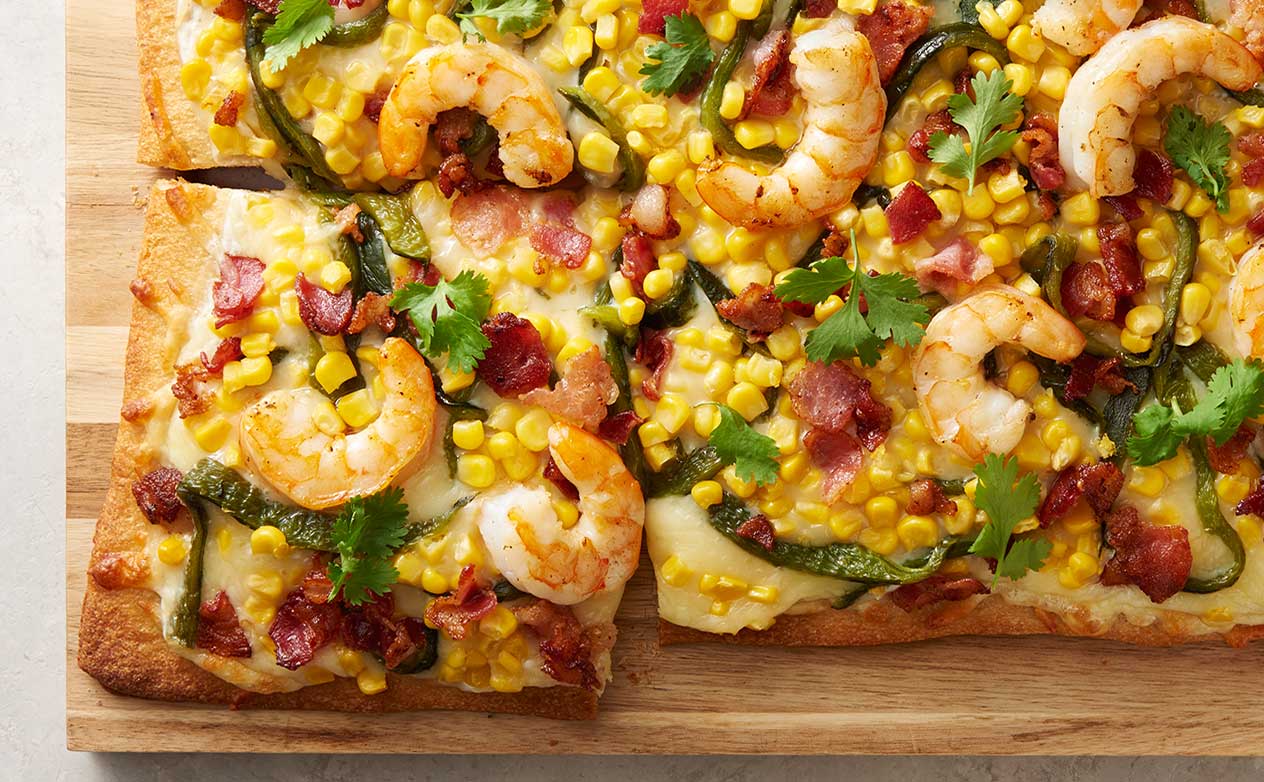 Extra creamy and cheesy, with a dynamite combination of roasted poblano chiles, shrimp, corn and crispy bacon, this delightful flatbread's flavor can't be beat. Ready in less than an hour, this spicy flatbread offers maximum flavor payoff with minimal effort—just how we like it!!
6 servings
50 Minutes
Print
Ingredients:
2 medium poblano chiles (about 5 inches long)
6 slices bacon, cut into 1/2-inch pieces
12 uncooked extra-large shrimp (about 1/2 lb), thawed if frozen, peeled, deveined, tail shells removed
1/4 teaspoon salt
1/4 teaspoon pepper
1 can (11 oz) Pillsbury™ refrigerated thin pizza crust
1/2 cup Mexican crema
4 cups shredded Monterey Jack cheese (16 oz)
1 can (15.25 oz) whole kernel sweet corn, drained
1/4 cup fresh cilantro leaves
Method:
Set oven control to broil. Line cookie sheet with foil; place chiles on foil. Broil chiles 3 to 4 inches from heat about 5 minutes on each side or until skin blackens and blisters. Wrap blackened chiles in foil. Let stand 10 minutes. Turn off broiler; heat oven to 425°F. Move oven rack to middle position. Spray large cookie sheet with cooking spray.
Meanwhile, in 10-inch nonstick skillet, cook bacon over medium-high heat 4 to 6 minutes, stirring frequently, until crisp. Remove bacon from skillet. Place on paper towel-lined plate; reserve drippings in skillet. Add shrimp to drippings in skillet; sprinkle with salt and pepper. Cook 1 to 2 minutes on each side or until shrimp just begin to turn pink. Place shrimp on paper towel-lined plate. Set aside.
Unroll dough onto cookie sheet. Starting at center, press dough into 15x10-inch rectangle. Bake 6 to 8 minutes or until light golden brown.
Meanwhile, gently rub chiles with paper towel to remove as much skin as possible. Cut top from each chile; remove seeds. Cut chiles into 1/4 inch strips.
Spread crema over crust to within 1/2-inch of edges. Top with cheese, roasted chiles, corn, bacon and shrimp.
Bake 9 to 11 minutes or until golden brown and shrimp is cooked through. Garnish with cilantro leaves.
Chef's Notes:
Chef's Notes: To roast the poblano chiles over a gas burner, carefully roast them for about two minutes on each side, rotating with tongs, until chiles blacken and blister.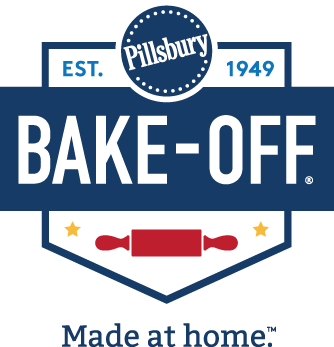 Andrea Espinoza
Stockton, CA
Bake-Off® Contest 49, 2019
Bake-Off is a registered trademark of The Pillsbury Company ©2019
Trademarks referred to herein are the properties of their respective owners.