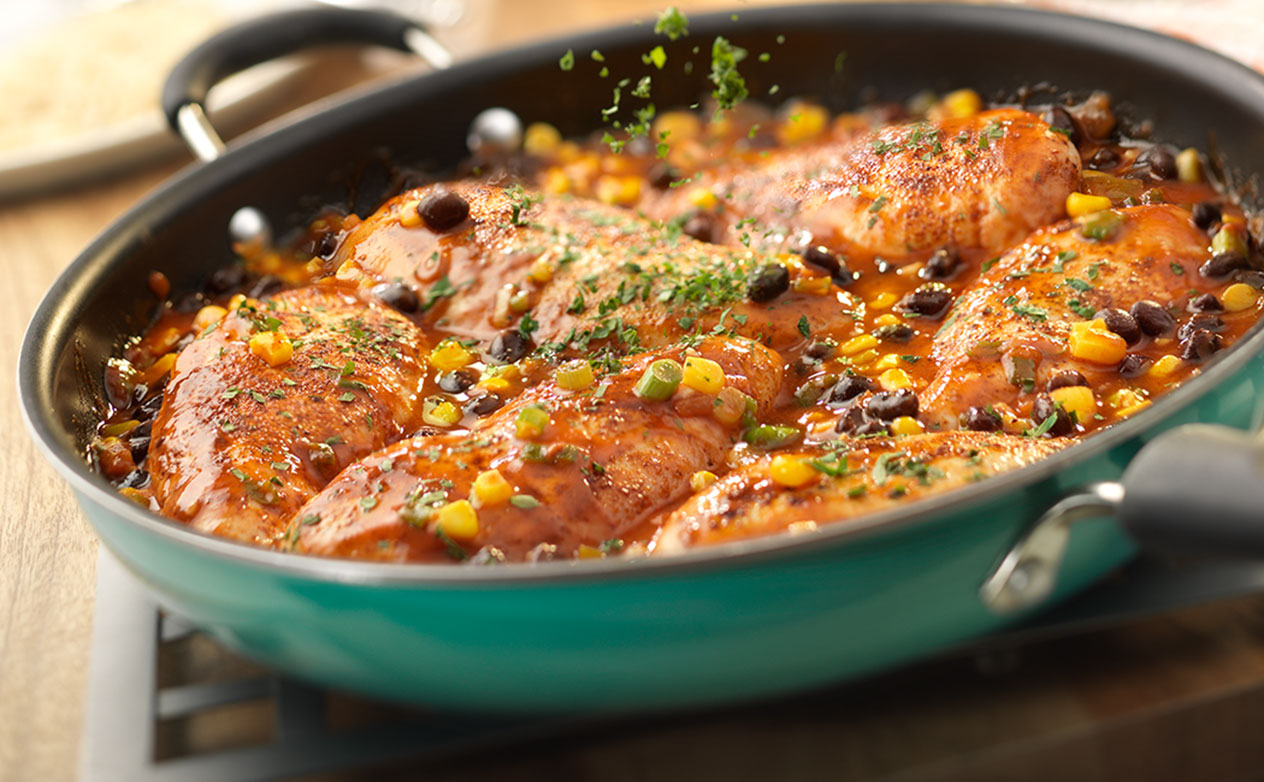 This one-skillet dish bursts with flavor. Sauteed chicken breasts are simmered in a kicked-up picante sauce with black beans & corn.
6 Servings
20 Minutes
Print
Ingredients:
2 teaspoons chili powder
1 teaspoon ground cumin
1 tablespoon vegetable oil
1 3/4 pounds skinless, boneless chicken breast halves
1 teaspoon minced garlic
4 green onions, minced (about 1/2 cup)
1 can (10 3/4 ounces) Campbell's® Healthy Request® Condensed Healthy Request® Tomato Soup
1/2 cup Pace® Picante Sauce
1/2 cup water
1 can (about 15 ounces) black beans, rinsed and drained
1 cup whole kernel corn
2 tablespoons chopped fresh cilantro leaves
Method:
Stir the chili powder and cumin in a small bowl. Season the chicken with the chili powder mixture.
Heat the oil in a 12-inch skillet over medium-high heat. Add the chicken and cook for 6 minutes or until browned on both sides. Add the garlic and onions and cook and stir for 1 minute.
Stir in the soup, picante sauce and water and heat to a boil. Reduce the heat to medium-low. Add the beans and corn. Cover and cook for 15 minutes or until the chicken is cooked through. Sprinkle with the cilantro.
Chef's Notes:
Ingredient Note: We develop our recipes using a 4-to 5-ounce skinless, boneless chicken breast half per serving. However, there are a range of sizes available in-store, from the butcher counter to the meat case and the freezer section. Use whichever you prefer- just follow the recipe as written above for the best result. If you're using larger chicken breasts they may require a little longer cooking time.
Serving Suggestion:Serve the chicken and sauce over hot cooked brown rice.