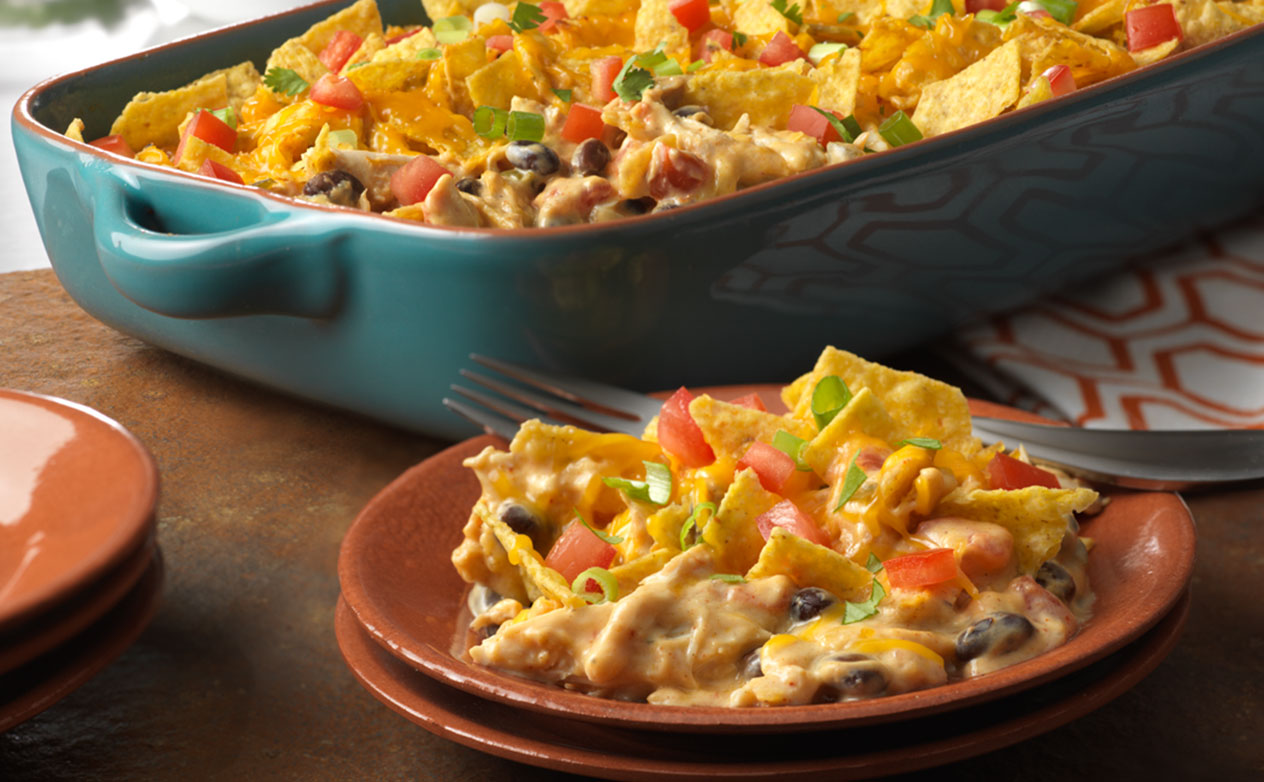 All of your favorite taco fixings can be found in this crowd-pleasing casserole. It uses convenience products like canned soup and veggies, cooked chicken and taco seasoning mix that make it a snap to fix. It's on the table in less than an hour!
8 Servings
40 Minutes
Print
Ingredients:
4 cups shredded cooked chicken
2 cans (10 3/4 ounces each) Campbell's® Condensed Cream of Chicken Soup (Regular or 98% Fat Free)
1 cup light sour cream
1 can (10 ounces) diced tomatoes & green chiles, undrained
1 can (about 15 ounces) black beans, rinsed and drained
1 envelope (about 1 ounce) reduced-sodium taco seasoning mix
5 cups coarsely crushed tortilla chips
2 cups shredded Cheddar cheese (about 8 ounces)
Chopped tomato, sliced green onion and chopped fresh cilantro leaves
Method:
Heat the oven to 350 degrees F. Lightly grease a 13x9x2-inch baking dish. Stir the chicken, soup, sour cream, tomatoes & green chiles, beans and seasoning mix in a large bowl.
Layer half the chicken mixture, 3 cups tortilla chips and half the cheese in the baking dish. Layer with the remaining chicken mixture and tortilla chips. Cover the baking dish.
Bake for 30 minutes. Uncover the baking dish. Sprinkle with the remaining cheese.
Bake, uncovered, for 10 minutes or until hot and bubbling and the cheese is melted. Sprinkle with the chopped tomato, green onion and cilantro before serving, if desired.