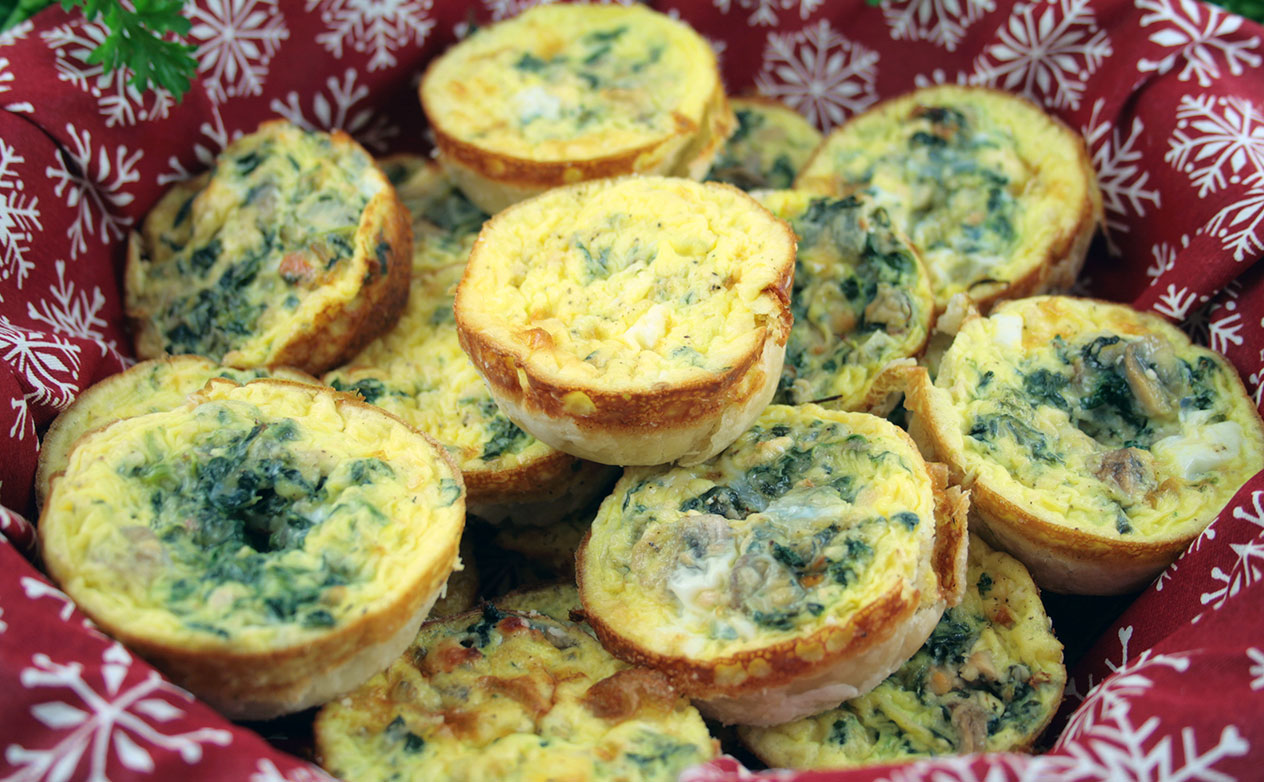 24 Servings
30 Minutes
Print
Ingredients:
2 refrigerated pie crusts
6 eggs, beaten
1 cup whole milk
1/4 cup butter
4 cloves of garlic, chopped (or 2 teaspoons minced garlic)
1 small onion, diced
3 cups fresh mushrooms, sliced (or 1 6-oz can sliced mushrooms)
1 (10 ounce) package frozen chopped spinach, thawed and drained
1 (6 ounce) package tomato and basil feta cheese, crumbled (can also use plain feta, or garlic and herb feta)
2/3 cup shredded parmesan cheese
Salt and pepper to taste
Method:
Preheat oven to 375 degrees F. Grease muffin pans.
Using a 3-inch biscuit or cookie cutter, cut circles out of the dough. Re-knead and roll out dough until you have enough circles for all 24 muffin cups.
Mold the circles to the bottom of each cup in the 12-cup muffin pans. The dough should extend about halfway up the sides of each cup.
Place the muffin pans in the oven for 6-7 minutes, or until the pastry is set and dry.
In a skillet, melt butter over medium heat. Saute garlic, onion, and mushrooms in butter until lightly browned, about 7 minutes. Stir in spinach, feta and parmesan cheese. Season with salt and pepper. Spoon mixture evenly into muffin pans.
In a medium bowl, whisk together eggs and milk. Season with salt and pepper. Use a small ladle to spoon egg mixture into the muffin cups.
Bake in the preheated oven for 25 to 30 minutes or until a knife inserted in centers comes out clean. Allow to cool for 10 to 15 minutes. Carefully remove from muffin cups with a small spatula or knife; place on a wire rack or serving platter.