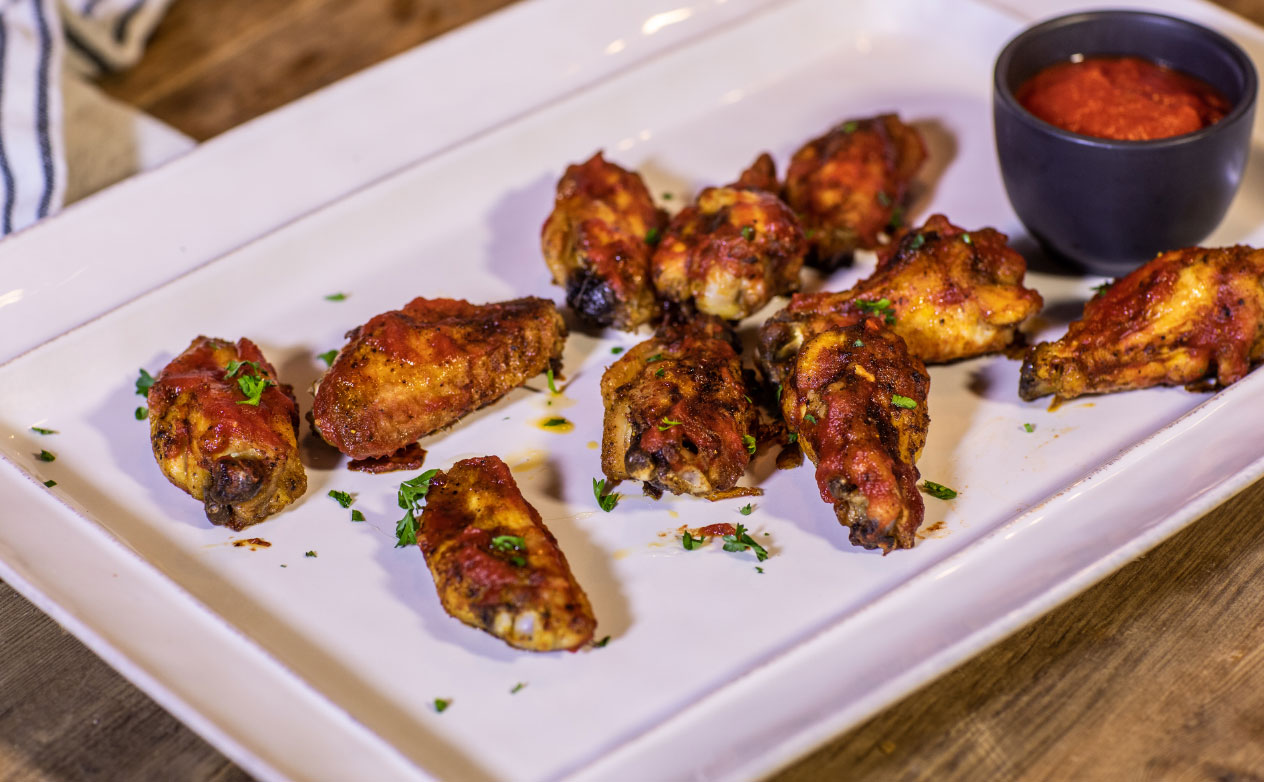 4-6 Servings
1 Hour
Print
Ingredients:
16 split chicken wings
Cooking Spray
4 tablespoons tomato paste
2 teaspoons lemon pepper
1 teaspoons garlic granules
½ teaspoons hot paprika
½ teaspoons red chili flakes
2 tablespoons Vodka (can substitute apple juice)
2 tablespoons lemon juice
2 tablespoons Honey + more for garnish drizzling
1 Tablespoon Canola oil
1 Tablespoon Apple cider vinegar
16 green olives
8 celery stalks (with leaves, about 3" length)
Method:
Place the wings on a parchment-paper lined metal baking sheet and place in oven
Set oven to Precision Cooking: Meats: chicken wings (temperature and timer will be set automatically) or select Air Fry and set oven to 375-degrees. Cook 25-35 minutes
While wings are cooking, make the sauce. In a medium size mixing bowl, combine the tomato paste, lemon pepper, garlic, paprika, chili flakes, vodka, honey and oil and blend well into a thick mixture.
Use a pastry brush to slather cooked wings with the seasoning paste. Garnish with two olives, a celery piece and drizzle of honey.
Ally Phillips was selected from almost 700 entries as GE Appliances Great American Grandma.
She is an avid traveler and gathers recipe ideas from around the globe. She credits her grandchildren as her true inspiration. Find more of her recipes at allyskitchen.com.
Provided By: Ally Phillips