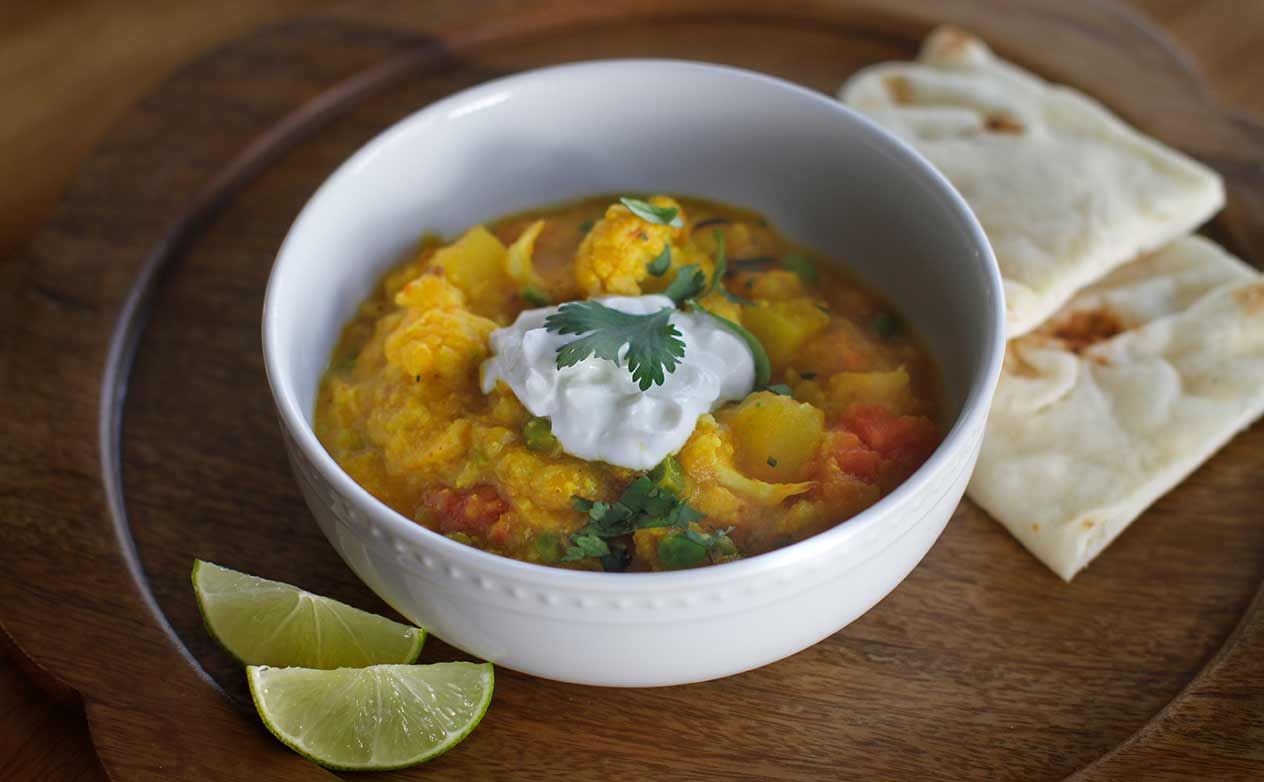 This warm and spicy stew takes its inspiration from a traditional Indian cauliflower and potato dish called Aloo Gobi. The extra step of roasting the cauliflower gives added depth and flavor to the hearty vegetarian stew.
4-6 servings
40 Minutes
Print
Ingredients:
Roasted Cauliflower
2 tablespoons olive oil
1 large cauliflower, cut into florets (about 5 cups)
½ teaspoon ground turmeric
½ teaspoon garlic powder
1/4 teaspoon cayenne
½ teaspoon salt
Stew
2 tablespoons olive oil
1 medium onion, peeled and chopped
1 teaspoon whole cumin seeds
1 teaspoon whole fennel seeds
2 teaspoons peeled and chopped fresh ginger
2 cloves garlic, minced
2 medium potatoes, peeled and chopped
2 teaspoons ground coriander
1 teaspoon ground turmeric
3 cups broth (chicken or vegetable)
4 canned plum tomatoes, chopped (from one 14-ounce can)
½ cup frozen peas
1 teaspoon salt, or to taste

Optional Additions
Plain Greek yogurt
1/2 cup cooked basmati rice
Cilantro, chopped
Lime wedges
Toasted naan wedges
Method:
Drizzle cauliflower with oil and toss with spices. Roast in a preheated 400-degree oven until browned and cooked through, about 20 minutes, tossing halfway through.
While cauliflower is roasting, prep your other vegetables. Heat the remaining oil in the bottom of a large pot over medium-high heat. Once hot, add the cumin seeds and a few seconds later, the fennel seeds. Cook the spices for a few seconds and then add the onions. Stir and cook until the onions are translucent, about 6 minutes. Add the ginger and garlic; stir for 1 minute more.
Turn the heat to medium low and add the ground coriander and turmeric. Stir for 1 minute. Add the potatoes and salt. Add the broth, stir, and bring to a boil over medium-high heat. Cover, lower the heat again, and simmer gently for 15 minutes.
After 15 minutes add the tomatoes, peas and roasted cauliflower. Cook for 5 minutes and use an immersion blender to puree the stew to your desired texture. Taste for seasoning and adjust as needed. Ladle into bowls and serve with a dollop of yogurt, fresh lime and chopped cilantro. Serve with cooked rice and toasted naan for a heartier meal.
Chef's Notes:
Spices lose their strength and flavor with time. Instead of buying a large jar of a spice you won't use often, try buying a small amount from the bulk section of your grocery store. You can buy as much or as little as you need for a recipe, you'll save money and your spices will be fresher.