This recipe is everything you want from potato soup. Creamy and packed with flavor, it comes together in no time and is as comforting as it is delicious.
8 Servings | 30 Minutes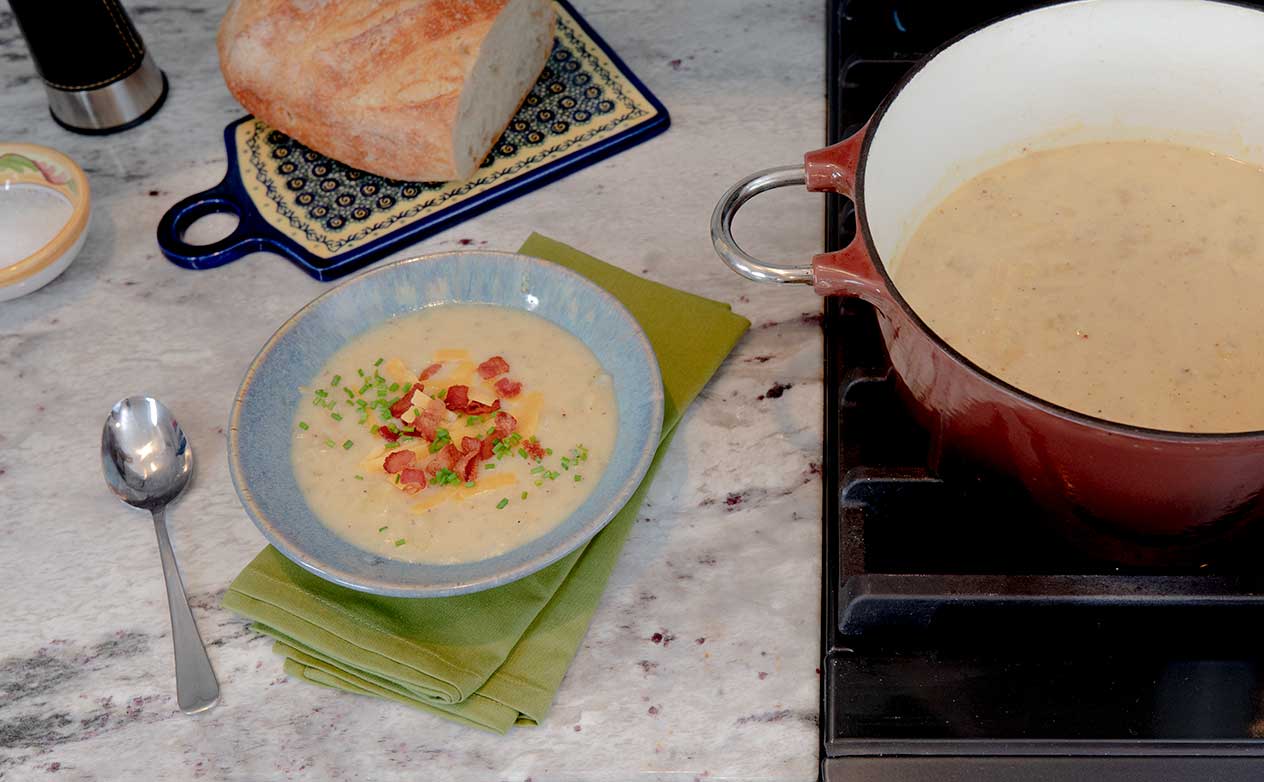 Ingredients:
6 slices bacon, cut into strips
1 large yellow onion, chopped
2 stalks celery, chopped
3 cloves garlic, minced
8 small Yukon Gold potatoes, peeled and cubed (about 3 lbs. total)
4 cups chicken stock
1 tablespoon butter
1 cup sour cream
¼ cup half and half
Kosher salt and pepper to taste
Garnish:
Chives, minced
Sharp Cheddar cheese, shredded
Method:
In a large (7-quart) Dutch oven, cook the bacon over medium heat until crispy. Remove bacon from pot and drain on paper towels.
Pour off all but 2 tablespoons of bacon drippings. Add butter to reserved bacon drippings. Over medium heat, cook onion and celery until soft and translucent, about 6-8 minutes. Add garlic and cook for 1 to 2 minutes.
Add potatoes to the pot and pour over chicken stock; bring to a simmer. Cover the pot and cook until potatoes are tender, about 15 minutes.
While potatoes are cooking, whisk together sour cream and half and half. Set aside.
When potatoes are tender, carefully transfer half the mixture to a blender and puree with the sour cream mixture. Pour the pureed soup into the pot and add salt, pepper, and half of the crumbled bacon. Adjust seasonings to taste.
Garnish with remaining crumbled bacon, cheese, and chives.