Sinfully delicious and way too easy to make, we guarantee our no-bake chocolate pie will become your most requested dessert. It's a chocolate lovers fantasy with a chocolate cookie crust topped with rich chocolate mousse.
1 9-inch Pie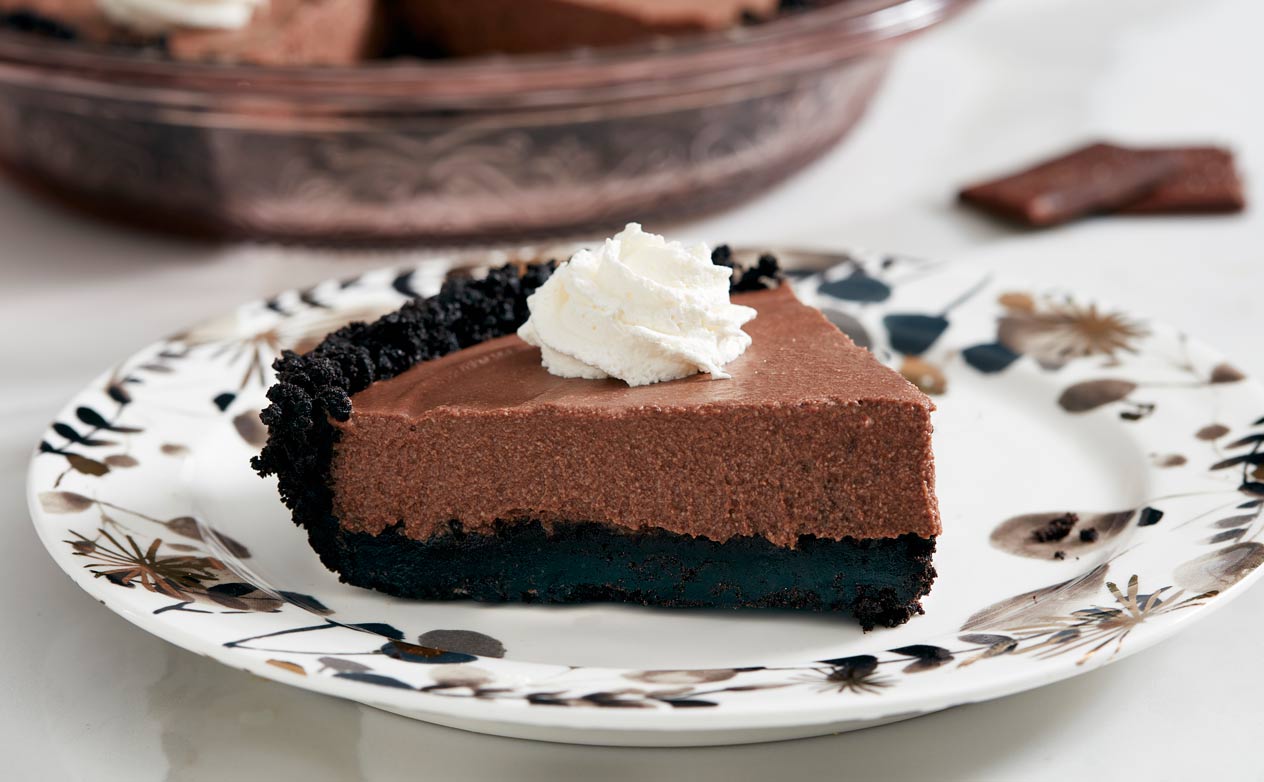 Ingredients:
Pie shell:
11 ounces chocolate wafer cookies
1 stick butter
or 1 store-bought 9" chocolate cookie pie shell
Filling:
1 package silken tofu (12 ounces)
10 ounces dark chocolate chips (approx. 1 1/3 cups)
1/2 cup vanilla almond milk
1 teaspoon vanilla
2 tablespoons maple syrup, or to taste
2-4 ounces flavored liqueur, optional
Method:
Preheat oven to 350°
Pulse cookies to crumbs in food processor. Mix with melted butter. Press crumbs into a 9" deep dish pie plate. Bake at 350° for 15 minutes. Cool completely.
Place chocolate in a microwave-safe bowl and microwave in 30 second bursts, stirring every 30 seconds. Repeat until chocolate is just melted. Be careful not to burn the chocolate. Let melted chocolate cool slightly.
Combine the silken tofu, almond milk and vanilla in a food processor. Process the mixture until smooth. Add the melted chocolate, maple syrup and liqueur (if using) and blend again. Taste and adjust to your desired sweetness. Blend until smooth.
Pour the mixture into prepared chocolate cookie crust. Put into the refrigerator overnight, until firm.
Chef's Notes:
Silken tofu might seem like an odd ingredient in a pie, but it is excellent for blending into creamy foods like smoothies, desserts and puddings. We recommend Japanese-style silken tofu since it has a custardy texture. Silken tofu can be found in the Asian aisle of most grocery stores. Look for the shelf-stable kind, not the refrigerated variety, or for the words "silken" or "soft" on the packaging.
Struggling to please your vegan friends? You can make this dessert vegan by substituting vegan butter in the pie crust and using vegan chocolate chips for the filling.