Simple Red, White & Blue Cake
A delicious cake perfect for any patriotic holiday gathering. Fresh berries, a creamy mascarpone filling and lemon glaze transform boxed cake mix into a sophisticated dessert.
8-10 Servings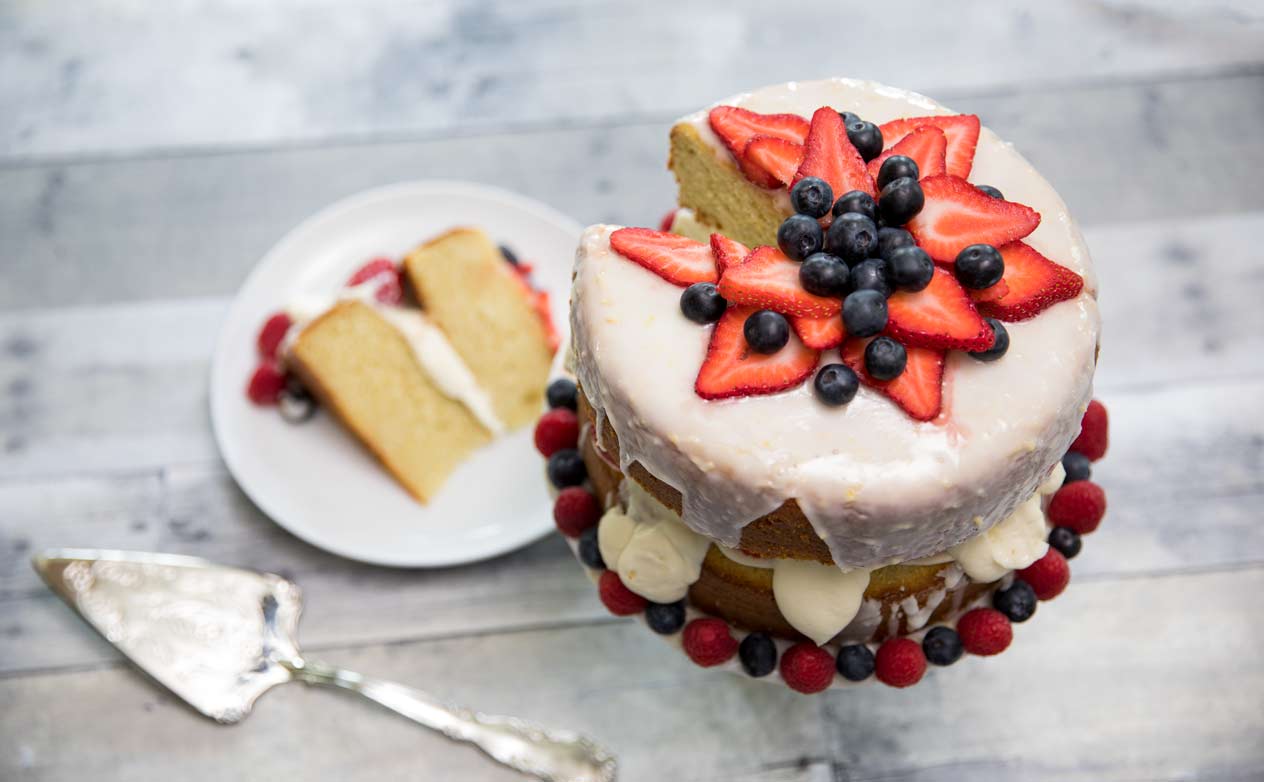 Ingredients:
2 8-inch vanilla layer cakes, cooled
1 pound strawberries, washed and trimmed
6 ounces raspberries
6 ounces blueberries
Mascarpone Cream
8 ounces mascarpone cheese, room temperature
½ cup powdered sugar
1 cup heavy cream
Lemon Glaze
2 cups powdered sugar
2 teaspoons lemon juice
1 teaspoon lemon zest
2-4 tablespoons milk
Method:
Make the Mascarpone Cream
Place the mascarpone cheese and powdered sugar in a bowl and beat with an electric mixer until smooth. Gradually add the heavy cream and beat until soft peaks form. Transfer mascarpone cream to a large piping bag fitted with a large round tip. Keep chilled.
Make the lemon glaze
Combine the powdered sugar, lemon juice, zest and 2 tablespoons of milk in a medium bowl. Stir with a whisk, gradually adding the remaining milk until the glaze is a thick, but pourable, consistency. Cover with plastic wrap and set aside.
Assemble the Cake
Place one of your cooled cake layers on a plate or cake stand. Pipe the mascarpone cream in a spiral pattern from the center to the outside of the cake. Place 8, similarly-sized strawberries, cut edge down, around the perimeter of the cake. Place 3 to 4 more strawberries in the center of the cake. Pipe remaining mascarpone cream around the strawberries and top with the second cake layer.
Pour the lemon glaze over the top layer, allowing the glaze to drip down the sides of the cake. Slice 6-8 strawberries and arrange in a flower pattern on the top of the cake. Pile blueberries into the center of the strawberry design. Decorate the bottom edge of the cake with additional blueberries and raspberries.
Chill cake until ready to serve.
Chef's Notes:
Get more details on how to make this festive cake.
You will need two 8-inch vanilla cake layers before you begin. Use your favorite cake mix or homemade recipe. Make sure cakes are cooled before you start.