Triple Chocolate Chip Cookies with Chocolate Fondue Drizzle
3 dozen cookies 10-12 minutes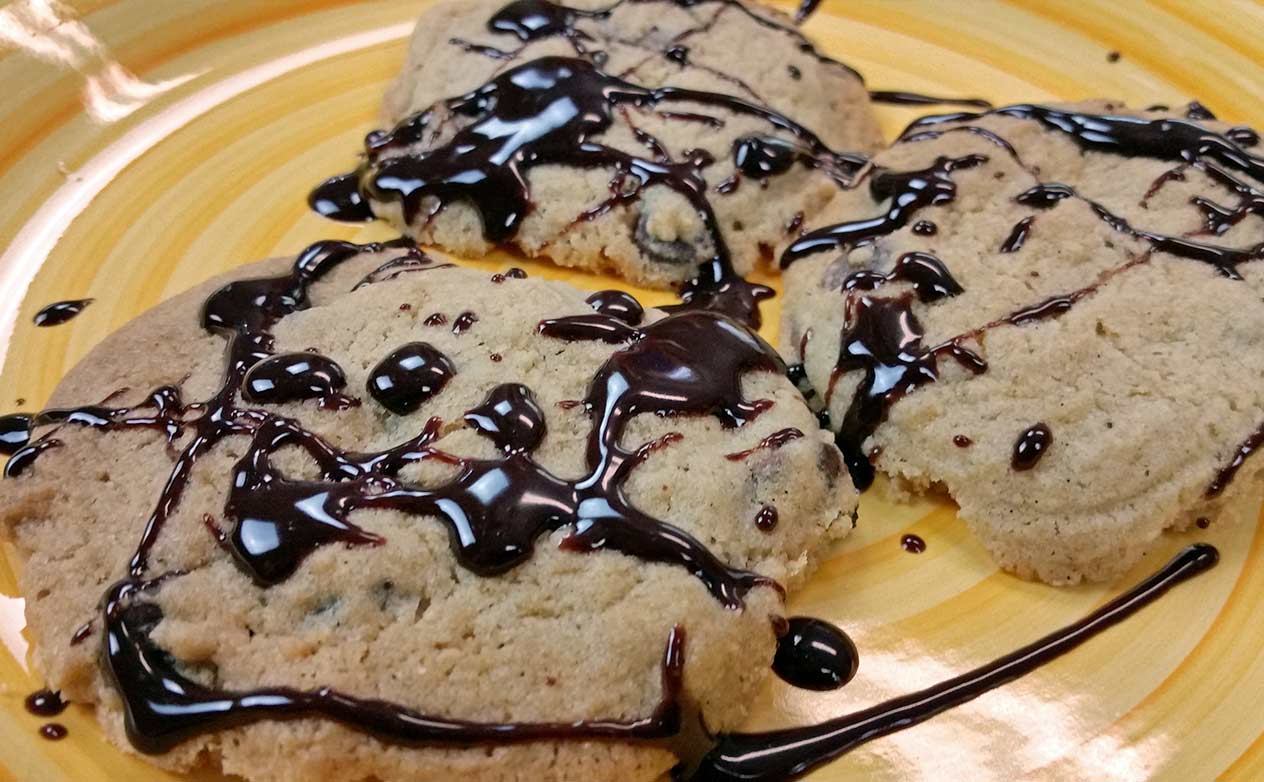 Ingredients:
2 1/2 cups all-purpose flour
1 teaspoon baking soda
1 teaspoon sea salt
1 cup unsalted butter, softened
3/4 cup sugar
3/4 cup light brown sugar
1 teaspoons vanilla bean paste (or vanilla extract)
2 eggs
1 cup semi-sweet chocolate chips
1/2 cup milk chocolate chips
1/2 cup white chocolate chips
Chocolate Fondue Drizzle:
8 ounces semi-sweet chocolate
3/4 cup whipping cream
2 tablespoons bourbon (optional)
Method:
Combine all-purpose flour, baking soda, and sea salt in a bowl, mixing well; reserve. In a large mixing bowl, using an electric hand mixer on medium-high speed, beat the butter, sugar, light brown sugar, and vanilla until creamy, about 2 to 3 minutes. Add eggs, one at a time, beating on medium speed after each addition. Gradually beat in reserved flour mixture on medium-low speed until thoroughly combined, about 1 minute. Add semi-sweet chocolate chips, milk chocolate chips, and white chocolate chips, and beat on medium-low speed for 30 seconds, until chips are thoroughly distributed throughout the cookie dough.
Lightly coat Advantium tray with vegetable oil spray. Drop cookie dough by rounded tablespoon onto the prepared baking tray, about 10 per pan. With no preheating necessary, bake cookies in the Advantium oven by making these selections, in this order: Desserts, Cookies, Refrigerated, Regular. Press "Start" to begin baking. Allow cookies to cool on the baking tray for 2 minutes; remove to wire racks to cool completely. Repeat baking directions with remaining cookie dough for a total of about 3 dozen cookies.
For the Chocolate Fondue Drizzle: Combine 8 ounces semi-sweet chocolate and 3/4 cup whipping cream in a medium glass bowl. Place the bowl in the Advantium and select "Microwave" button. Turn Advantium dial to make these selections, in this order: Melt, Chocolate Chips, 8 oz. Press "Start" to begin melting the chocolate. Midway through the melting process, the Advantium will alert you to stir the chocolate. Return the bowl to the Advantium and press "Start" to resume. Add 2 tablespoons bourbon, if desired, and stir with a whisk. Use the whisk to drizzle Chocolate Fondue over Triple Chocolate Chip Cookies to serve.
Cooking Settings:
Advantium:
Settings:
Time:
Tray Type:
120 Over the Range
U=9 M=0 L=5
12 minutes
Metal Tray
240 Over the Range
U=2 M=0 L=8 C=10
10 minutes
Metal Tray
240 Wall Oven with Convection
U=4 M=0 L=3 C=4
10 minutes
Metal Tray