Brussels Sprouts and Meyer Lemon Pizza
This pizza is a bit untraditional, but you will be blown away by the explosion of flavor it delivers. The nuttiness of the charred Brussels sprouts are a perfect contrast to the bright flavor of lemon and creamy goat cheese. Topped with thin slices of prosciutto, it's irresistible!
9 -inch pizza | 20 Minutes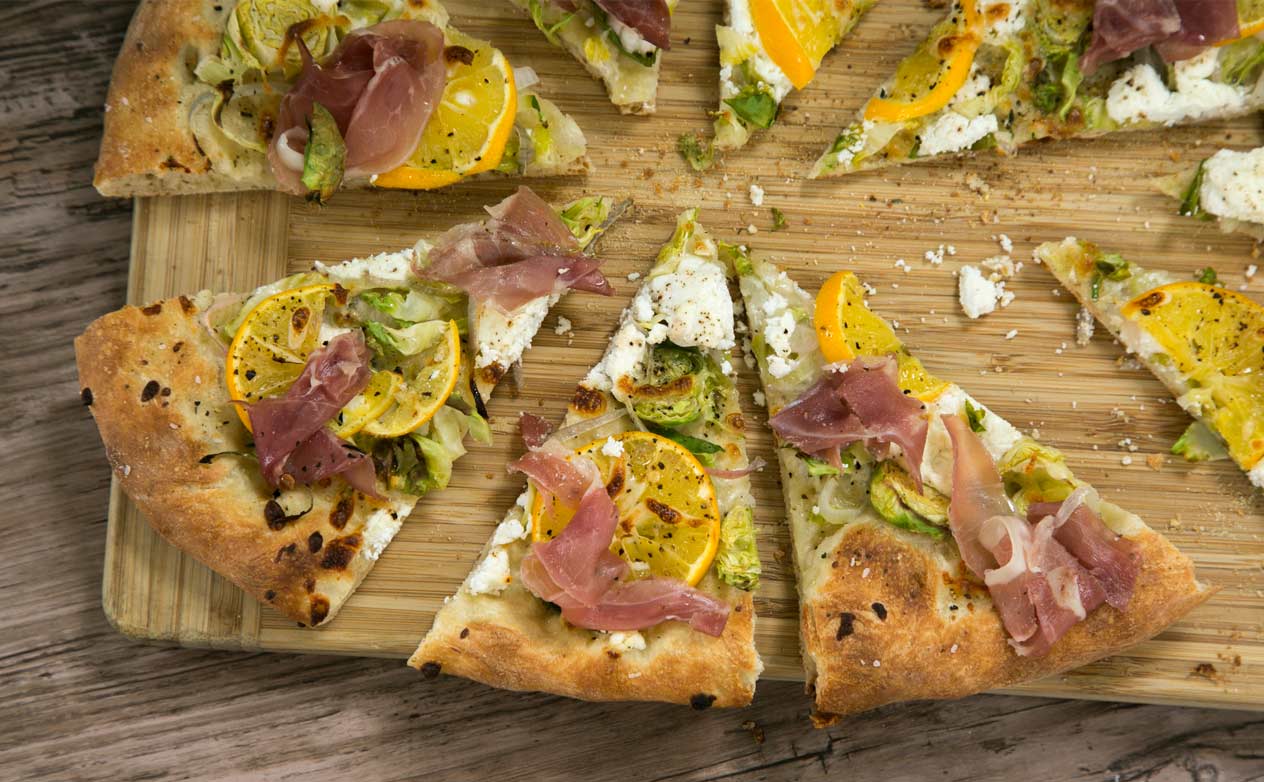 Ingredients:
1 ball of pizza dough, large enough for a 9-inch pizza
3 cups of thinly-sliced Brussels sprouts
1 shallot, sliced into rings
1/2 cup shredded mozzarella cheese
1 Meyer lemon, cut into thin slices
4 ounces goat cheese
1 teaspoon fresh thyme leaves
3-4 slices Prosciutto (optional)
Cornmeal
Olive oil
Salt
Pepper
Method:
Preheat oven to 550 degrees F with a baking stone inside the oven. If you don't have a baking stone, you can make your pizza on a heavy duty baking sheet.
Prepare your crust by sprinkling cornmeal on a sheet of parchment paper. Work the dough into a roughly 9"circle. Drizzle dough with olive oil.
Top dough with an even layer of mozzarella; scatter with sliced Brussels sprouts, thyme, lemon slices and shallots. Drizzle with more olive oil, salt and pepper, and then top with hunks of goat cheese. Bake for 15-20 minutes or until crust is golden, cheese is bubbly and sprouts are beginning to caramelize.
Chef's Notes:
Meyer lemons are much sweeter than regular lemons. They are also smaller and more round with thin skin that is a deep yellow-orange in color. Unlike regular lemons, Meyer lemons aren't in season all year. They are typically available from December to May. Need a quick and simple pizza crust option? Try using our Simple Pizza Dough recipe.