Peanut Butter Bars with Chocolate Glaze
This dessert will fulfill both your chocolate and peanut butter cravings. A peanut butter brownie base is topped with a thick chocolate glaze. Each bite is the perfect marriage of peanut butter and chocolate.
12 Servings | 20 Minutes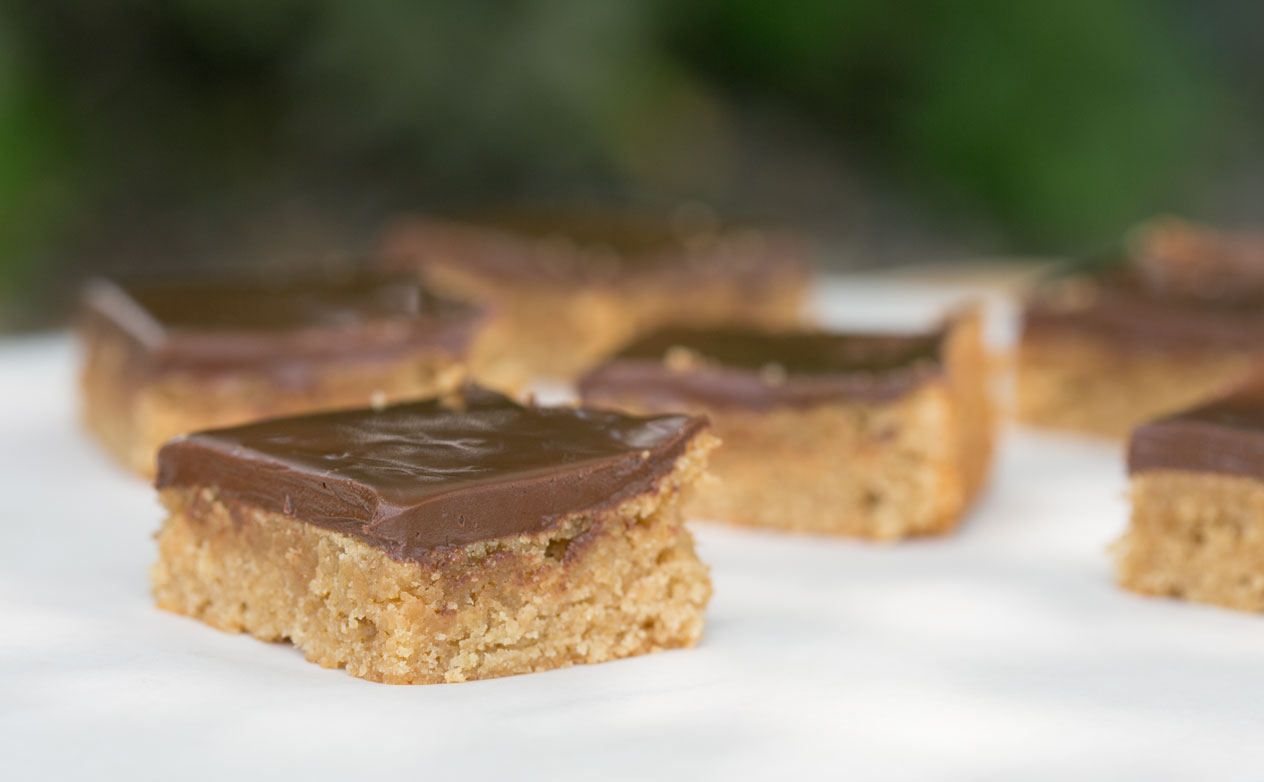 Ingredients:
12 tablespoons butter (1 1/2 sticks), softened
2/3 cup light brown sugar, firmly packed
1 egg
1 1/2 teaspoons vanilla extract
1/2 cup smooth peanut butter, divided
1 1/3 cups flour
1/2 teaspoon baking powder
1/2 cup semi-sweet chocolate chips
Method:
Preheat the oven to 350 degrees F. Grease an 8-inch square baking pan or line with a parchment paper sling (see note) and set aside.
Cream butter and sugar with electric mixer until light and fluffy, about 1 minute. Add the egg and vanilla and beat until smooth. Beat in 1/4 cup of peanut butter until smooth. Stir the flour and baking powder together. Add to the butter mixture. Stir until just combined.
Pour the batter into the prepared pan. Use a spatula to make sure it is evenly distributed. Bake 18-20 minutes. The peanut butter brownie is done when a toothpick inserted in the center comes out clean. Cool the pan on a rack for 10 minutes before adding the glaze.
While the bars are cooling, combine the chocolate chips and remaining 1/4 cup of peanut butter in a small saucepan. Stir over low heat until the chocolate and peanut butter are melted and the glaze is smooth.
Spread the glaze evenly over the top of the bars. Cool for at least 1 hour to allow the glaze to set. Cut into squares and serve.
Chef's Notes:
A parchment paper sling makes it easy to get cookie bars out of the pan. Cut a strip of parchment paper that is approximately 8 x 14 inches. Coat the pan with non-stick spray and then press the parchment paper into the pan. You should have 2 inches on either side of the pan. Prepare the recipe as directed. When the bars are cool you can use the parchment paper to lift them out of the pan.