Quinoa Salad with Apples and Almonds
Quinoa is a high protein grain with a mild flavor and chewy texture. This salad combines quinoa with tart apples, dried cherries, crunchy almonds and a sweet and tangy dressing. It's perfect as a light lunch or makes a healthy side dish.
4-6 Servings | 20 Minutes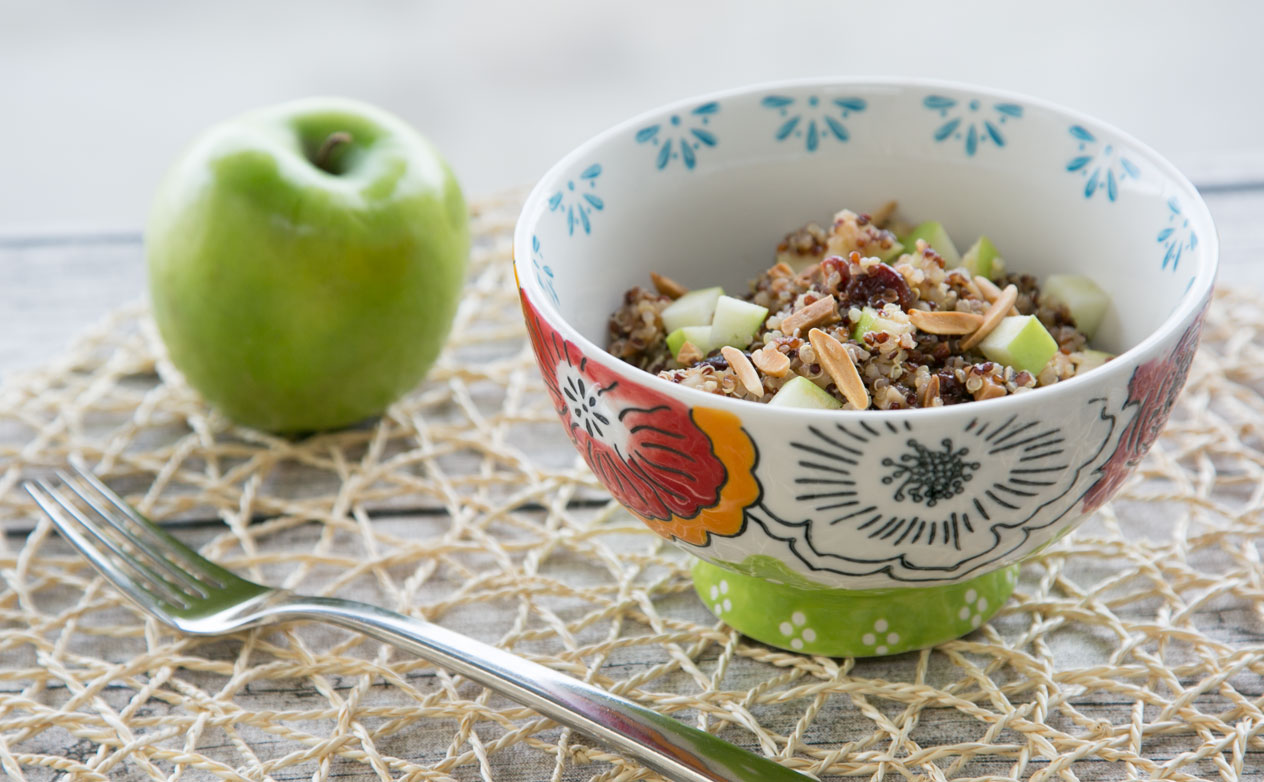 Ingredients:
Quinoa
1 cup quinoa (any color)
Olive oil
2 cups chicken broth or water
1/4 teaspoon salt
Dressing
2 - 3 tablespoons olive oil
1 tablespoon pomegranate molasses
2 - 3 tablespoons red wine vinegar
1 tablespoon lemon juice (about 1/2 a lemon)
1/2 teaspoon salt
1/4 teaspoon fresh ground pepper
1/2 cup slivered almonds, toasted
1/2 cup tart dried cherries
1 large granny smith apple, chopped
Method:
Prepare Quinoa
Rinse the quinoa. Place the quinoa and a fine mesh strainer, and rinse thoroughly with cool water. Swish the quinoa with your hands while rinsing. Rinse the quinoa for two minutes under the running water then let drain. Rinsing removes the quinoa's outer coating which can make it taste bitter.
Drizzle olive oil in a 2 quart saucepan. Heat olive oil in a saucepan over medium - high heat, add the drained quinoa. Cook, stirring, for about one minute, letting the moisture on the quinoa evaporate.
Stir in your liquid (water or broth) and salt and bring to a full boil. Lower the heat to the lowest setting and cook, covered, for 15 minutes. After 15 minutes that turn off the heat and remove the pot from the burner. Let stand covered for five minutes then drain off any excess liquid.
Make dressing
While the quinoa is cooking make the dressing. In a small bowl combine olive oil pomegranate molasses, red wine vinegar, lemon juice, salt and pepper to taste, whisk together thoroughly.
Combine Salad
Pour dressing over the warm quinoa. Then add almonds, cherries and apple. There's no need to peel your apple. Refrigerate salad for several hours before serving to let the flavors mingle.
The salad can be served cold or room temperature. It will last several days in the refrigerator.
Chef's Notes:
Pomegranate molasses is a thick, sweet and tangy reduction of pomegranate juice.
It is a key ingredient in Middle Eastern and Mediterranean cooking.
You can find it in the Middle Eastern section of larger grocery stores or can order it online.