Homemade Holiday Dressing
This dressing recipe beats them all! The secret is homemade biscuits combined with stuffing mix which is then formed into small balls. When you bake them, the exterior will be crisp and crunchy while the interior is soft and moist.
20-25 Dressing Balls | 30 Minutes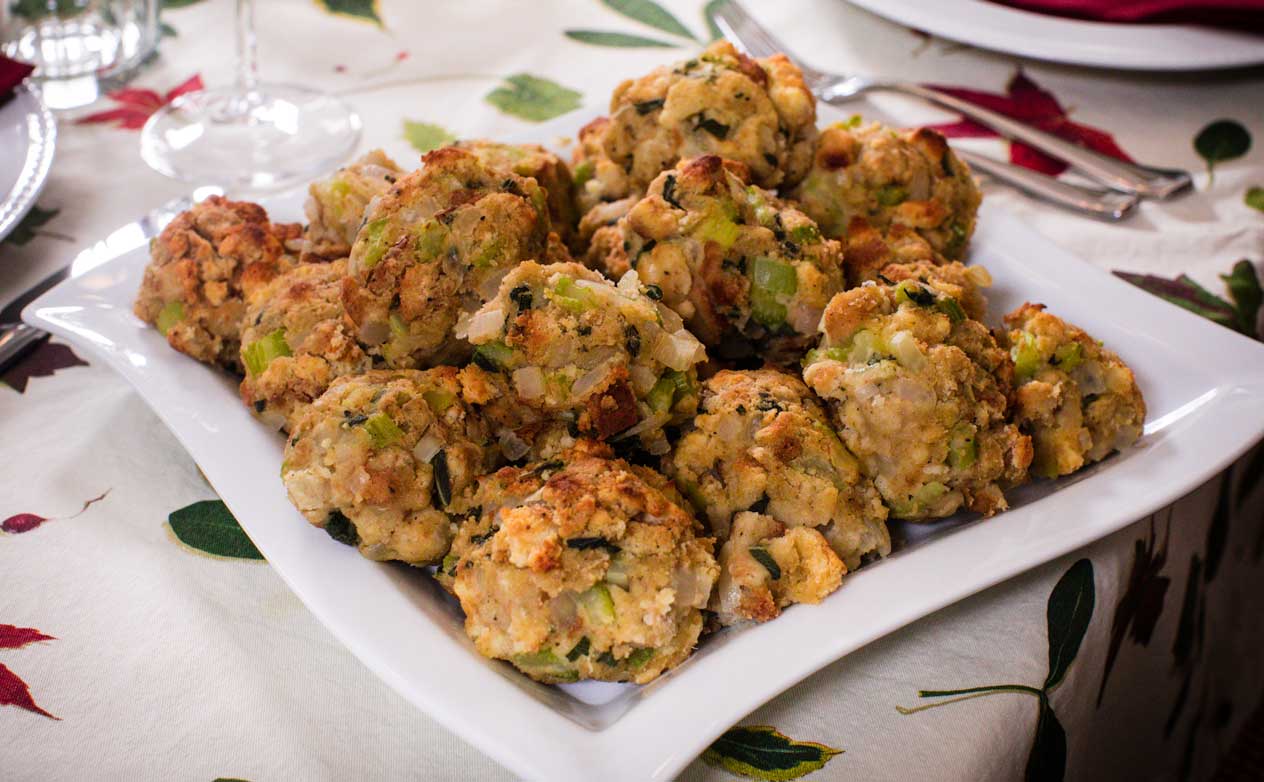 Ingredients:
6 cups homemade biscuit crumbles from about 1 dozen biscuits, dried (see note)
11-oz package herbed stuffing mix
2 medium onions, chopped
6 stalks celery, chopped
5 cups turkey or chicken stock
1 bouillon cube or condensed stock packet (optional)
1/2 cup butter
2 teaspoons kosher salt
1/2 cup fresh sage or 2 teaspoons dried rubbed sage
1 teaspoon pepper
1 teaspoon hot sauce (optional)
Method:
Preheat oven to 350°
Bake a batch of your favorite homemade biscuits or use a biscuit baking mix (canned biscuits will not work in this recipe). One batch of biscuits (about a dozen) will yield approximately 6 cups of biscuit pieces. Crumble biscuits into small pieces. Dry the biscuit crumbles on a baking sheet in a 200-degree oven for 2-3 hours. The biscuit pieces should be very hard and crumble when they cool.
In a large skillet, melt the butter on medium heat. Add onions and celery and cook for 8-10 minutes, until the vegetables are soft and translucent but not brown. Add the stock to the cooked vegetables. Bring to a simmer, and then add the bouillon cube, sage, salt and pepper and hot sauce. Cook for 5 minutes and remove from heat to cool slightly before moving to next step.
In a large bowl or roasting pan, combine your dried biscuits and herbed stuffing mix. Slowly add the vegetable and broth mixture, stirring with a large wooden spoon. The broth should absorb into the bread mixture but still be wet enough to clump together. Mix together thoroughly and taste the mixture to make sure the seasoning is correct. At this point you can add additional salt or other seasonings.
To form dressing into balls, scoop about half a cup of the mixture, then use your hands to form into a ball about the size of a baseball. Place on a parchment lined baking sheet with no space between the dressing balls. Bake at 350 for 30 minutes.
Chef's Notes:
Canned biscuits, while delicious, aren't right for this recipe. They don't have the crumbly texture needed to make the best dressing. If you don't want to make biscuits from scratch, you can use a dry baking mix to make quick biscuits that will be perfect for this recipe.
These dressing balls freeze wonderfully. In our family we make extra at Thanksgiving, freeze them then bake them at Christmas! Simply place the dressing balls in an airtight container to freeze. When it's time to serve them, bake at 350 for 40 - 45 minutes. For an extra brown and crispy exterior, turn up the heat to 375 degrees for the last 10 minutes of cooking.