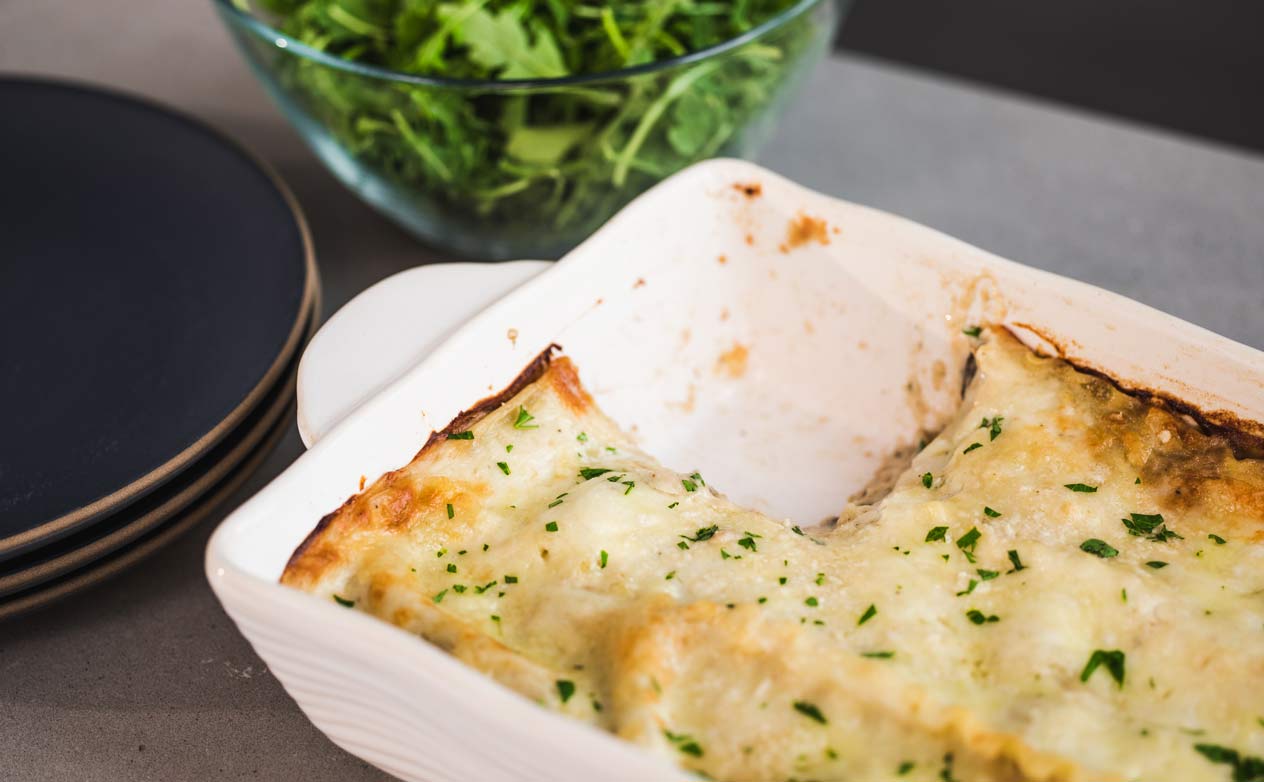 Try this vegetarian spin on a classic lasagna. Serve with a simple green salad for a satisfying meal.
6-8 Servings
2 Hours & 30 Minutes
Print
Ingredients:
12 lasagna noodles (half a package)
4 cups whole milk
10 tablespoons unsalted butter, divided
2 cloves garlic, minced
1/2 cup all-purpose flour
1 teaspoon ground nutmeg
6 ounces grated parmesan, divided
1 ½ pounds cremini mushrooms, washed and sliced into ½" pieces
1 teaspoon fresh rosemary, chopped
1 large eggplant, sliced into ¼" planks (peeled if desired)
12-16 ounces grated fontina cheese
Olive oil
Kosher salt
Fresh ground pepper
Method:
For the white sauce, bring the milk to a simmer in a saucepan or heat for 2 minutes in a microwave-safe glass measuring cup, set aside. Slowly melt 8 tablespoons (1 stick) of the butter in a large saucepan with garlic. When butter has melted, add the flour and cook for 1 minute over low heat, stirring constantly with a wooden spoon. Slowly add the hot milk into the pan, combining with a whisk until smooth. Cook over medium-low heat, stirring with a whisk, until thick, 5-8 minutes. Take off the heat, whisk in 5 ounces parmesan cheese and nutmeg. Season to taste with salt and pepper. Cover and set aside.
In a large pan, combine mushrooms and ¼ cup of water. Cook, over high heat, for 5 minutes. After all water has been released from the mushrooms add 2 teaspoons olive oil and 2 tablespoon of butter to the pan along with rosemary and ½ teaspoon salt, and ¼ teaspoon pepper. Cook for 3-5 minutes until mushrooms are golden brown. Remove from heat and set aside.
Drizzle eggplant planks with olive oil and season with salt and pepper. Grill the eggplant slices in batches on a large oiled grill pan. About 3-4 minutes per side. Set aside.
Bring a large pot of water to a boil with 1 tablespoon Kosher salt. Add the lasagna noodles and cook according to package directions, stirring occasionally. Drain and set aside.
To assemble the lasagna, spread ½ cup of the white sauce in the bottom of an 9 by 12 by 2-inch baking dish. Arrange the first layer of noodles on top, then 1 cup of the white sauce, then ¼ of the mushrooms and a thin layer of the grated fontina. For the next layer, use the grilled eggplant slices in place of the noodles, followed by with 1 cup of white sauce, ¼ of the mushrooms, and another layer of the grated fontina. Repeat 2 more layers, alternating noodles and then eggplant for the start of the layer. Top with a final layer of noodles and the remaining white sauce and Fontina then sprinkle with the remaining Parmesan cheese.
Bake in a preheated 375-degree oven for 45-50 minutes, or until the top is browned the sauce is bubbly and hot.
For ovens with precision cooking: Go to the Precision Cooking menu, choose CUISINES LASAGNA. If prompted choose FRESH and set the temp for 375. There is no need to preheat the oven.
Allow cooked lasagna to sit at room temperature for 15 minutes before serving.
Chef's Notes:
Eggplant and mushrooms can be prepared the day before and kept in the refrigerator until you're ready to assemble the lasagna.