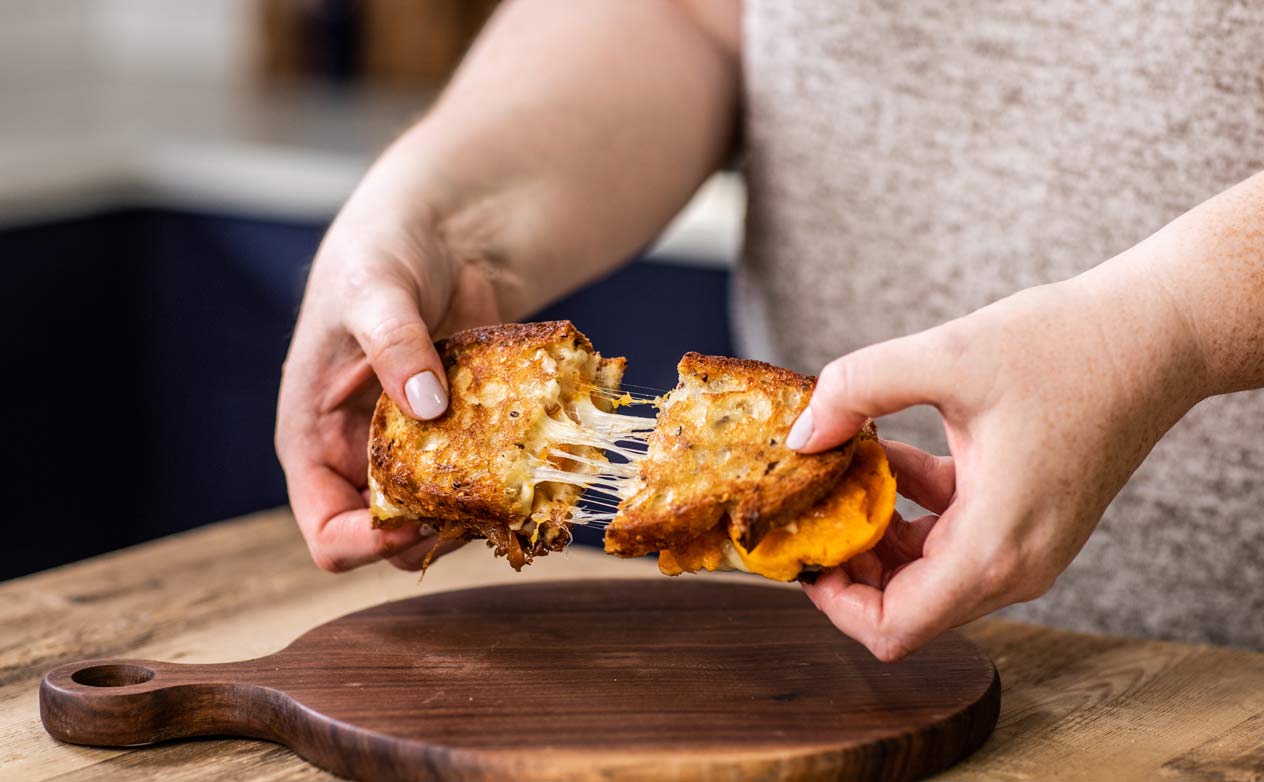 This gourmet grilled cheese packs a powerful flavor punch. It's loaded with caramelized onions, roasted sweet potatoes and two kinds of cheese.
2 Sandwiches
1 Hour & 30 Minutes
Print
Ingredients:
4 tablespoons softened butter, divided
2 medium onions, thinly sliced
Kosher salt and freshly ground black pepper
1 sweet potato
6 ounces Fontina cheese sliced thinly or grated, at room temperature
6 ounces Havarti cheese sliced thinly or grated, at room temperature
4 slices rustic sourdough bread
Method:
Roast the sweet potato. Poke the sweet potato with a fork a few times (to allow steam to escape). Wrap in foil and bake in a 375 oven for about 1 hour or until tender. Allow sweet potato to cool slightly, then peel and slice into thick planks.
While sweet potato is cooking, caramelize the onions. Heat 1 tablespoon butter in a large skillet over medium-low heat until melted. Add onions, season with salt and pepper and cook, stirring frequently, until deeply caramelized and rich brown, about 45 minutes. If onions look like they might burn, add 1 tablespoon of water. Transfer onions to a bowl and wipe out skillet.
Butter one side of each slice of bread. Top one slice of bread with a layer of Havarti cheese, half of the onions, two slices of sweet potato and layer of Fontina cheese. Top with a second slice of bread, buttered side facing out. Repeat for second sandwich.
Over medium heat, melt 1 tablespoon of butter in the pan you cooked the onions. Add sandwiches to skillet and cook until golden on bottom, about 4 minutes. Flip sandwiches and cook for another 3-4 minutes until second side is golden brown. Slice in half and serve immediately.