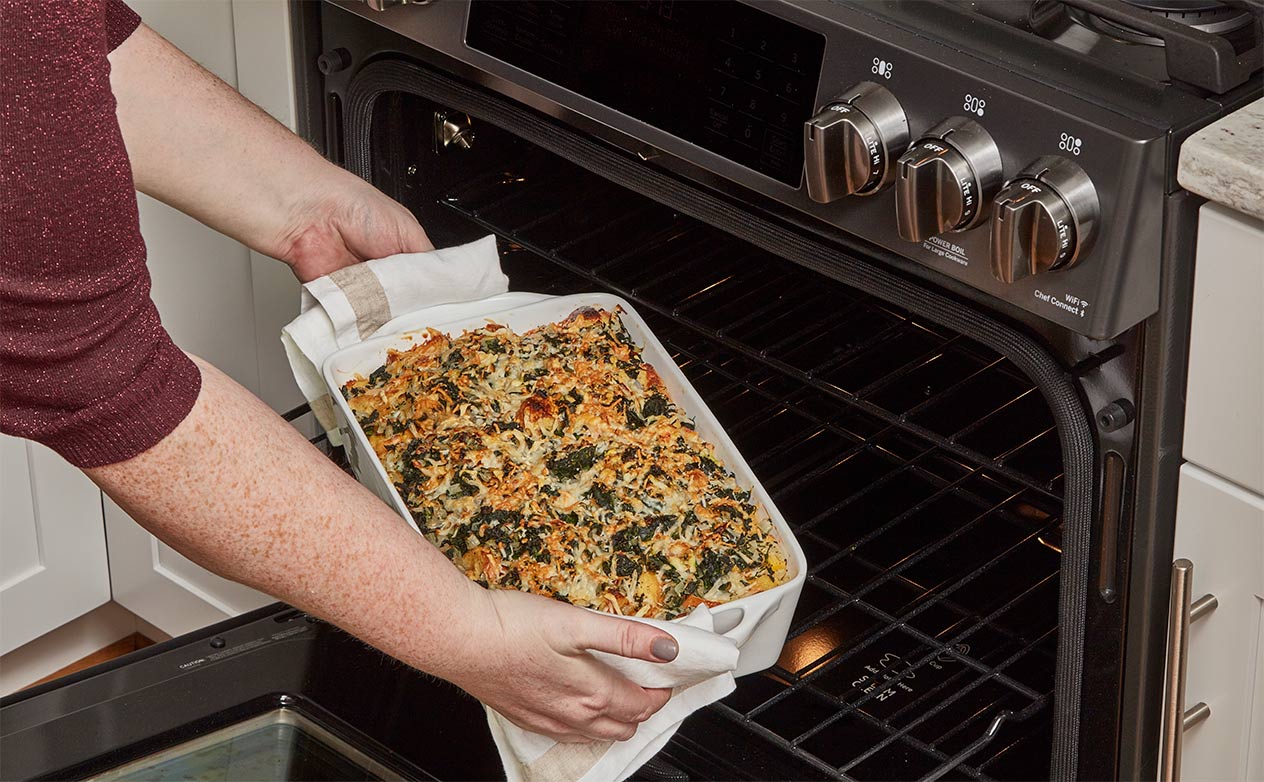 This elegant brunch strata is ideal for entertaining. The prep work happens the night before. The next morning you pop it in the oven and effortlessly wait for brunch to emerge.
8-10 servings
10 Hours
Print
Ingredients:
1/2 loaf French or Italian bread (8 ounces), cut into 1-inch chunks
4 tablespoons butter, divided
1 small onion, minced
1 10-ounce package chopped frozen spinach, thawed and squeezed dry
Salt
Pepper
5 ounces (1 cup) Gruyère cheese, shredded (could also use Havarti or sharp cheddar)
6 large eggs
1 3/4 cups half-and-half
¼ cup parmesan cheese
Method:
Melt 2 tablespoons butter in a skillet over medium heat. Add the onions and cook until softened, about 5 minutes. Stir in the spinach, 1/4 teaspoon salt, and a pinch of pepper. Cook until the spinach is heated through, about 2 minutes.
Grease an 8 x 11-inch baking dish with butter. Arrange the bread cubes in a single layer in the dish. Drizzle with 1 tablespoon of melted butter. Scatter half of the spinach mixture and 1/2 cup of the cheese over the bread. Repeat, making another layer of bread, spinach, and cheese.
Whisk together the eggs, half-and-half, 1 teaspoon salt and 1/4 teaspoon pepper until smooth. Pour mixture evenly over the top of the layered bread, spinach and cheese. Cover the surface with plastic.
The next morning, remove the strata from the refrigerator and allow to stand at room temperature for 20 minutes before baking.
Preheat the oven to 325 degrees.
When ready to bake, remove the plastic wrap and sprinkle the Parmesan cheese over the top.
Bake about 50 - 55 minutes, until the edges and center are puffed, and the edges have pulled away slightly from the sides of the dish. Cool on a wire rack 5 minutes before serving.