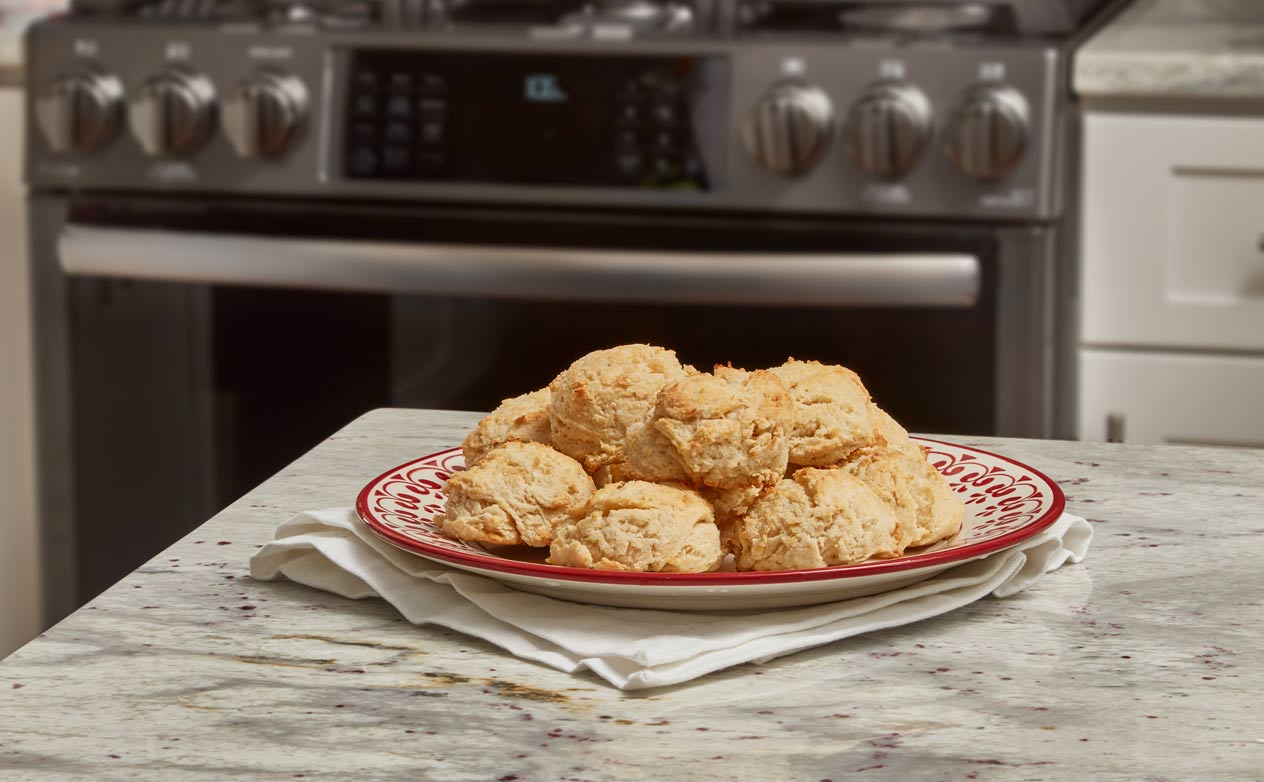 Homemade buttermilk biscuits are the best way to start your morning and these drop biscuits are an even faster way to buttery biscuit goodness.
1 Dozen Biscuits
30 Minutes
Print
Ingredients:
2 cups all-purpose flour
2 teaspoons baking powder
½ teaspoon baking soda
1 teaspoon sugar
1 teaspoon salt
1 cup buttermilk (cold)
8 tablespoons butter, melted and cooled slightly (about 5 minutes)
Method:
Adjust oven rack to middle position and preheat oven to 475 degrees.
Whisk flour, baking powder, baking soda, sugar and salt in large bowl.
Combine cold buttermilk and 8 tablespoons melted butter in medium bowl, stirring until butter forms small clumps. Add buttermilk mixture to dry ingredients and stir with rubber spatula until a shaggy dough forms.
Drop large dollops (about ¼ cup) of biscuit dough onto parchment-lined baking sheet. Space biscuits about 1 1/2 inches apart.
Bake until tops are golden brown and crisp, 12 to 14 minutes. Transfer to wire rack and let cool 5 minutes before serving.
Chef's Notes:
Biscuits can be made ahead of time and frozen. To freeze, scoop biscuits onto a plastic lined cookie sheet. Freeze about 3 hours or until firm. Remove biscuits from baking sheet and place in airtight freezer bag. Freeze up to 1 month.
When ready to bake frozen biscuits, preheat oven to 425 degrees. Place frozen biscuits 1 1/2 inches apart on a parchment-lined baking sheet. Bake 20 to 25 minutes or until golden brown, Serve warm.