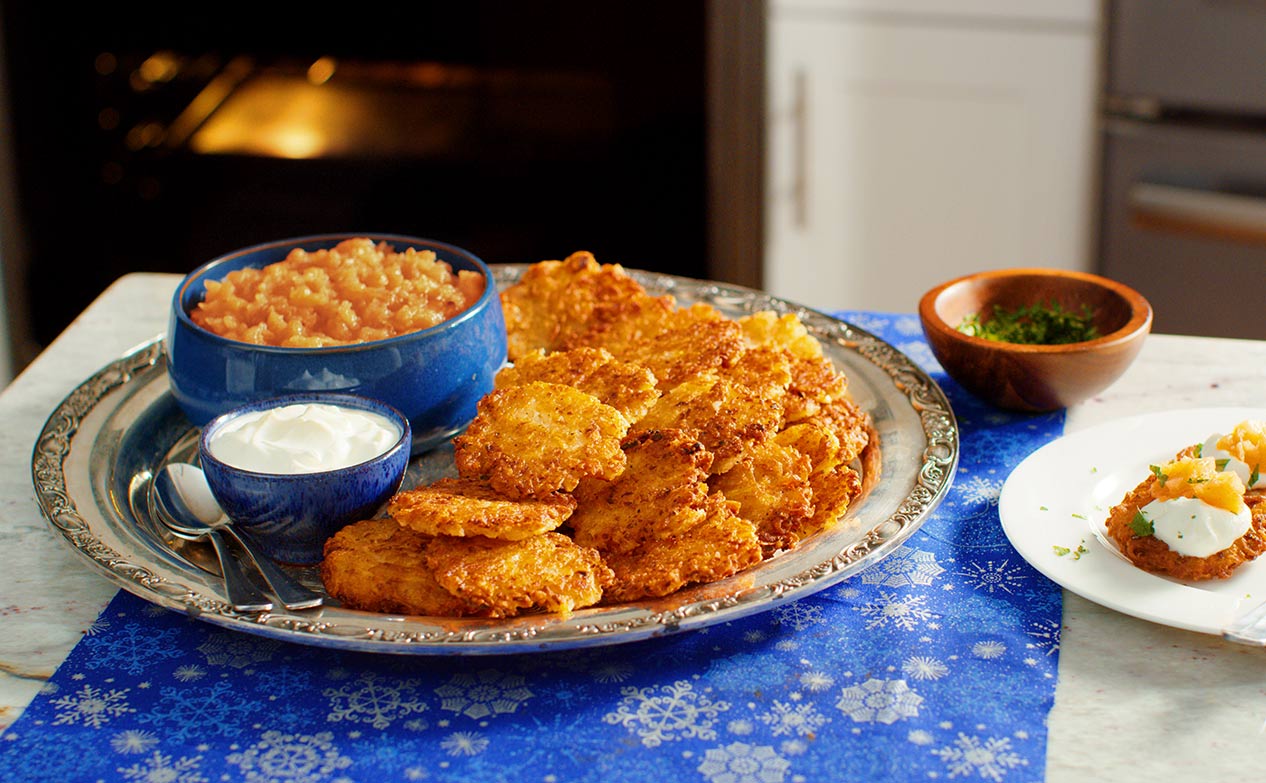 Who can resist a crispy, salty potato pancake with a fluffy center? Latkes are fried potato pancakes traditionally served during Hanukkah, but delicious any time of the year.
18-20 Latkes
1 Hour
Print
Ingredients:
3 pounds russet potatoes, peeled
2 medium onions, peeled
3/4 cup potato starch
3 teaspoons salt
1 teaspoon freshly ground pepper
3 large eggs
Peanut oil, for frying
Method:
Coarsely shred the potatoes and onion on the large holes of a box grater or with the shredding disc of a food processor. Transfer the shreds to a square of cheesecloth or clean dish towel, and squeeze as dry as possible. Let stand for 2 minutes, then squeeze again. Removing as much liquid as possible will result in a crispier latke.
In a large bowl, whisk the potato starch, salt and pepper, and eggs together. Pour the egg mixture over the potato and onions and mix well.
Heat oven to 175 degrees.
In a cast iron skillet, heat 2 tablespoons of oil until shimmering. Drop packed tablespoons of the potato mixture into the skillet and flatten them with the back of a spoon. Cook the latkes over moderately high heat until the edges are golden, about 1 1/2 minutes; flip and cook until golden on the bottom, about 1 minute. Drain each latke on a paper towel, then transfer to the baking sheet and keep warm in the oven. Repeat with the remaining potato mixture, adding more oil to the skillet as needed.
Serve with sour cream and applesauce.
Chef's Notes:
Strapped for time? Cooked latkes keep well in the fridge for a day or two, or well-wrapped in the freezer for up to two weeks. To reheat, arrange latkes in a single layer on a baking sheet and heat in a 350-degree oven until crisp.