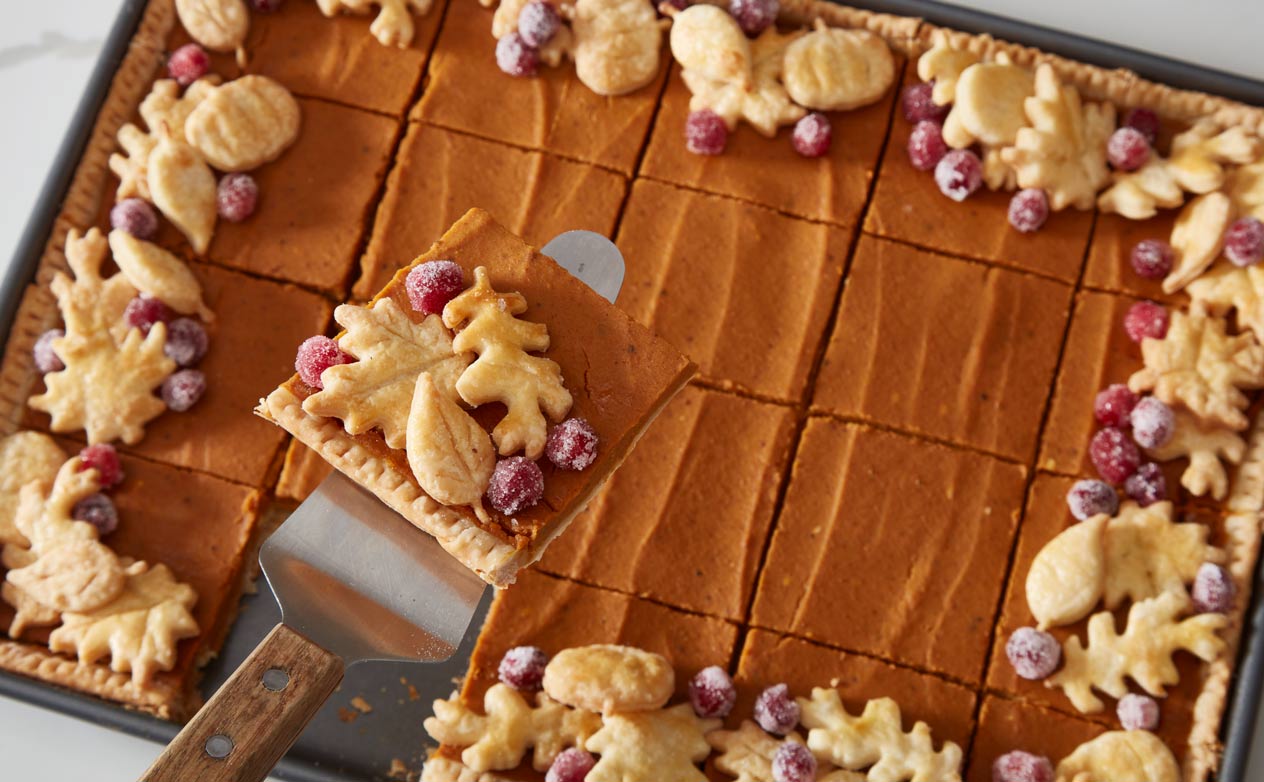 Pumpkin pie for a crowd! Who has time to make multiple pies when you're hosting all the family, including the random second cousins you've never met? Feed everyone with this mega-sized pumpkin slab pie. No one goes hungry on your watch!
20 Servings
1 Hour & 15 Minutes
Print
Ingredients:
1 recipe Myrtle's Never Fail Pie Crust, or two rolls of store bought dough, plus more for decorations
Filling:
2 15-ounce cans pumpkin puree
12 ounces cream cheese
1 1/2 cups packed brown sugar
3 large eggs
1/3 cup heavy cream
2 teaspoons Chinese Five Spice (or pumpkin pie spice)
1 teaspoon cinnamon
¼ teaspoon black pepper
1 teaspoon salt
1 teaspoon vanilla extract
Method:
Preheat oven to 400 degrees.
Roll ⅔ of the dough into a large 12 X 17-inch rectangle. Carefully maneuver dough into a 10 X 15-inch jelly roll pan. Roll the edges under and crimp with a fork. Line the dough with parchment paper and fill with ceramic pie weights or dry beans. Bake the pie crust for 15 minutes. Remove from oven and carefully remove parchment and pie weights. Allow pie crust to cool.
In a large bowl, use an electric mixer to beat the cream cheese until light and fluffy. Add the canned pumpkin puree 1 cup at a time, mixing well with each addition. Add in the brown sugar, followed by the eggs, cream, vanilla, Chinese Five Spice, cinnamon, pepper and salt. Scrape the bowl again and beat until smooth. Pour the pumpkin filling into the prepared crust and smooth the top with a spatula.
Bake for 35-45 minutes, until set in the middle.
For decoration, roll out the remaining dough and use a small leaf cookie cutter to cut out designs. Bake on a separate baking sheet for 5-10 minutes until golden. Once the pie is cool, decorate with the leaf pie cutouts.