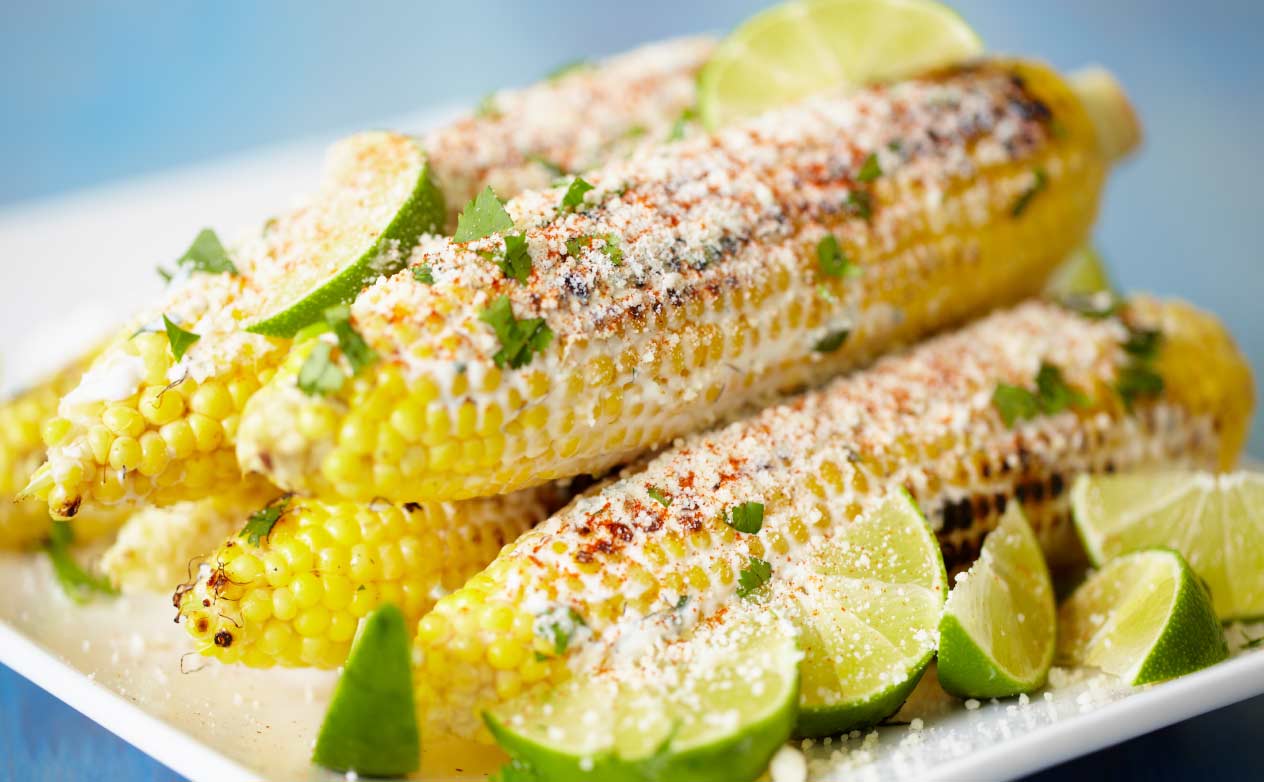 Fresh corn is delicious any time, but Mexican Street Corn takes it to the next level. A beautiful blend of sweet grilled corn, creamy dressing and sharp grated cheese.
4 Servings
Print
Ingredients:
1/4 cup mayonnaise
1/4 cup Mexican crema
1/2 cup finely crumbled Cotija cheese, plus more for serving
1/2 teaspoon chili powder, plus more for serving
1 medium clove garlic, finely minced
1/4 cup finely chopped cilantro
4 ears shucked corn
1 lime, cut into wedges
Method:
Heat a cast iron grill pan on the stovetop over medium high heat until the pan is hot (a drop of water will sizzle on the surface). Coat the pan lightly with vegetable oil. Place the corn on the hot grill pan and cook, rotating occasionally, until cooked through and charred in some spots on all sides, about 8 minutes in total.
While the grill pan is heating, combine mayonnaise, crema, cheese, chili powder, garlic, and cilantro in a small bowl. Stir until smoothly combined.
Transfer corn to a platter and evenly coat the ears of corn with the cheese mixture. A small silicone spatula is a great tool for this job. Sprinkle with extra cheese and chili powder and serve immediately with lime wedges on the side.
If you don't care for corn on the cob, you can cut the kernels off and then combine with the cheese mixture for an easier side dish.
Chef's Notes:
The Latin aisle of most grocery stores carry Mexican crema and Cotija cheese. If you can't find them in your area, you can substitute sour cream and feta cheese.
We like to cook our corn indoors on a cast iron grill pan. You can also cook the corn on a standard gas or charcoal grill or even broil it.