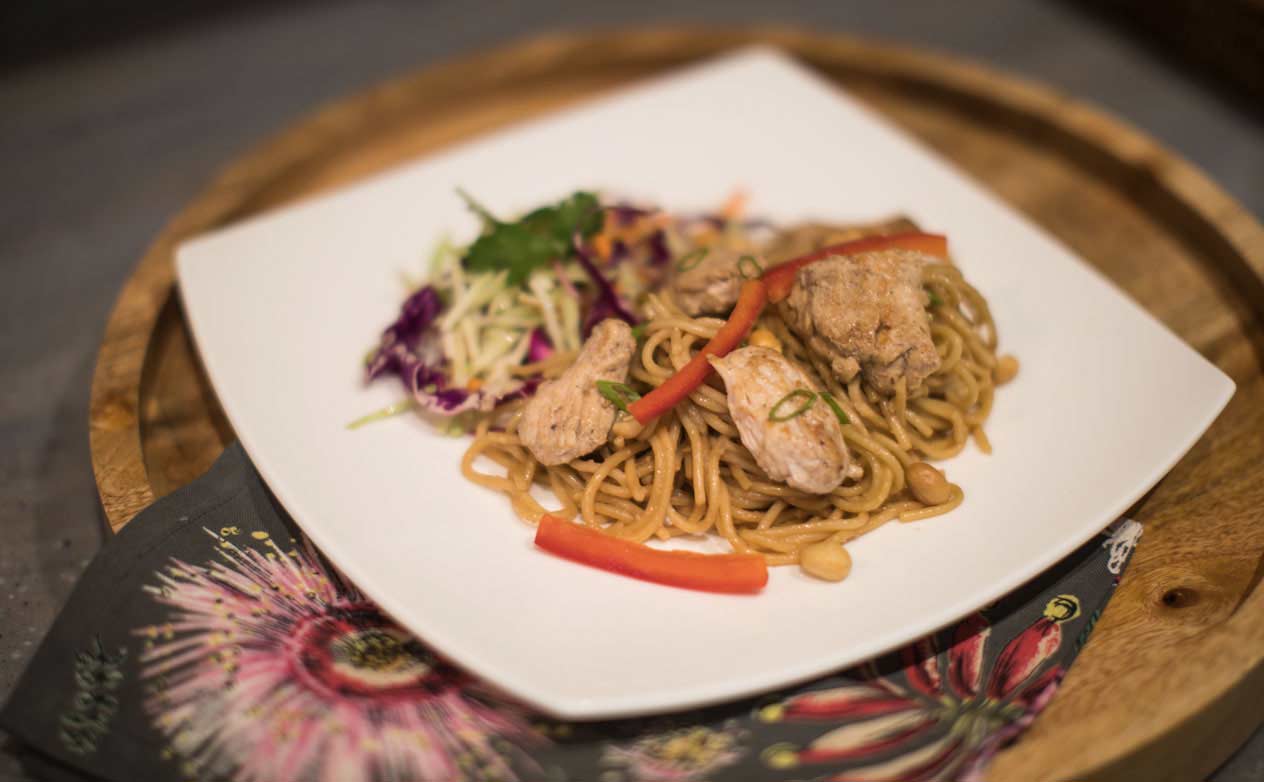 These tasty meal prep bowls pair delicious cold peanut noodles and tasty marinated chicken. A perfect grab-and-go meal that doesn't need reheating.
6 servings
35 Minutes
Print
Ingredients:
Five Spice Chicken
2 boneless, skinless chicken breasts (approximately 1-1/4 pounds), cut into chunks
3 tablespoons vegetable oil, divided
2 tablespoons soy sauce
1 tablespoon sesame oil
¾ teaspoon five spice powder
1/2 teaspoon garlic powder
Peanut Sauce
1/2 cup creamy peanut butter
2 tablespoons soy sauce
2 tablespoons sugar
2 tablespoons rice vinegar
1 tablespoon toasted sesame oil
1/2 teaspoon minced garlic
1/4 teaspoon crushed red pepper, or to taste
1/3 warm water (or as much needed to reach desired consistency)
8 ounces cooked spaghetti
½ red bell pepper, cut into strips
¼ cup roasted peanuts, chopped
2 green onions, chopped
Method:
Prepare the chicken:
Place the cut up chicken breasts in to a large resealable bag. Pour in 2 tablespoons vegetable oil, soy sauce, sesame oil, five spice powder and garlic powder. Seal the bag and shake to evenly coat the chicken in the marinade. Allow the chicken to soak in the marinade for at least 20 minutes or up to 24 hours.
Heat remaining vegetable oil in a skillet. Cook chicken until golden brown and cooked through, about 6 -8 minutes in total. Remove from heat and set aside to cool.
Make the peanut sauce:
Add peanut butter, soy sauce, sugar, rice vinegar, minced garlic and crushed red pepper to the bowl of a blender or food processor. Pulse to combine. With the motor running, slowly pour water through the feed tube a little at a time, until the mixture reaches the desired consistency. It should be thin enough to pour, but not watery. Toss the peanut sauce with the cooked pasta until the pasta is evenly coated. Set aside.
Divide chicken, noodles, and red peppers between meal prep containers. Garnish with chopped peanuts and green onions.
Keeps well refrigerated in airtight containers for up to 4 days.
Chef's Notes:
For a quicker version of this dish you can substitute grocery store rotisserie chicken for the five-spice marinated chicken. Simply pull off about 2 cups of meat off a rotisserie chicken and add to the peanut noodles.
This dish pairs great with our Asian Broccoli Slaw.