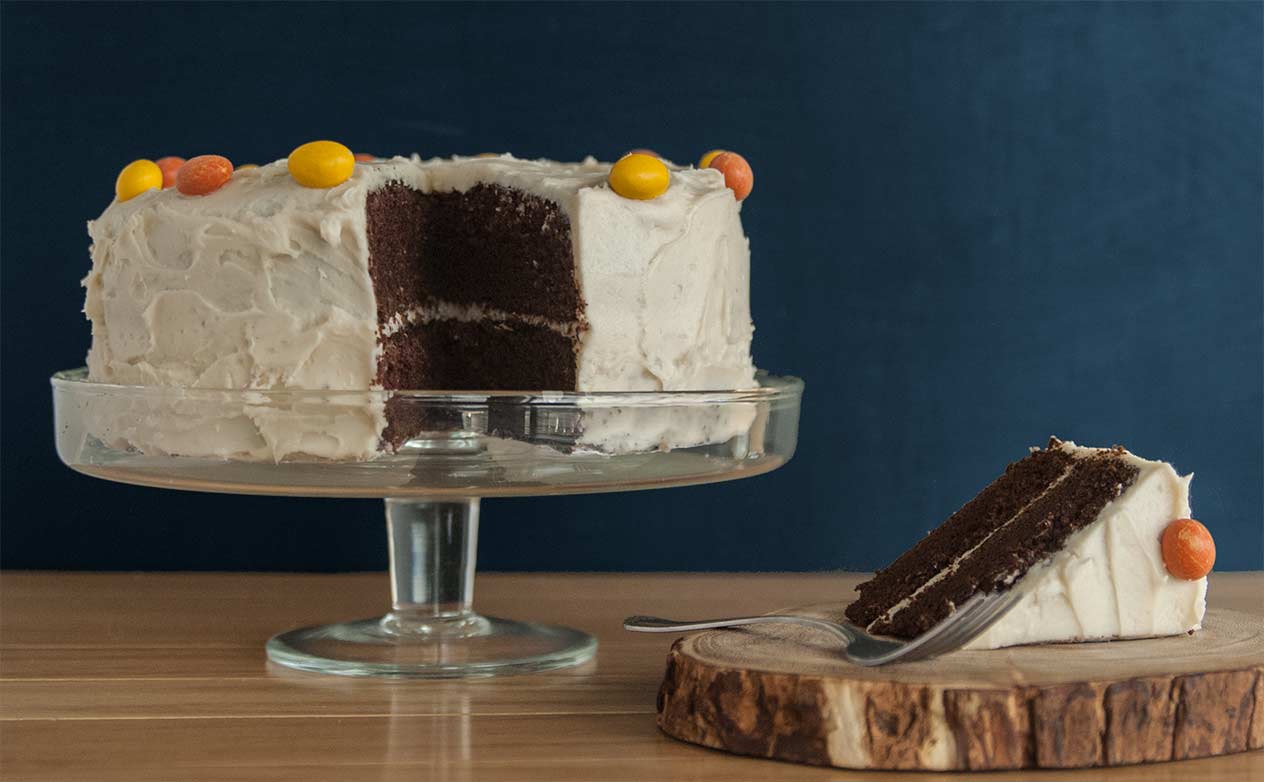 One bite of this chocolate cake and you'll realize this is the only chocolate cake recipe you'll ever need. This moist and decadent chocolate cake pairs perfectly with tangy cream cheese frosting.
8 servings
Print
Ingredients:
Cake:
1 ½ sticks unsalted butter, room temperature
2 ¼ cups dark brown sugar
3 eggs, room temperature
3 ounces unsweetened chocolate, melted and cooled
2 teaspoons vanilla
2 teaspoons baking soda
¾ teaspoon salt
2 cups all-purpose flour
½ cup buttermilk
1 cup boiling water

Frosting:
8 ounces cream cheese, room temperature
1 stick butter, room temp
4 cups powdered sugar, sifted
2 teaspoons vanilla
Method:
For the cake:
Preheat oven to 350 F. Spray two 9-inch cake pans with baking spray and line the bottoms with parchment paper circles.
Cream together the butter and brown sugar with a hand mixer. Beat at medium speed and add the eggs, one at a time, mixing thoroughly between each addition. Beat until light and fluffy, about 5 minutes. Add the melted chocolate and vanilla. Mix well, scraping down the sides of the bowl at least once.
Combine baking soda, salt and flour in a small bowl. Alternately add the dry mixture to batter with buttermilk, starting with the dry mix. Reduce speed and carefully add boiling water to the cake batter. Mix thoroughly, scraping down the sides of the bowl.
Divide the cake batter evenly between the two prepared cake pans. Drop the pans on the counter several times to get out the large air bubbles.
Bake for 35-40 minutes, until a toothpick inserted in the center comes out clean.
Remove from the oven and allow to cool for 20 minutes. Remove from the pan and cool completely before frosting.
Frost cake with cream cheese frosting.
For the frosting:
Beat together the cream cheese and butter. Slowly add the powdered sugar. Beat in vanilla. Mix until creamy.