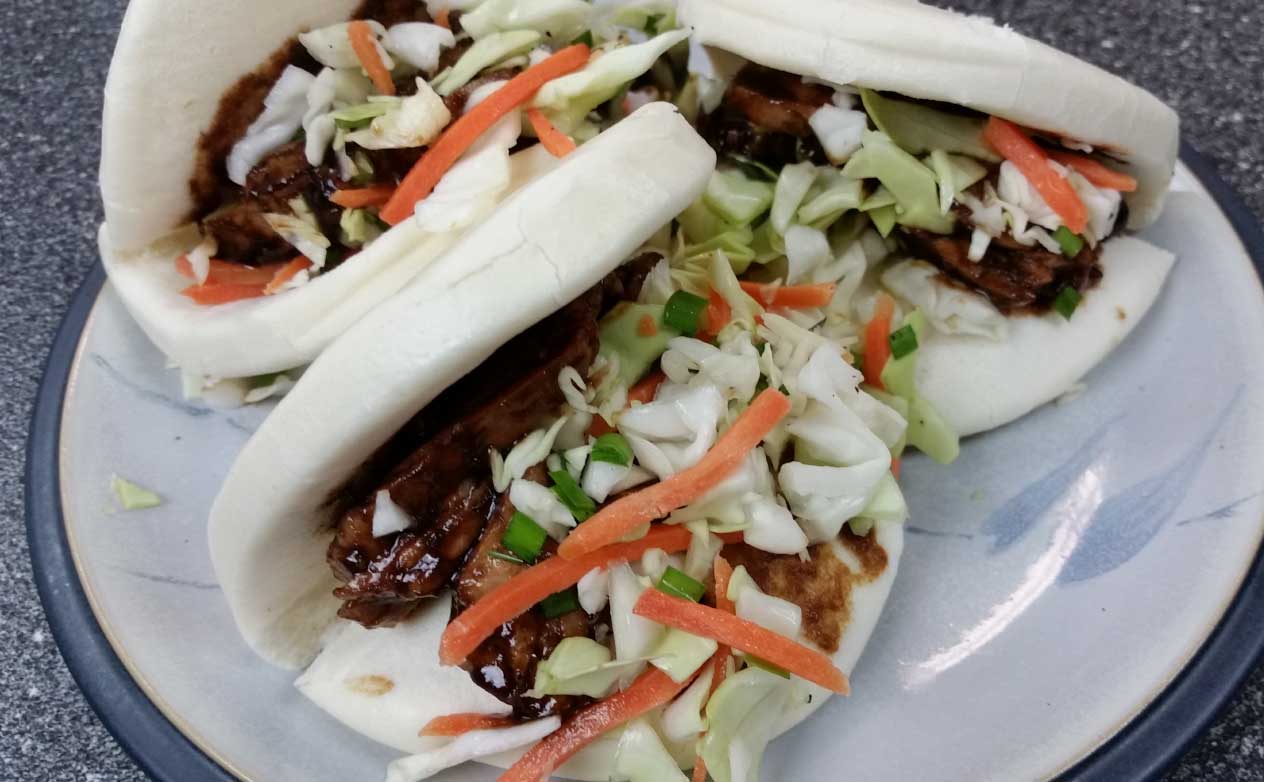 4 servings (about 2 tacos per serving)
Print
Ingredients:
1 pound pork tenderloin
combine for seasoning mixture:
1 teaspoon salt
1/2 teaspoon freshly ground black pepper
1/2 teaspoon garlic powder
combine for coleslaw:
1 cup shredded cabbage
1/2 cup shredded carrots
1 green onion, thinly sliced
1 tablespoon rice vinegar
1 teaspoon toasted sesame oil
Salt & pepper to taste
combine for BBQ sauce:
1/2 cup hoisin sauce (or more, to taste)
2 tablespoons soy sauce
1 teaspoon toasted sesame oil
8 Asian steamed buns (taco-shaped bánh bao buns in the Asian market frozen section)
Method:
Season the pork tenderloin (on all sides) with the mixture of salt, pepper, and garlic powder. Place the tenderloin on an Advantium metal tray, and fold the thin end of the tenderloin under itself to cook evenly with the rest of the tenderloin. Cook in the GE Advantium by making these selections, in this order: Meats, Tenderloin, Pork, 3/4–1 1/2 lb. Press "Start" to begin cooking. (The pork will have an internal temperature of 145° F when done.)
While the tenderloin is cooking, prepare the coleslaw and the BBQ sauce. For the coleslaw, combine shredded cabbage, shredded carrots, sliced green onion, rice vinegar, toasted sesame oil, and salt and pepper to taste in a large bowl, tossing well; reserve. For the BBQ sauce, combine hoisin sauce, soy sauce, and toasted sesame oil in a small, microwave-safe bowl, stirring well. Cover with plastic wrap and warm the sauce in the Advantium for about 30 seconds using the Microwave setting. Stir well; reserve.
When the pork tenderloin is done cooking, allow it to rest for 5 minutes. Thinly slice the tenderloin (about 16 slices), place in a shallow bowl and coat well with the reserved BBQ sauce. To serve, heat the Asian steamed buns for 10 to 20 seconds in the Advantium using the Microwave setting. Split open the buns, spoon in a couple slices of the BBQ sauce-coated pork tenderloin in each bun, and garnish with reserved coleslaw to taste. Enjoy!
Chef's Notes:
Substitute flour tortillas for the Asian steamed buns, if desired.
Recipe provided by:
Carol Ritchie
Get more recipes from Carol at
Provided By: Carol Ritchie