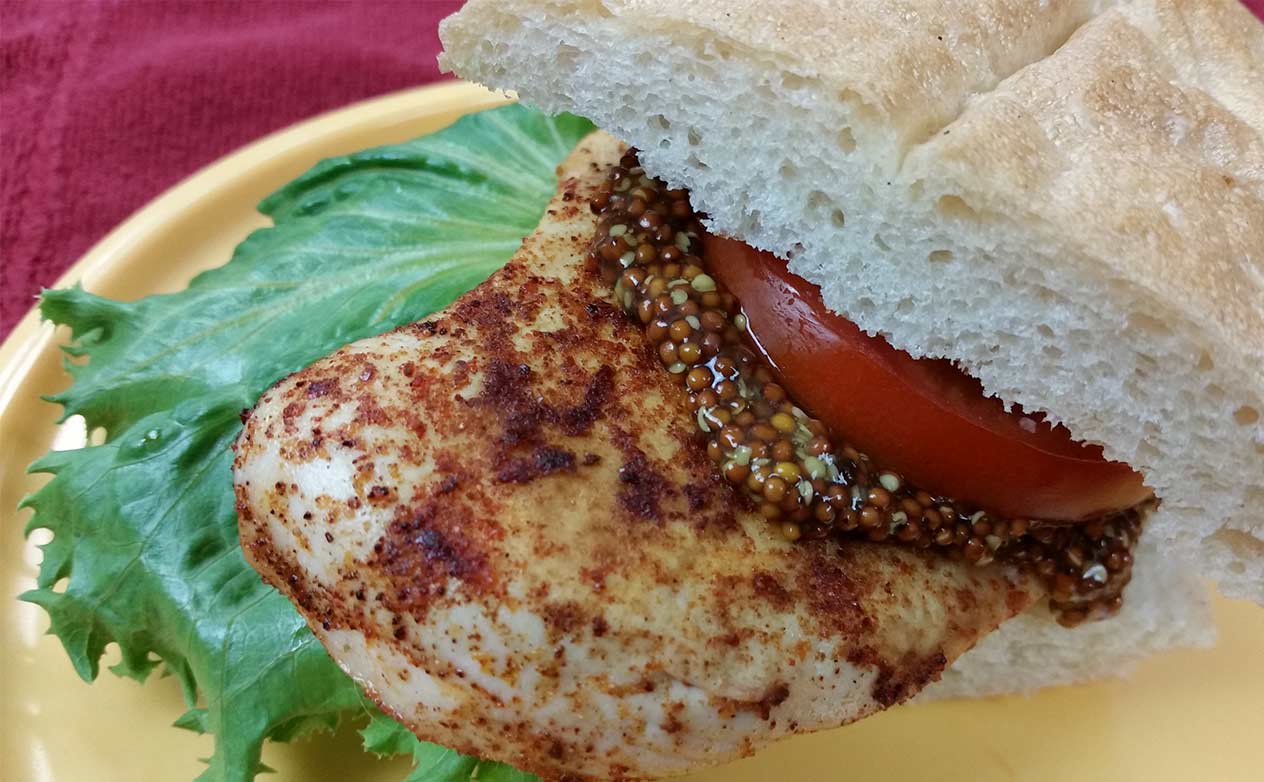 4 servings
9-16 minutes
Print
Ingredients:
4 boneless, skinless chicken breasts (about 4 ounces each)
2 to 3 tablespoons olive oil
2 to 3 tablespoons Cajun/Creole seasoning
Method:
Place chicken breasts between two pieces of plastic wrap. Using the flat side of a meat mallet, pound gently, but firmly, until the chicken breasts are 1/2-inch thick. Place the chicken breasts on the Advantium metal tray. Brush the chicken breasts on both sides with olive oil. Sprinkle the Cajun/Creole seasoning over both sides of each chicken breast.
Place the prepared chicken breasts (on the Advantium metal tray) in the Advantium oven. No preheating is necessary. Press "Speed Cook" and adjust the dial, following the instructions on the Advantium display to select food type settings. Select "Chicken" and press the dial. Select "Boneless" and press dial, and make additional selections according to size and number of chicken breasts. Press dial selection for "Start" to begin cooking.
When cooking is complete, enjoy the moist and juicy, Bronzed Chicken with vegetable side dishes, or serve each chicken breast in a delicious sandwich: Place one or two leaves of green leaf lettuce on the bottom slice of a sandwich bread or roll, such as ciabatta. Place a bronzed chicken breast over the lettuce and top with freshly sliced tomato. Spread the top slice of bread with 1 tablespoon of your favorite sandwich condiment, such as Creole mustard or mayonnaise to complete the sandwich. Repeat assembly for 3 more sandwiches. Enjoy!
Cooking Settings:
Advantium:
Settings:
Time:
Tray Type:
120 Over the Range
U=7 M=3 L=7
16 minutes
Metal Tray
240 Over the Range
U=10 M=2 L=10
11 minutes
Metal Tray
240 Wall Oven with Convection
U=10 M=2 L=10
9 minutes
Metal Tray
Chef's Notes:
Make your own salt-free Cajun/Creole seasoning: In a small bowl, mix together 1/2 teaspoon each of garlic powder, paprika, black pepper, onion powder, cumin, and chili powder. You can multiply this recipe and keep in a shaker-style container for convenience.
Recipe provided by:
Carol Ritchie
Get more recipes from Carol at
Provided By: Carol Ritchie