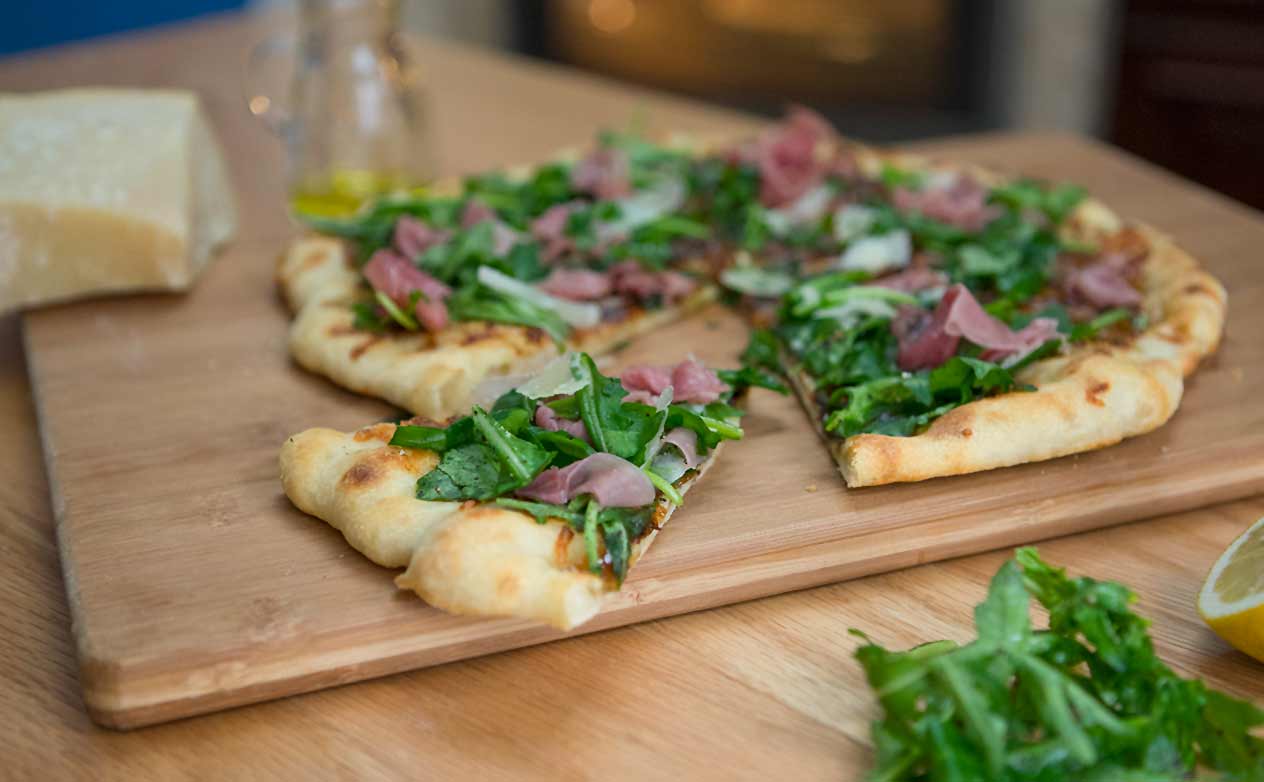 Sweet fig preserves are the perfect complement to salty prosciutto and a zingy arugula salad in this unique pizza—perfect for a party dish or quick weeknight dinner.
9 -inch pizza
Print
Ingredients:
1 ball of pizza dough, large enough for a 9-inch pizza
Cornmeal
Olive oil
5 tablespoons fig preserves
1 ½ cups shredded mozzarella cheese
2 cups arugula, washed
1 tablespoon fresh lemon juice, (½ of a large lemon)
4-5 slices prosciutto
Salt
Pepper
Parmesan cheese, shaved
Method:
Preheat oven to 500 degrees F with a baking stone inside the oven. If you don't have a baking stone, you can make your pizza on a heavy duty baking sheet.
Stretch the pizza dough into a roughly 9-inch circle. It helps to do this on a sheet of parchment paper with a little corn meal to prevent sticking.
Drizzle dough with olive oil. Spread the fig preserves evenly over the dough. Top dough with an even layer of mozzarella. Transfer to the pizza stone and bake for 15-20 minutes, or until crust is golden and the cheese is bubbly.
While the pizza is baking, make the arugula topping. In a medium-sized bowl, combine arugula, lemon juice, 1 tablespoon olive oil, salt and pepper.
Top the cooked pizza with the arugula salad, prosciutto and big flakes of parmesan cheese. Serve immediately.
Provided By: Amanda F.