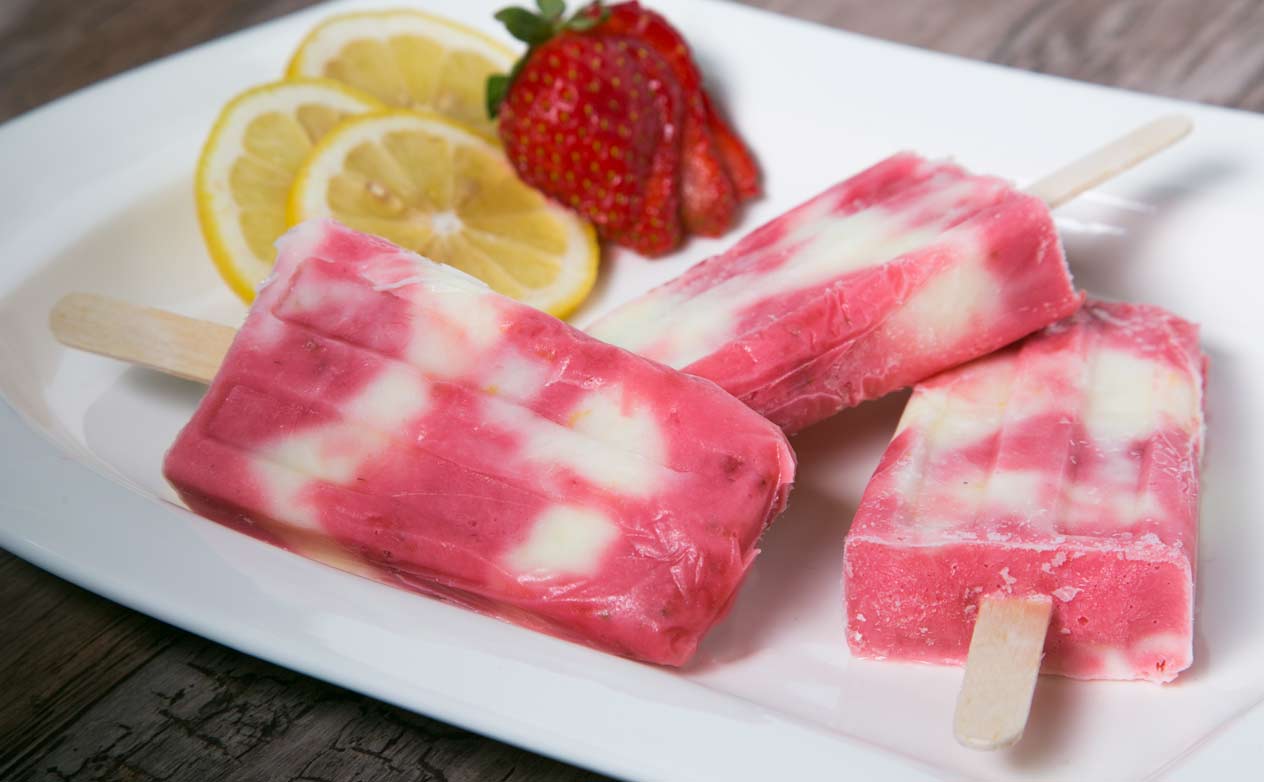 Nothing beats a glass of pink lemonade on a hot day—except maybe one of these strawberry lemonade yogurt pops! Fresh strawberries are combined with lemony yogurt for a creamy ice pop full of flavor.
10 pops
7 Hours & 40 Minutes
Print
Ingredients:
Lemon Layer:
¼ cup fresh lemon juice
¼ teaspoon lemon extract
2 tablespoons sugar
10 ounces Greek-style lemon yogurt
2 teaspoons lemon zest
Strawberry Layer:
1 pound strawberries, cored and quartered
2 tablespoons water
1 tablespoon sugar
1 teaspoon lemon juice
1 cup plain Greek-style yogurt
Method:
To make the lemon layer, combine the lemon juice, lemon extract and sugar, stir until it dissolves. Pour into a medium bowl with the yogurt and lemon zest; whisk until smooth. Refrigerate until ready to assemble popsicles.
For the strawberry layer, place the strawberries, water, and sugar in a medium saucepan and bring to a boil. Simmer for five minutes, gently mashing the berries with spatula or potato masher. Add the lemon juice and chill the mixture until cool, then whisk in the plain yogurt until well combined.
Assemble the popsicles. Carefully spoon alternating layers of lemon and strawberry mixture into ice pop molds. Insert ice pop sticks and freeze until firm, at least 7 hours or overnight. To unmold, dip molds into warm water and gently pull popsicles out. Serve immediately.