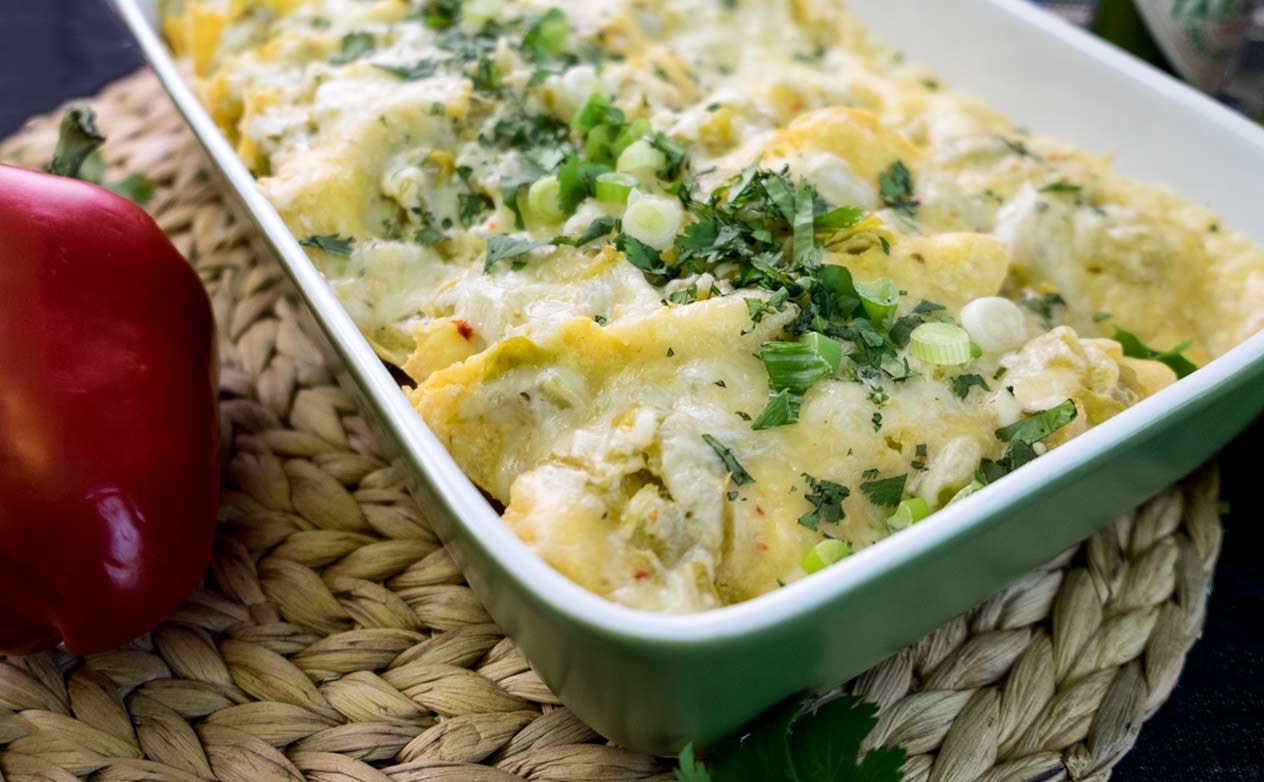 Roasted veggies are combined with rotisserie chicken for these amazing enchiladas topped with a creamy chile verde sauce and melted Pepper Jack cheese.
8
1 Hour
Print
Ingredients:
3 Tbsp. olive oil
1 red bell pepper
1 small zucchini
½ of a medium red onion
½ cup black beans, rinsed and drained
1 cup shredded chicken (from a rotisserie chicken)
8 corn tortillas
2 cups shredded pepper jack cheese
Chile Verde Sauce:
½ cup half & half
2 cans diced green chilies
1½ teaspoon cumin
¼ teaspoon salt
2 garlic cloves, minced
2 tablespoons chopped fresh cilantro, for garnish
Method:
Preheat oven to 400 degrees F.
Chop bell pepper, zucchini, and red onion into 1-inch pieces. Toss the veggies with 3 tablespoons olive oil and spread on a large, rimmed baking pan.
Roast in preheated oven for 12-15 minutes. Remove from oven; reduce oven temperature to 350 degrees.
While the veggies are roasting, prepare the sauce by combining half & half, diced green chiles, cumin, salt, and garlic cloves.
For the enchilada filling, combine the roasted vegetables, black beans and chicken.
Heat corn tortillas slightly to soften. Wrap the tortillas in a clean kitchen towel and microwave for 30 seconds. Keep them in the towel as you fill the tortillas to keep them soft and pliable.
Fill each tortilla with approximately ⅓ cup of the filling. Roll tightly and place seam-side down in 9x13 inch pan. Repeat until all the tortillas are filled. Pour sauce evenly over enchiladas. Top with shredded cheese and cover with aluminum foil.
Bake at 350 degrees for 30 minutes or until cheese is fully melted.
Remove from the oven and top with fresh cilantro.
Chef's Notes:
Use any leftover filling for a quick and easy breakfast. Reheat the vegetable and black bean mixture and add a fried egg to the top.