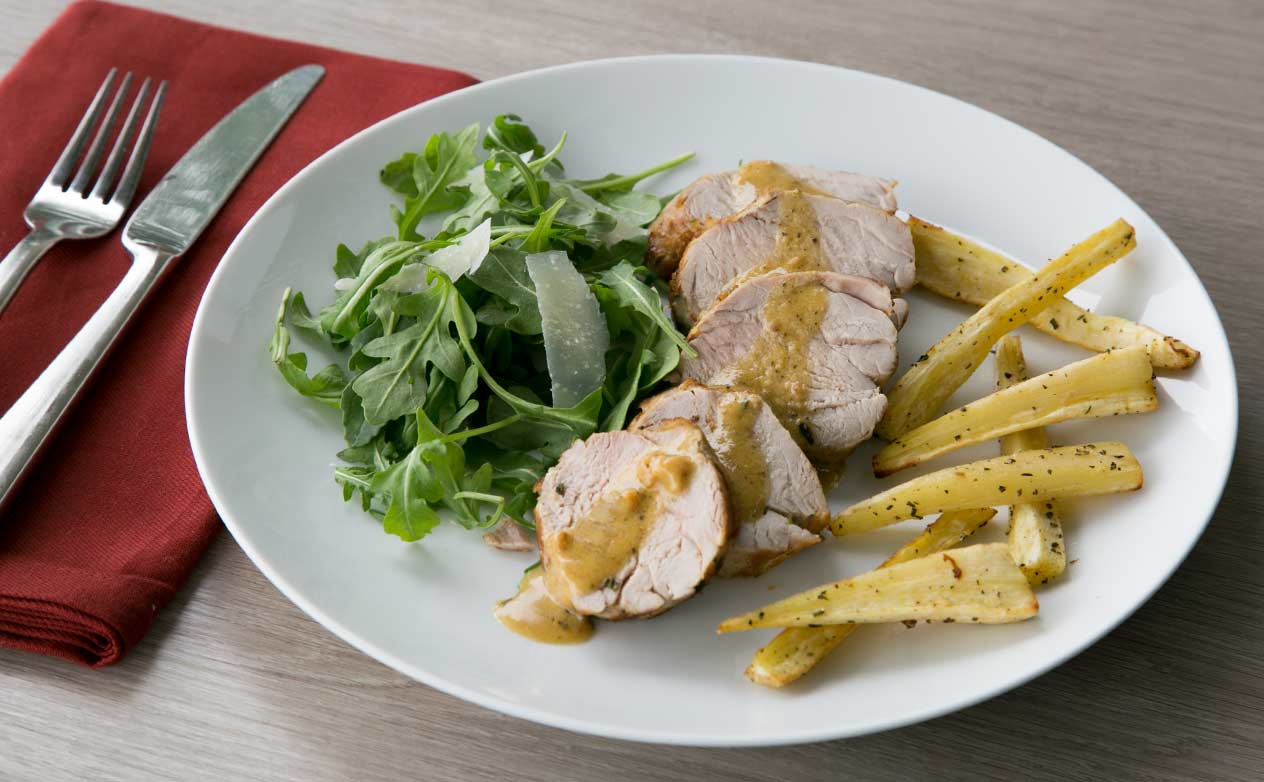 Full of flavor, this roasted pork tenderloin is simple and versatile. It's a delicious dinner, perfect for any season or occasion. Plus, any leftovers make great sandwiches the next day!
4-6 servings
45 Minutes
Print
Ingredients:
4 cups lukewarm water
4 tablespoons kosher salt
1 or 2 pork tenderloins, about 2 pounds total
2 tablespoons Dijon mustard
1 tablespoon fresh thyme leaves (from 4 springs of thyme)
2 cloves garlic, minced
1 teaspoon black pepper
Zest of one lemon
Olive oil
Sauce
1 teaspoon thyme
1/3 cup dry white wine
1 tablespoon lemon juice
2 teaspoons Dijon mustard
1 teaspoon salt
½ teaspoon pepper
2 tablespoons cold butter
Method:
Combine the water and salt in a large container. Whisk until the salt is completely dissolved. Submerge the tenderloin in the brine and cover with plastic wrap or a lid. Refrigerate for at least 8 hours or overnight.
Heat the oven to 400 degrees F and line a rimmed baking sheet with parchment paper. Remove the tenderloin from the brine and pat dry with paper towels. In a small bowl, make a paste out of the Dijon, lemon zest, garlic, thyme, 2 teaspoons olive oil and pepper. Rub the paste evenly over the pork. Let the tenderloin sit for about 15 minutes.
Add remaining olive oil to a large skillet over medium-high heat. When hot, add the tenderloin and brown on all sides, about 3 to 5 minutes per side. Transfer the tenderloin to the baking sheet and roast 15-20 minutes until its juices run clear or a meat thermometer inserted into the thickest point reads 140 degrees F. Remove the pork from the oven, cover it loosely with foil, and let it rest for 10 minutes.
While the pork is resting, make the pan sauce. Wipe out any overly browned bits from the pan. Add the wine and scrape with a wooden spoon. Add Dijon and lemon juice. Stir well. Add thyme, salt and pepper. Allow the mixture to reduce by half. Add cold butter at the end to enrich the sauce. Strain before serving.
Cut the rested pork into slices and serve with the pan sauce.
Chef's Notes:
This dish is perfected when paired with a simple green salad and our Roasted Parsnips with Rosemary . Leftover pork can be made into Mini-Pork Sliders the next day.
Provided By: Amanda F.