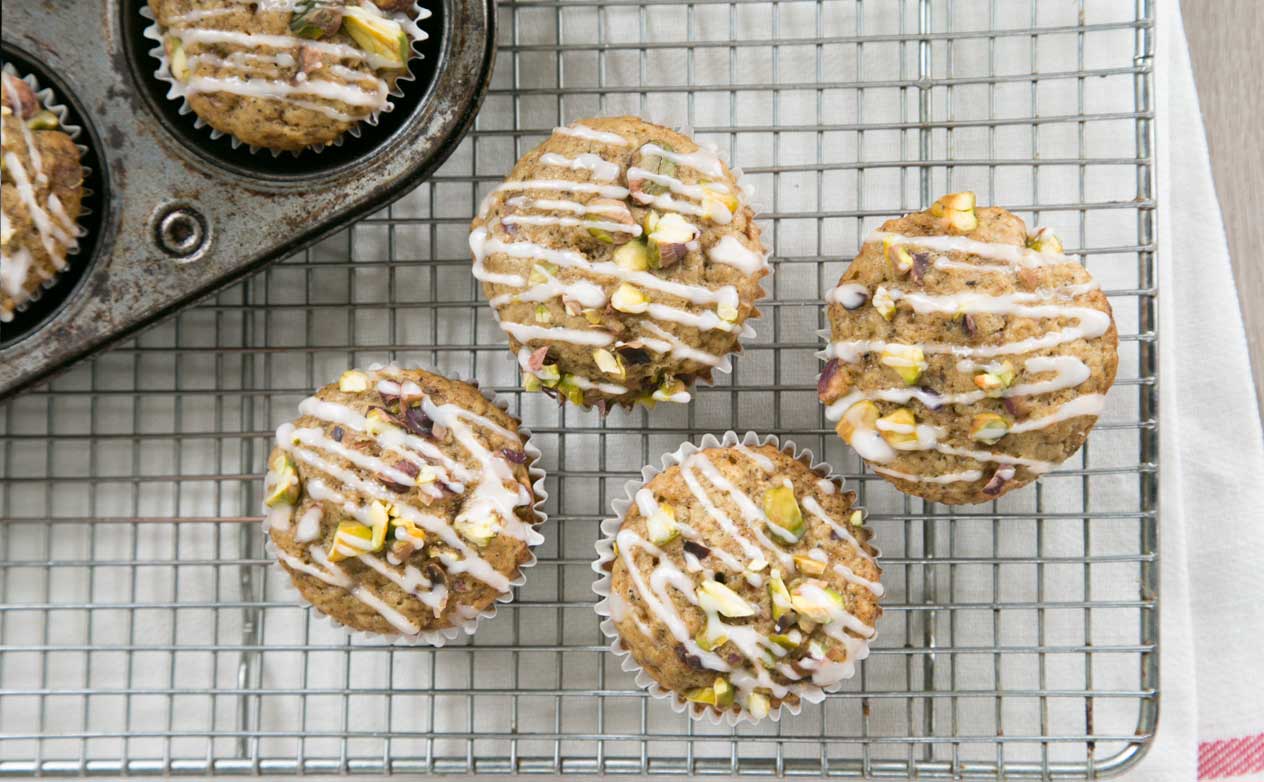 If you love Chai Lattes, this muffin is for you! These incorporate the flavors of chai tea and spices topped with crunchy pistachios and a sweet glaze. The perfect start to your day!
1 dozen muffins
15 Minutes
Print
Ingredients:
1 ¾ cups flour
½ cup packed brown sugar
1 teaspoon baking powder
1 teaspoon baking soda
¼ teaspoon salt
1 teaspoon cinnamon
2 chai tea bags, opened
1 cup buttermilk
1/3 cup butter, melted
1 teaspoon vanilla extract
½ teaspoon almond extract
1 large egg, lightly beaten
½ cup shelled pistachios
½ cup powdered sugar
1 tablespoon water
Method:
Preheat oven to 375 F.
In a large bowl, add flour, brown sugar, baking powder, baking soda and salt. Stir with a whisk to combine. Add contents of tea bags and cinnamon to flour mixture, stir well. Combine buttermilk, melted butter, vanilla extract, almond extract and egg in a bowl, stir well with a whisk. Add buttermilk mixture to dry ingredients, stirring until just moist.
Line a 12-cup muffin tin with paper liners. Divide batter evenly among the prepared muffin tin. Sprinkle with pistachios. Bake for 15 minutes or until a wooden toothpick comes out clean. Cool for 5 minutes.
Make glaze. Combine remaining powdered sugar and 1 tablespoon of water. Stir until smooth. Drizzle over cooled muffins.
Chef's Notes:
For perfect muffins, leave a few lumps in your batter. Over mixing can make muffins tough. Store muffins in an airtight container for a few days or wrap each muffin in plastic wrap and place in a zip top bag for longer storage in the freezer (up to one month).
Provided By: Amanda F.