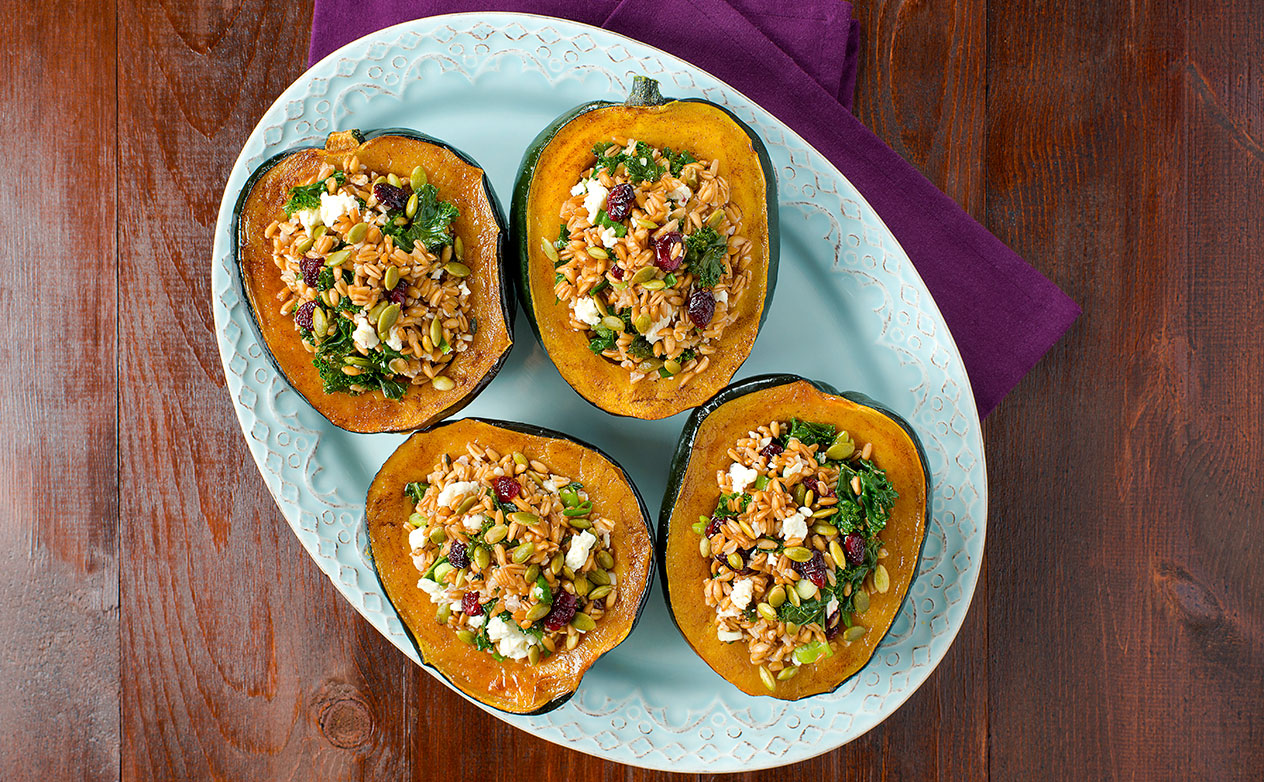 Farro is an ancient grain that has a nutty chewy taste and texture similar to barley. It can be found in the health food section of the grocery store.
6-12 Servings
1 Hour & 20 Minutes
Print
Ingredients:
2 acorn squash (each about 2 1/4 to 2 1/2 lb)
5 tablespoons olive oil, divided
1/2 teaspoon salt, divided
1/2 teaspoon freshly ground pepper, divided
1/4 teaspoon allspice
4 cups no salt added chicken broth or vegetable broth
1 1/2 cup farro
3 cups stemmed and chopped kale
2 tablespoons apple cider vinegar
1 tablespoon honey
1 tablespoon chopped fresh thyme
2 cloves garlic, minced
2 green onions, chopped
1/3 cup dried cranberries, chopped
1/2 cup crumbled feta
1/4 cup pumpkin seeds
2 tablespoons chopped fresh parsley (optional)
Method:
Preheat oven to 400 degrees F. Line baking sheet with parchment paper. Halve and seed squash. Trim tip end of squash so it stands up. Brush flesh side with 2 tablespoons oil and season with 1/4 teaspoon salt, 1/4 teaspoon pepper and allspice. Bake for 40 to 45 minutes or until tender.
Meanwhile, bring 4 cups broth to a boil. Add farro. Reduce heat to medium low. Simmer, covered, for 30 to 35 minutes or until tender but toothsome; add kale in the last 2 minutes of cooking. Drain well.
Combine remaining oil, apple cider vinegar, honey, thyme, garlic, remaining salt and pepper. Stir into farro until well combined. Stir in green onions, feta and cranberries.
Spoon into squash halves. Sprinkle with pumpkin seeds. Bake in 400 degrees F about 30 to 40 minutes, until filling is heated through, feta softens and pumpkin seeds are toasted. Sprinkle with parsley.
Chef's Notes:
Prepare the squash and farro filling separately. Make up to 1 day in advance and store in refrigerator. Assemble day of baking. Substitute dried figs or apricots for the cranberries, if desired.