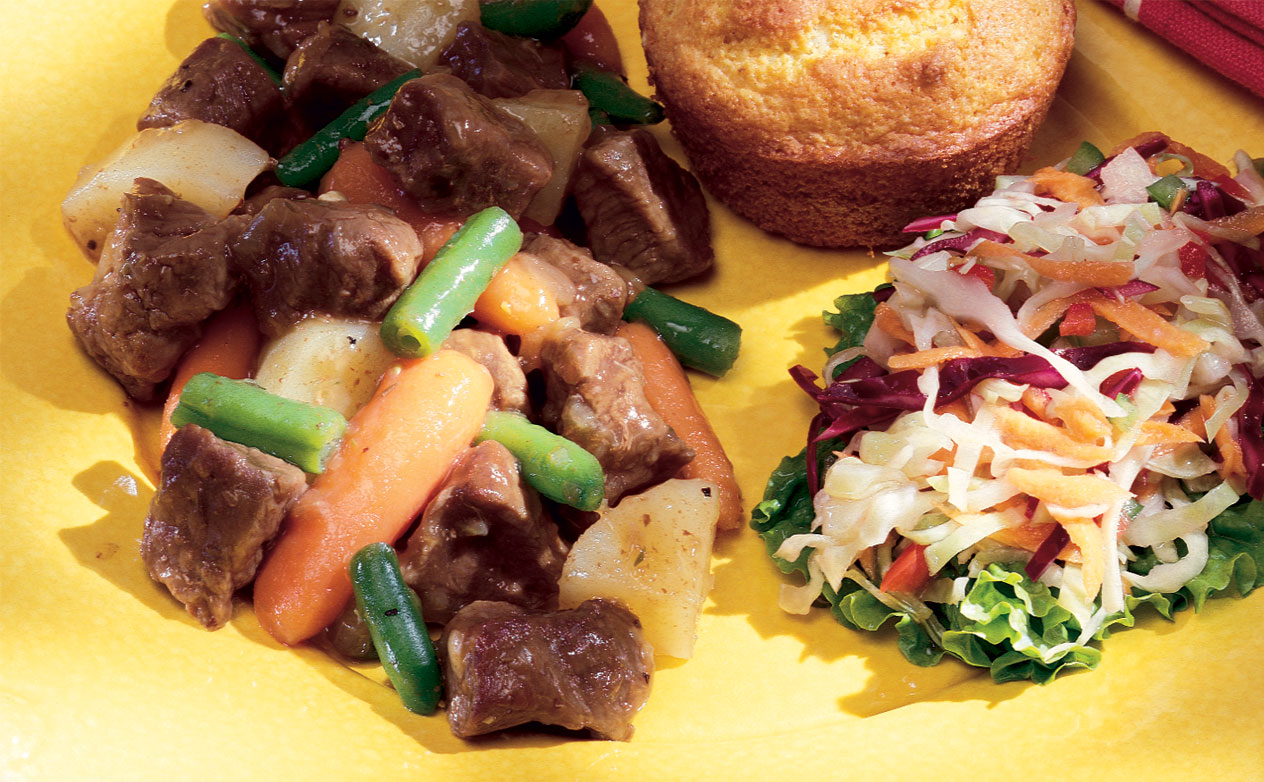 6 Servings
32-48 minutes
Print
Ingredients:
1 ½ lbs. beef stew meat, cut in ½-inch cubes
1 small onion, thinly sliced
1 clove garlic, minced
2 ½ cups water
½ (16-oz.) pkg. baby carrots
2 cups peeled, cubed potatoes
1 (1 ¾-oz.) pkg. dry onion-mushroom soup mix
½ teaspoon thyme
½ teaspoon salt
¼ teaspoon pepper
½ (16-oz.) pkg. frozen cut green beans, thawed
2 tablespoons cornstarch (optional)
3 tablespoons water (optional)
Method:
Coat a 4-quart oval (or similar) (or similar) casserole with vegetable cooking spray; place beef, onion and garlic in casserole.
Place dish on nonstick metal tray.
Cook for 8 to 10 minutes at U=LO, L=LO or until browned.
Drain.
Add water, carrots, potatoes, soup mix, thyme, salt and pepper; cover.
Cook according to your Advantium model's cooking settings, stirring occasionally.
Add green beans after 20 minutes of cooking time.
If desired, dissolve cornstarch in water; stir into stew mixture.
Continue cooking for 5 minutes according to your Advantiummodel's cooking settings or until thickened.
Cooking Settings:
Advantium:
Settings:
Time:
Tray Type:
120 Over the Range
U=Lo L=Hi
35 minutes
Metal Tray
120 Wall Oven
U=Lo/Lo L=Lo/Hi
48 minutes
Metal Tray
240 Over the Range
U=5 M=4 L=7
42 minutes
Metal Tray
240 Wall Oven
U=5 M=4 L=7
42 minutes
Metal Tray
240 Wall Oven with Convection
U=8 M=4 L=10 C=10
32 minutes
Metal Tray
Chef's Notes:
When buying meat, look for meat cuts that have the most lean meat and least amount of waste for the money. Less expensive cuts, such as stew meat, should have a minimum amount of gristle, fat or bone.