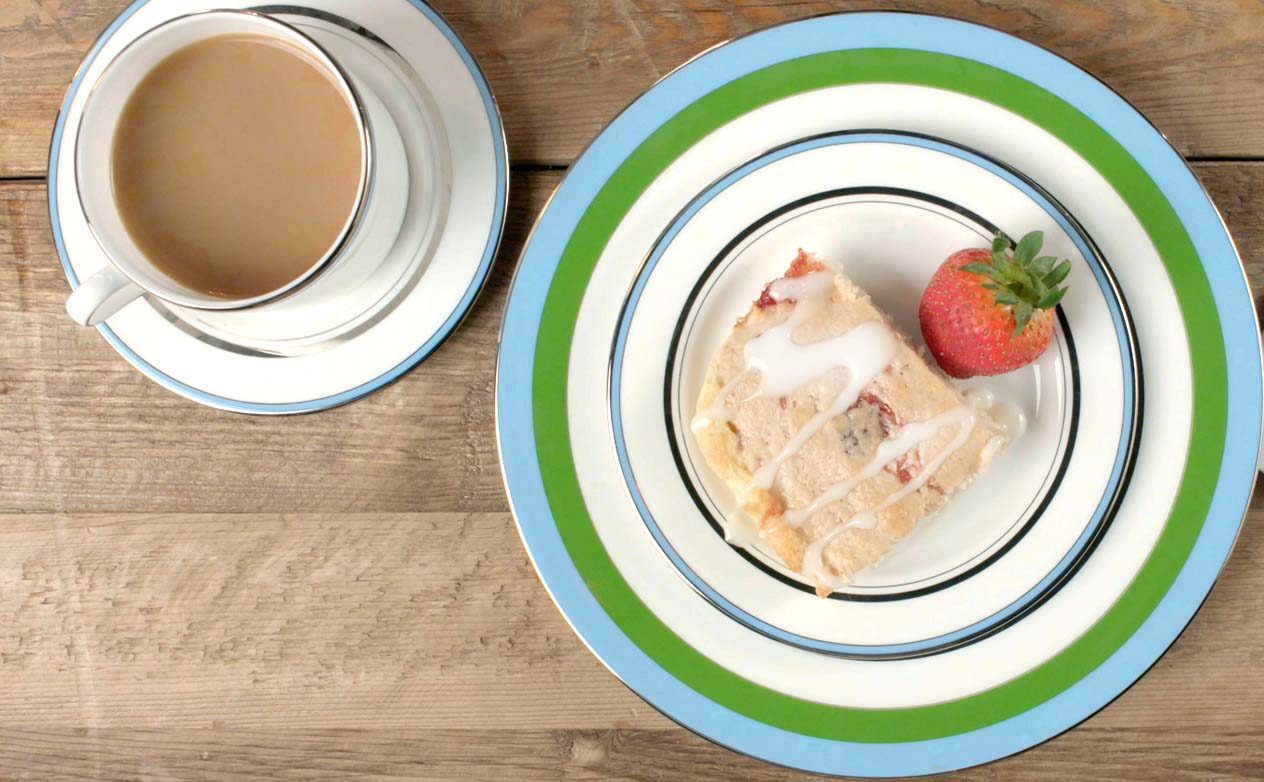 Unexpected company? No problem. Whip up dessert in a flash using pantry staples.
8 Servings
11-19 minutes
Print
Ingredients:
½ (8-oz.) pkg. cream cheese, softened
¼ cup butter, softened
1 ¼ cup all-purpose flour
½ cup sugar
1 egg
3 tablespoons milk
¾ teaspoon baking powder
¼ teaspoon baking soda
½ teaspoon vanilla
¼ cup strawberry preserves
Method:
In a large mixing bowl, beat cream cheese and butter with an electric mixer until smooth and well combined.
Add half of flour to cream cheese mixture.
Add sugar, egg, milk, baking powder, baking soda and vanilla.
Beat on low speed until thoroughly combined.
Beat on medium speed for 2 minutes.
Add remaining flour and beat on low speed just until combined.
Spread mixture in a lightly greased 7 x 11 oblong or 8-inch square baking dish.
Drop small spoonfuls of preserves on top of batter.
Using a small metal spatula or knife, gently swirl preserves into batter to create a marbled effect.
Cook according to your Advantium model's cooking settings or until golden brown.
Cool on wire rack for 15 minutes.
Drizzle with Vanilla Glaze.
Vanilla Glaze In a small bowl, combine ½ cup powdered sugar, 3 teaspoons milk and ¼ teaspoon vanilla; stir until smooth.
Drizzle over coffee cake.
Cooking Settings:
Advantium:
Settings:
Time:
Tray Type:
120 Over the Range
U=Med L=Hi
19 minutes
Grill Metal Tray
120 Wall Oven
U=Med L=Hi
16 minutes
Metal Tray
240 Over the Range
U=6 M=2 L=5
11 minutes
Glass Tray for microwave only
240 Wall Oven
U=6 M=2 L=5
11 minutes
Glass Tray for microwave only
240 Wall Oven with Convection
U=2 M=2 L=10 C=9
13 minutes
Metal Tray