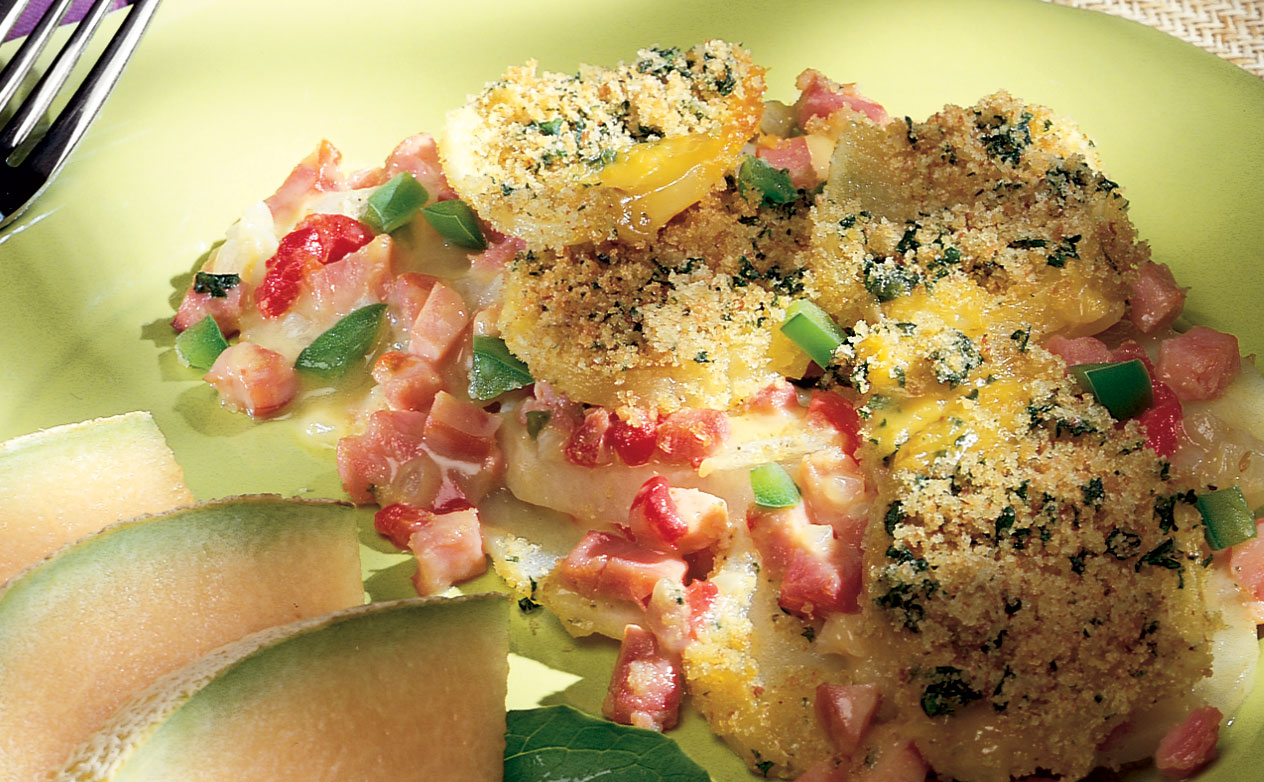 6 Servings
16-35 minutes
Print
Ingredients:
¼ cup dry bread crumbs
2 tablespoons snipped fresh parsley
1 tablespoon butter, melted
1 (8-oz.) pkg. diced cooked ham (1 ½ cups)
½ cup chopped onion
½ cup chopped green pepper
1 (2-oz.) jar sliced pimiento, drained
4 medium potatoes, peeled and thinly sliced (4 cups)
1 (10 ¾-oz.) can Cheddar cheese soup
½ cup milk
Method:
Combine bread crumbs, parsley and butter; blend well and set aside.
Combine ham, onion, green pepper and pimiento; stir to combine.
In a 2½-quart oval (or similar) casserole, layer half of ham mixture and half of potatoes.
Repeat layers.
Combine soup and milk; pour over potatoes.
Cover.
Cook according to your Advantium model's cooking settings or until lightly browned.
Uncover and sprinkle with reserved crumb mixture after 30 minutes of cooking time.
Let stand 10 minutes.
Variations This dish would be just as delicious made with cream of mushroom or celery soup.
Serve with melon wedges, corn muffins and strawberry sundaes for dessert.
Cooking Settings:
Advantium:
Settings:
Time:
Tray Type:
120 Over the Range
U=Lo L=Lo
35 minutes
Metal Tray
120 Wall Oven
U=Lo L=Lo
30 minutes
Metal Tray
240 Over the Range
U=7 M=5 L=5
16 minutes
Metal Tray
240 Wall Oven
U=7 M=5 L=5
16 minutes
Metal Tray
240 Wall Oven with Convection
U=5 M=8 L=10 C=10
19 minutes
Metal Tray