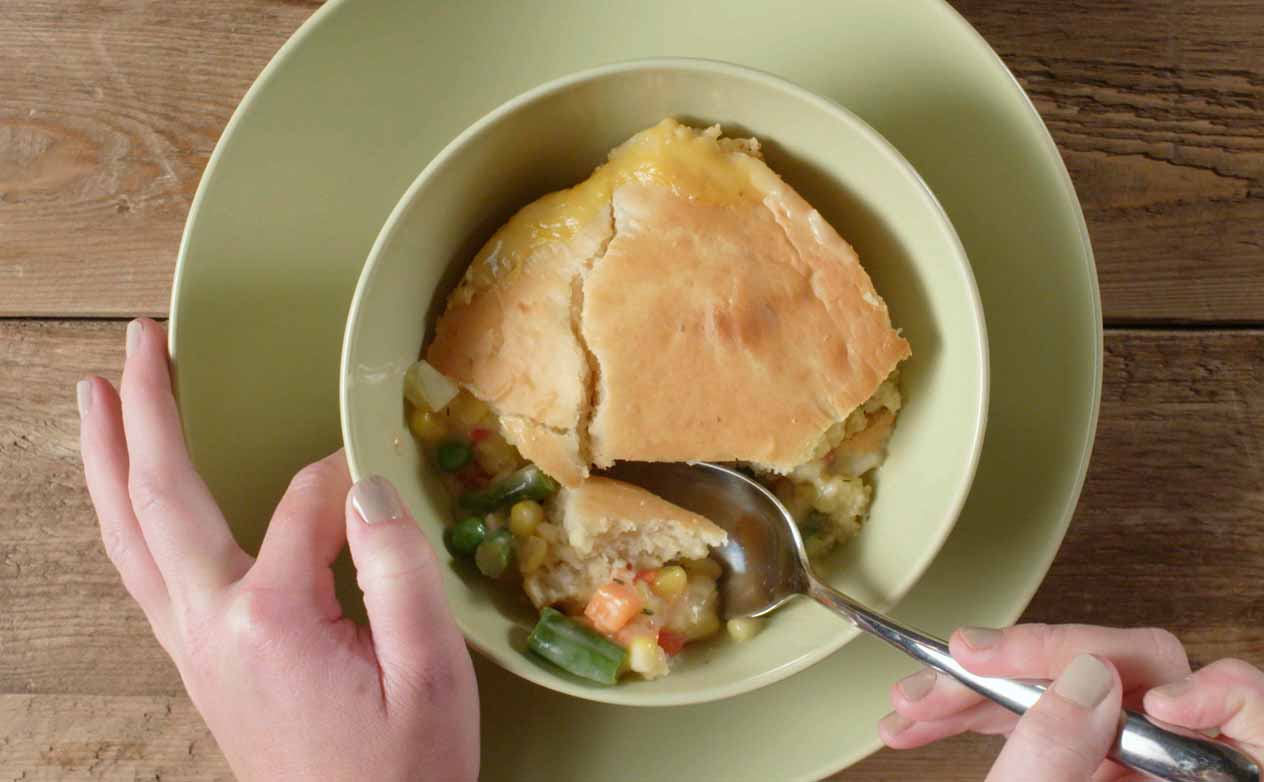 Chicken pot pie is the perfect comfort food. Try this speedy version it is packed with flavor and has a biscuit topping you'll love.
6 Servings
14-23 minutes
Print
Ingredients:
2 cups chopped cooked chicken
1 (10-oz.) pkg. frozen mixed vegetables, thawed
½ cup chopped onion
1 (2-oz.) jar sliced pimiento, drained
1 (10 ¾-oz.) can cream of chicken soup
½ cup milk
¼ teaspoon thyme
1/ 8 teaspoon pepper
1 ½ cups baking mix
¾ cup milk
1 egg
2 tablespoons grated Parmesan cheese
Method:
In a medium bowl, combine chicken, vegetables, onion and pimiento.
Combine soup, ½ cup milk, thyme and pepper; stir until smooth.
Pour over chicken mixture; stir to combine.
Spoon mixture into a 2-quart round casserole.
Combine baking mix, ¾ cup milk and egg; stir to blend.
Pour evenly over chicken mixture.
Cook according to your Advantium model's cooking settings or until golden brown.
Sprinkle with cheese during last 5 minutes of cooking time.
Let stand for 5 minutes.
Cooking Settings:
Advantium:
Settings:
Time:
Tray Type:
120 Over the Range
U=Lo L=Hi
23 minutes
Metal Tray
120 Wall Oven
U=Lo L=Hi
22 minutes
Metal Tray
240 Over the Range
U=5 M=5 L=5
14 minutes
Metal Tray
240 Wall Oven
U=5 M=5 L=5
14 minutes
Metal Tray
240 Wall Oven with Convection
U=1 M=5 L=10 C=10
17 minutes
Metal Tray