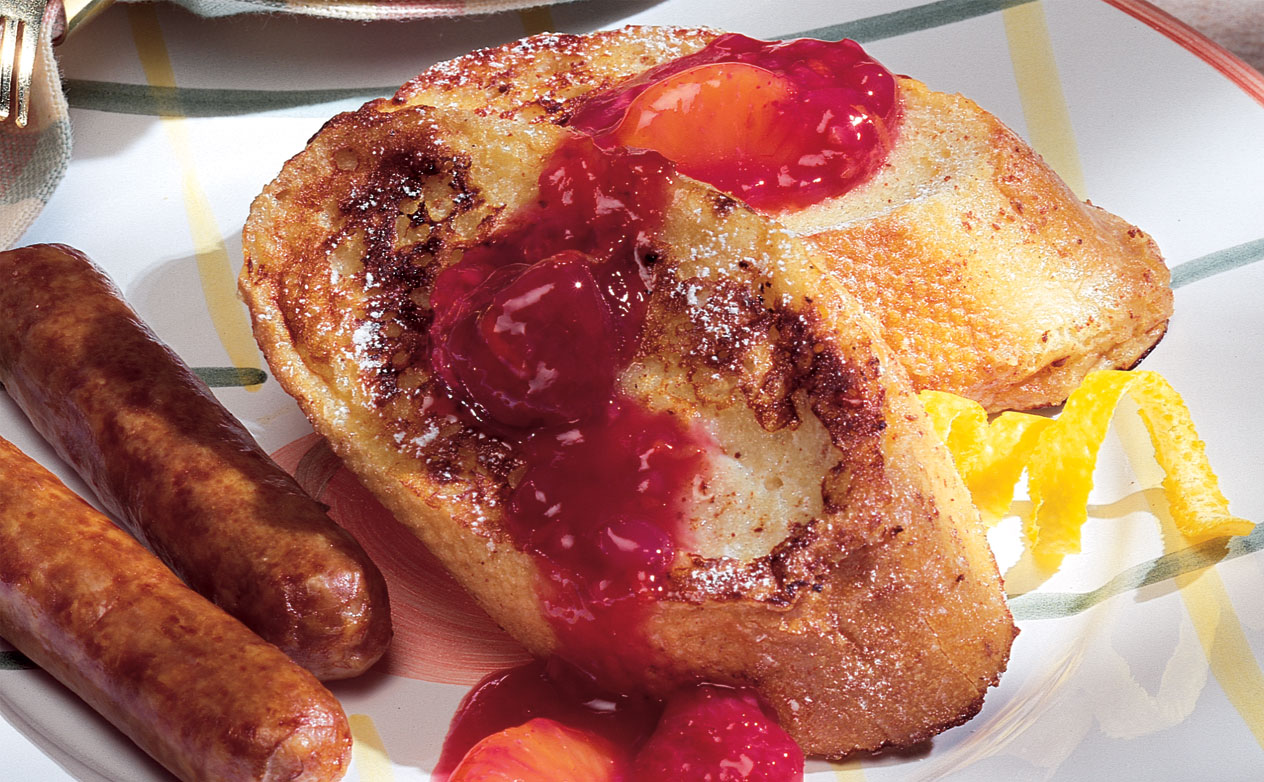 4-6 Servings
7-17 minutes
Print
Ingredients:
3 eggs
1 cup milk
2 tablespoons sugar
2 teaspoons vegetable oil
½ teaspoon vanilla
¼ teaspoon cinnamon
⅛ teaspoon nutmeg
10 slices French bread, 1-inch thick
Powdered sugar
Rasberry-Orange Sauce
1 (10-ounce) package frozen raspberries in syrup
1/3 cup sedless raspberry jam
1 tablespoon sornstarch
Water
1 (11-ounce) can madarin oranges drained
2 teaspoons orange zest
Method:
In a large bowl, combine eggs, milk, sugar, oil, vanilla, cinnamon and nutmeg; beat until blended.
Arrange bread slices in a 13x9-inch baking dish.
Pour egg mixture evenly over bread; lift and move slices until liquid is absorbed.
Cover and refrigerate overnight.
Remove from refrigerator.
Place slices of bread on well-greased non-stick metal tray.
Cook according to your Advantium model's cooking settings or until golden brown.
Turn bread over after 9 minutes of cooking time.
Sprinkle with powdered sugar.
Serve with Raspberry-Orange Sauce.
Raspberry-Orange Sauce Thaw raspberries; drain and reserve syrup. Set raspberries aside. Add water to syrup to make ¾ cup. In 1-quart round casserole, combine syrup mixture, seedless raspberry jam and cornstarch; stir until smooth. Place dish on glass tray. Microwave at high (10) for 3 to 4 minutes or until thickened, stirring after 2 minutes. Stir in raspberries, mandarin oranges and orange zest. Serve over French toast.
Cooking Settings:
Advantium:
Settings:
Time:
Tray Type:
120 Over the Range
U=Hi L=Hi
11 minutes
Metal Tray
120 Wall Oven
U=Hi L=Hi
11 minutes
Metal Tray
240 Over the Range
U=7 M=3 L=5
17 minutes
Metal Tray
240 Wall Oven
U=7 M=3 L=5
17 minutes
Metal Tray
240 Wall Oven with Convection
U=10 M=0 L=10 C=10
7 minutes
Metal Tray
Chef's Notes:
For those watching their cholesterol intake, use an egg substitute in place of the whole egges called for in the recipe. Cut the calories by eliminating the Raspberry-Orange Sauce. Instead, sprinkle the toast with powdered sugar and fresh raspberries.