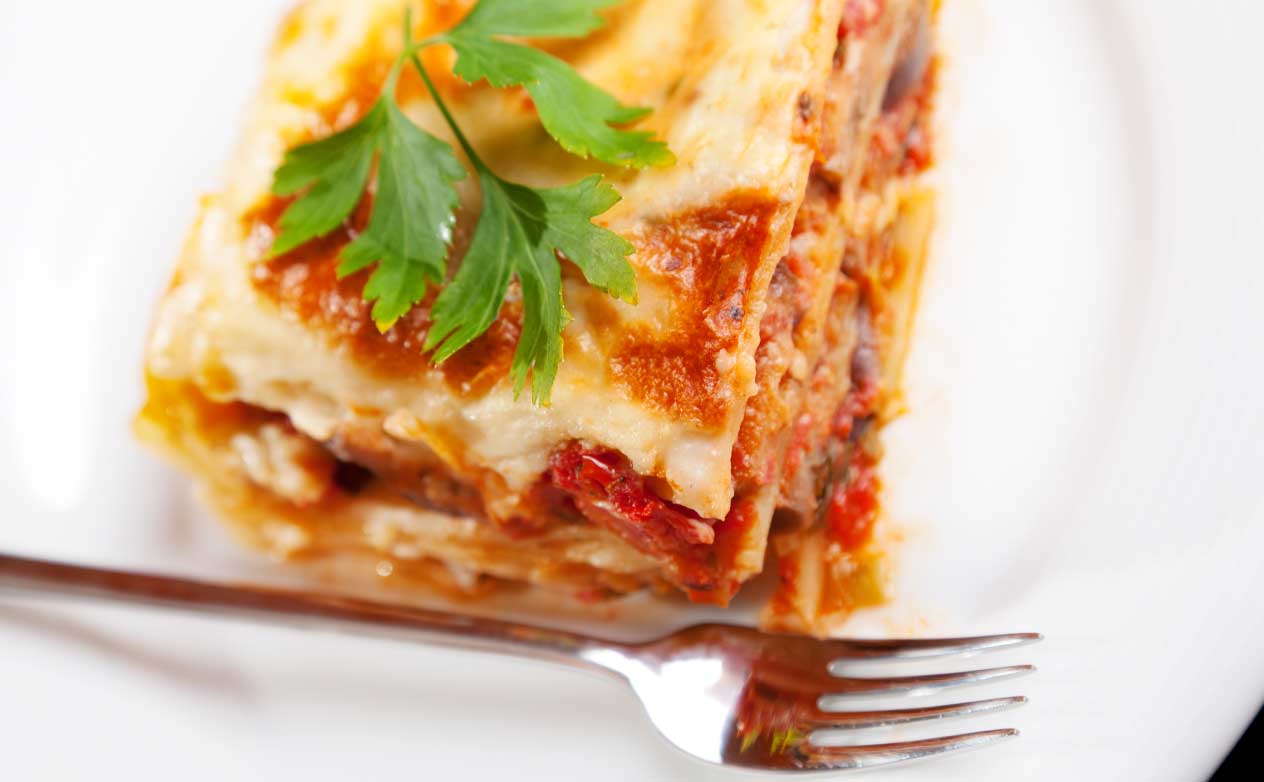 A lasagna so versatile you can whip it up any weeknight or for a romantic candlelit dinner. Filled with creamy ricotta cheese, balanced spices and topped off with shredded mozzarella for a savory meal anytime.
6 Servings
16-28 minutes
Print
Ingredients:
½ pound bulk pork sausage
1 cup sliced fresh mushrooms
½ cup chopped onion
1 clove garlic, minced
2 cups spaghetti sauce
1 teaspoon sugar
1 egg, beaten
1 cup ricotta cheese
½ cup grated Parmesan cheese, divided
6 lasagna noodles, cooked and drained
1 ¼ cups shredded mozzarella cheese
Method:
Cook sausage, mushrooms, onion and garlic until sausage is browned; drain.
Add spaghetti sauce and sugar; blend well.
In a small bowl, combine egg, ricotta cheese and ¼ cup Parmesan cheese; blend well and set aside.
Arrange 3 lasagna noodles in a greased 2-quart oblong or 8-inch square baking dish.
Spread with half of the ricotta cheese mixture.
Spoon half of sauce over cheese.
Sprinkle with half of mozzarella cheese.
Repeat layers of noodles, ricotta cheese mixture and sauce.
Cook for 21 minutes according to your Advantium model's cooking settings.
Top with remaining Parmesan and mozzarella cheeses and continue cooking for 5 to 7 minutes or until bubbly.
Let stand for 10 minutes.
Variations Ground beef or turkey can be substituted for sausage, if desired.
For a creamier cheese layer, try small curd cottage cheese in place of ricotta.
Cooking Settings:
Advantium:
Settings:
Time:
Tray Type:
120 Over the Range
U=Lo L=Lo
28 minutes
Metal Tray
120 Wall Oven
U=Lo L=Lo
26 minutes
Metal Tray
240 Over the Range
U=5 M=5 L=6
17 minutes
Metal Tray
240 Wall Oven
U=5 M=5 L=6
17 minutes
Metal Tray
240 Wall Oven with Convection
U=0 M=7 L=10 C=6
16 minutes
Metal Tray