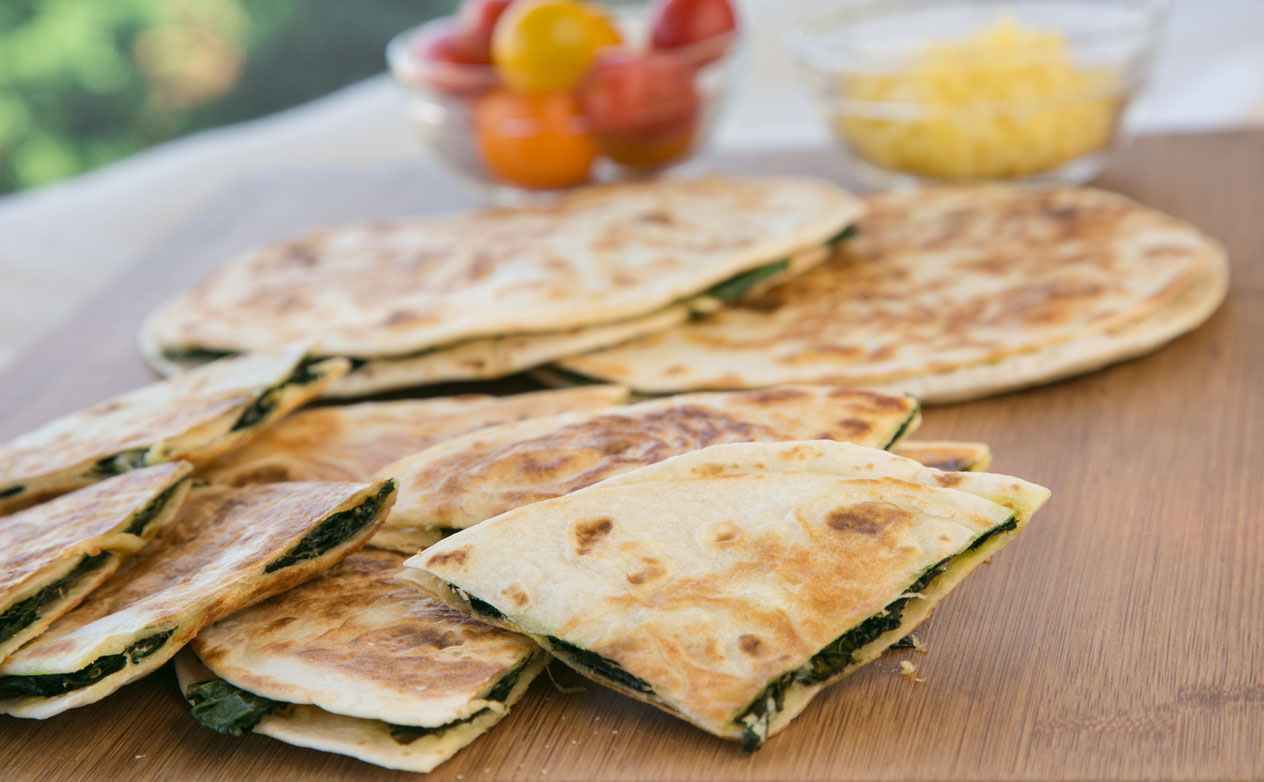 Add a little bit of green to your next quesadilla! This recipe uses sauteed kale in addition to the traditional cheese filling. Try it at your next game day party!
4 Servings
30 Minutes
Print
Ingredients:
2 tablespoons extra-virgin olive oil
1 clove garlic, minced
1 bunch of kale, destemmed and chopped
1/2 teaspoon red pepper flakes
Salt and pepper to taste
Eight 8-inch flour tortillas
6 ounces cheddar cheese, grated
1 teaspoon canola oil
Salsa, guacamole and sour cream, for serving (optional)
Method:
Heat a large skillet over medium-high heat. Add the oil and the garlic. Cook for one minute or until soft. Stir in the kale and cook for 3 to 5 minutes, or until kale is tender. Season with chili flakes, salt and pepper. Set aside to cool.
Divide the cheese in half. Sprinkle half of the cheese on top of 4 tortillas, top with the sauteed kale, then the remaining cheese and tortillas.
Heat oil in a large skillet or griddle over medium-high heat. Place a filled tortilla in the pan and cook the tortilla for about 3 minutes, or until the first side is golden. Carefully flip the quesadilla and cook for another 2 to 3 minutes, or until the second side is golden and the cheese is completely melted.
Remove from the pan and allow to cool for a few minutes before cutting into 4 to 6 pieces. Repeat with the remaining quesadillas, adding more oil as necessary.
Serve with salsa, guacamole and sour cream.
Chef's Notes:
If you're making a large batch of these for a party, they can be kept warm in a 200 degree oven.
Provided By: Amanda F.