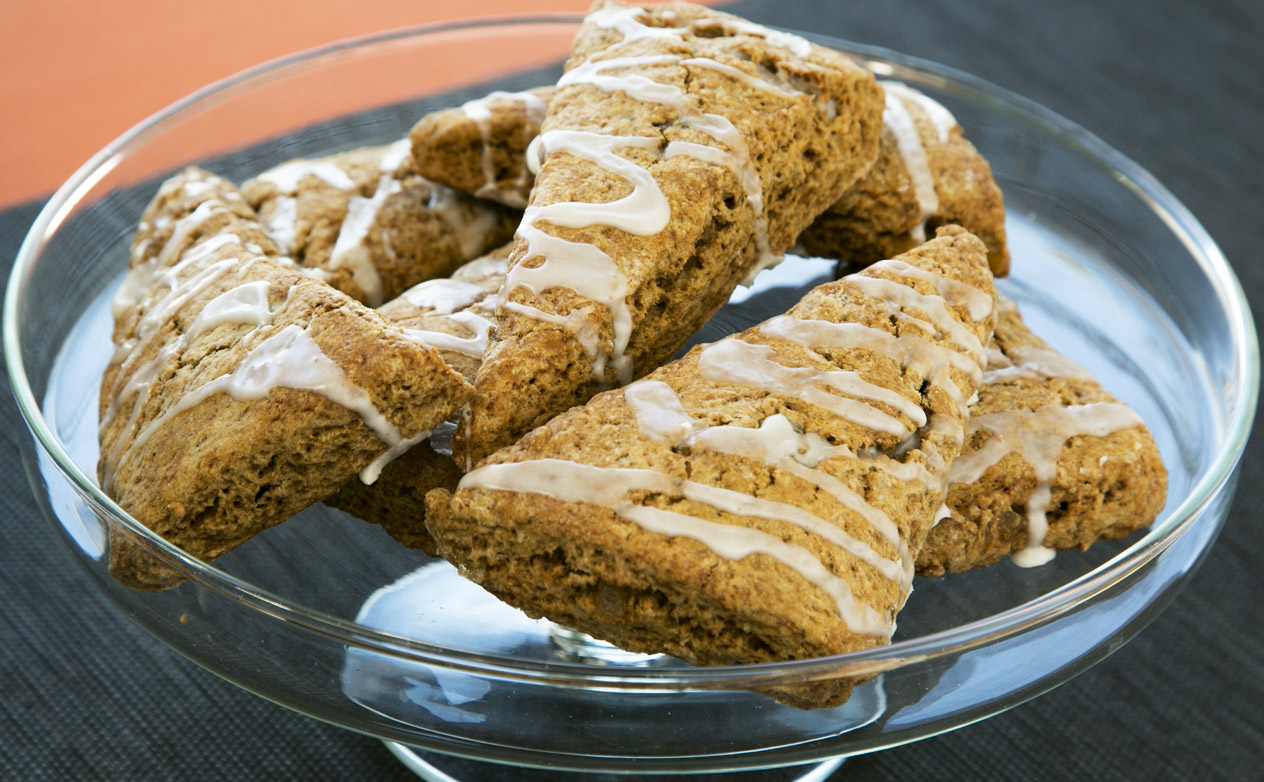 When the weather starts to get colder, it's time for all things pumpkin! These tender scones are packed with spices and topped with a vanilla glaze that adds just the right amount of sweetness. For an extra zap of flavor, add some crystallized ginger!
8 Scones
13 Minutes
Print
Ingredients:
2 cups all-purpose flour
1/3 cup brown sugar, packed
1 teaspoon baking powder
1 teaspoon cinnamon
1/2 teaspoon ground cloves
1 teaspoon ground ginger
1/2 teaspoon ground nutmeg
1/2 teaspoon baking soda
1/4 teaspoon salt
1/2 cup (1 stick) unsalted butter, cut into cubes
1/2 cup pumpkin puree
1 tablespoon molasses
3 tablespoons half and half or whole milk
1 large egg
2 teaspoons vanilla extract
1/3 cup crystallized ginger, chopped (optional)
FOR THE GLAZE
1 cup confectioners' sugar
1-2 tablespoons half and half
1/2 teaspoon vanilla extract
Method:
Preheat oven to 400 degrees F. Line a baking sheet with parchment paper and set aside.
In a large bowl, combine flour, brown sugar, baking powder, cinnamon, cloves, ginger, nutmeg, baking soda and salt with a whisk. Add cold butter; use a pastry blender or your fingers to work the butter into the dry mix until it resembles coarse crumbs.
In a small bowl, whisk together pumpkin puree, molasses, half and half, egg and vanilla; pour over dry ingredients and stir until a soft dough forms. Add the crystallized ginger (if using) and work the dough until it just comes together.
On a lightly floured surface, roll the dough into a 10- by 7-inch rectangle that is about an inch thick. Using a large knife or a pizza cutter, cut the rectangle in half lengthwise, then cut into 2 even pieces crosswise, making four rectangles. Then cut each rectangle into two triangles, making 8 triangles.
Place scones onto prepared baking sheet. Place into oven and bake for 10-12 minutes, or until a tester inserted in the center comes out clean.
To make the glaze, combine confectioners' sugar, half and half, and vanilla. Whisk until smooth and set aside.
When the scones are done, cool for 10 minutes then drizzle the tops with the glaze. A pastry bag makes this task a lot easier.
Allow glaze to set before serving.
Chef's Notes:
These scones are best served the day they're made, which shouldn't be a problem. They tend to disappear fast!
Provided By: Amanda F.