These delicious mini frittatas with bacon and cheese bake up so quickly and easily in the oven. And, they're portable if your family needs to eat breakfast on the go.
12 Frittatas
Print
Ingredients:
6 slices thick-cut bacon, cut in half crosswise
2 tablespoons unsalted butter
1 large waxy potato, such as white, red or Yukon Gold, peeled, quartered and thinly sliced
1 onion, quartered and very thinly sliced
1/2 teaspoon dried thyme, oregano or basil or 1 teaspoon chopped fresh thyme, oregano or basil
Kosher or coarse salt and freshly ground black pepper
10 large eggs
1/4 cup coarsely chopped fresh chives, Italian parsley or basil (optional)
1/2 cup shredded or crumbled cheese, such as cheddar, provolone, Monterrey Jack, mozzarella, feta, Parmesan or goat cheese
Method:
1. Set the metal nonstick dish in place in the Advantium (see Note). Set the controls to Convection Bake/350 degrees F. Lay out the bacon strips on a wire rack and set the rack into a baking sheet small enough to fit in the oven. (If you don't have a rack, just lay out the bacon strips right on the sheet). Bake until the edges of the bacon just start to brown but the pieces are quite pliable, about 10 minutes. Use the half-strips of bacon to line the sides and part of the bottom of the wells in a regular size 12-muffin tin. Reduce the oven temperature to 325 degrees F.
2. Melt the butter over medium heat in a medium-sized skillet. Add the potato, onion, and the 1/2 teaspoon of dried thyme, oregano or basil, if using, and season with salt and pepper to taste. Cover the skillet and cook the potato and onion until they are beginning to become tender, about 10 minutes, stirring occasionally. Reduce the heat if it seems like the vegetables are starting to burn. Uncover the skillet and cook the vegetables until they are tender and turning golden, about 4 minutes longer.
3. Meanwhile, beat the eggs and the fresh herbs together in a medium size bowl until well blended. Season the egg mixture with salt and pepper to taste. When the vegetables are ready, transfer them to the bowl with the whisked egg mixture; stir to combine. Fill the cups of the muffin tin about 2/3 full with the frittata mixture. Top with the cheese. Bake in the preheated oven until cooked through, 10 to 15 minutes. Cool on a wire rack for about 10 minutes, then run a knife around the edges of the frittatas to loosen them. Lift the frittatas from the muffin tins and serve warm.
Chef's Notes:
Note: If you don't have an Advantium oven you can cook the bacon strips in a pan over medium heat, turning occasionally, until the edges start to brown but the bacon is pliable, about 5 minutes.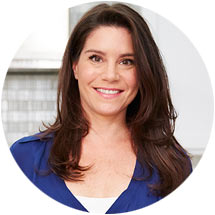 Recipe provided by:
Katie Workman
Get more recipes from Katie at