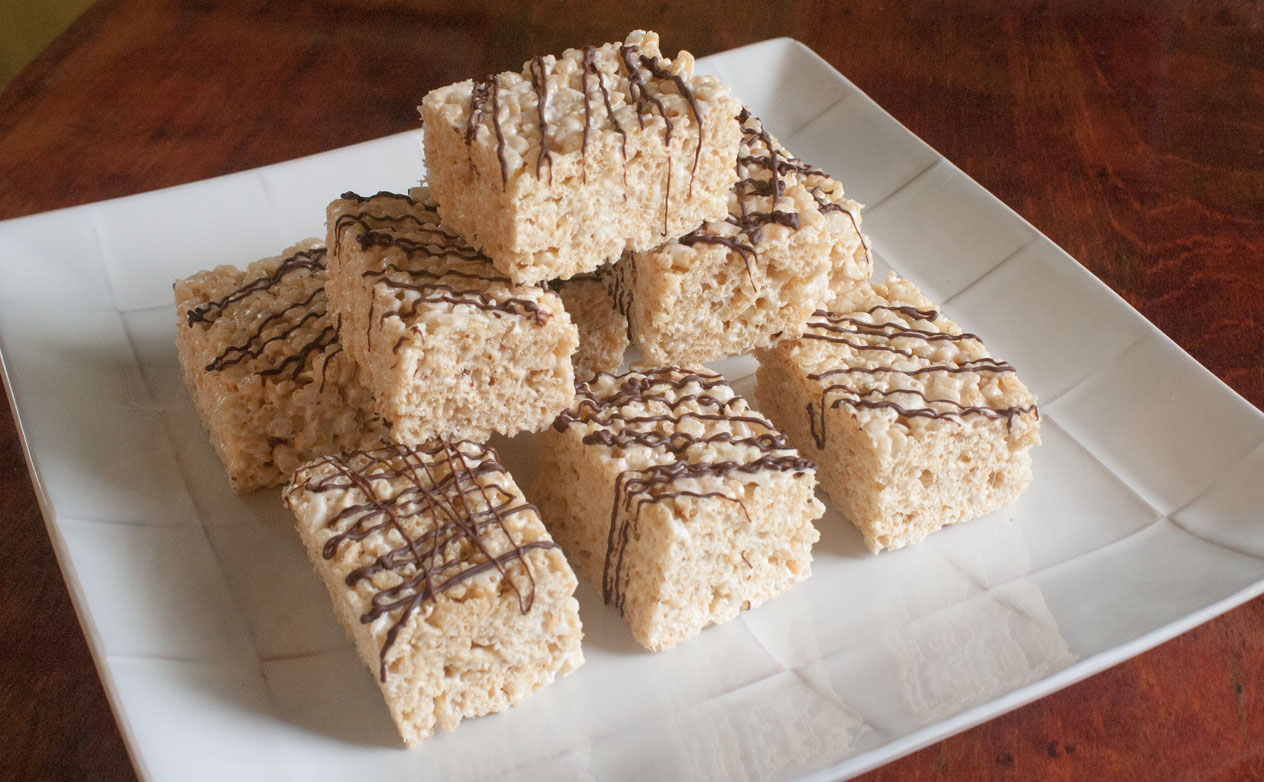 A childhood favorite with a grownup twist, marshmallow crispy rice squares have the flavor turned up with the addition of browned butter and a dark chocolate drizzle on top. Kids and adults will love this treat!
16 2 inch Squares
20 Minutes
Print
Ingredients:
1 stick unsalted butter, plus extra for greasing the pan
1 10-ounce bag marshmallows
1/4 teaspoon coarse sea salt
6 cups crispy rice cereal
1 cup semi-sweet chocolate chips
Method:
Grease an 8-inch square cake pan with butter or non-stick spray.
In a large pot, melt butter over medium-low heat. Allow the butter to melt slowly and brown. Stir frequently with a wooden spoon or heat-proof spatula. The butter will get foamy, then turn clear, then begin to brown. It should be an even brown color and smell nutty when it's ready. Be careful that it doesn't burn.
As soon as the butter has browned, turn the heat off and stir in the marshmallows. Stir until they are smoothly melted into the butter.
Remove the pot from the stove and stir in the salt and cereal. Mix thoroughly and then quickly spread into prepared pan. A silicon spatula is a great tool to press the sticky mixture into the pan.
Let cool for 10-15 minutes. While treats are cooling, melt your chocolate chips in the microwave. Place chips in microwave-safe bowl. Cook on 50% power for 1 minute, stir. Continue cooking in 30 second intervals, stirring between each interval, until the chocolate is melted. Pour melted chocolate into a zip-top bag. Snip one of the corners of the bag. Drizzle the melted chocolate over the squares. Allow the chocolate to set then cut into squares.
Chef's Notes:
These treats are best served on the day they're made. They tend to disappear fast, so it shouldn't be an issue.
Provided By: Amanda F.