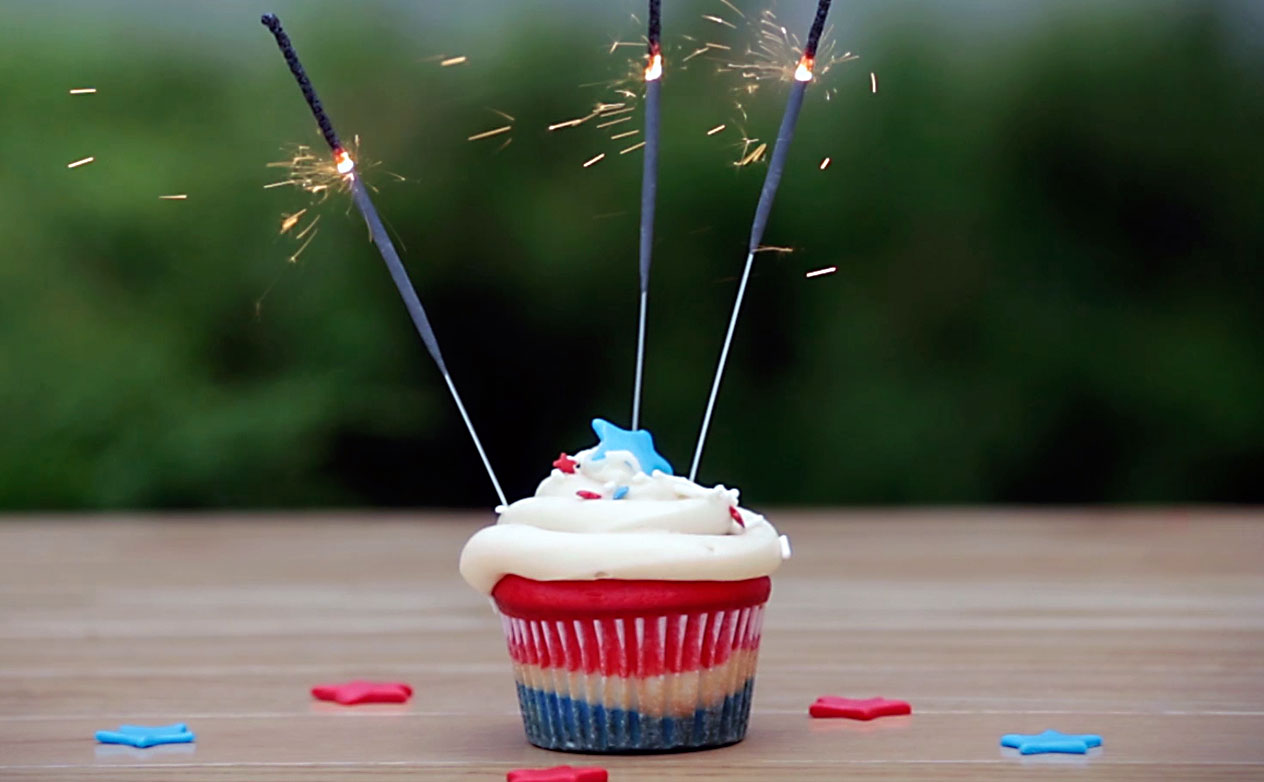 Wow guests at your next 4th of July or Memorial Day party. These cupcakes start with a simple box cake mix, which makes it easy for everyone.
36 Cupcakes
20 Minutes
Print
Ingredients:
1 box white cake mix
1 cup all-purpose flour
1 cup granulated sugar
3/4 teaspoon salt
4 egg whites
1 1/3 cups water
2 tablespoons vegetable oil
1 cup sour cream
1 teaspoon vanilla extract
1 teaspoon almond extract
Red gel food coloring
Blue gel food coloring
Cream cheese icing
8 ounces cream cheese, room temperature
8 ounces butter, room temperature
4 cups powdered sugar
1 teaspoon vanilla extract
Method:
For the cupcakes, mix all dry ingredients with a whisk and then add wet ingredients. Beat for 2 minutes until fluffy.
Divide the cupcake batter evenly into 3 bowls. Use the blue and red food coloring to dye the cupcake batter bright red and blue.
Line a cupcake pan with paper liners. Layer approximately 2 teaspoons of blue batter into the bottom of each cupcake liner. Follow with 2 teaspoons of white batter and finish with 2 teaspoons of red batter. The cupcake should be about 3/4 of the way full. Bake according to box directions for cupcakes.
While cupcakes are baking, make the cream cheese icing. In a large bowl, beat together the butter and cream cheese with an electric mixer. Add the vanilla extract and mix well. With the mixer on low speed, add the powdered sugar and beat until smooth and creamy.
After cupcakes have cooled, pipe on the cream cheese icing with a pastry bag or large zippered freezer bag fitted with a large pastry tip. Top with decorative sprinkles.
Provided By: Amanda F.