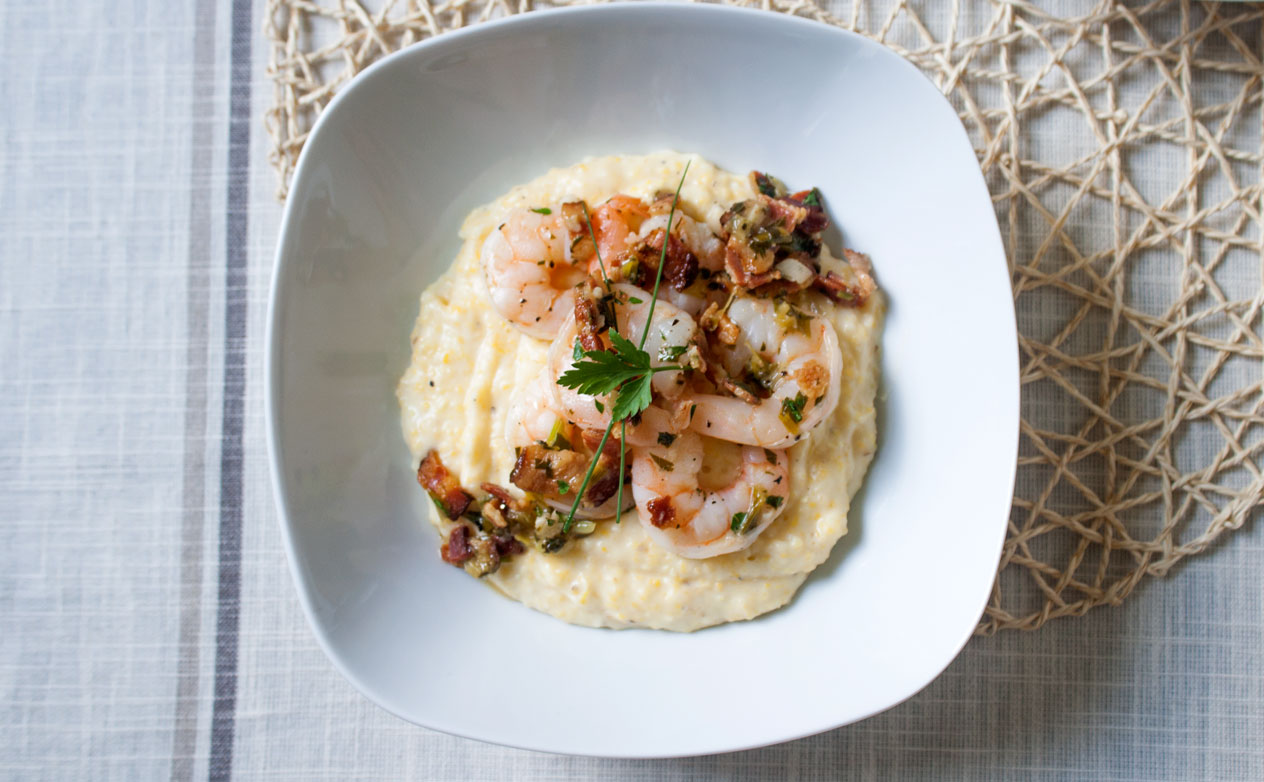 A southern favorite for a reason, shrimp and grits are a perfect pair. Creamy and cheesy grits combine beautifully with crispy bacon and succulent shrimp. Try this and we're sure it will become a favorite family recipe in no time.
4 Servings
30 Minutes
Print
Ingredients:
Grits:
4 cups water
1/8 teaspoon baking soda
Salt and pepper
1 cup stone-ground grits (not instant)
3 tablespoons butter
2 cups sharp cheddar cheese, shredded
1/4 cup cream cheese, room temperature
Shrimp:
1 pound shrimp, peeled and deveined
6 slices bacon, chopped
4 teaspoons lemon juice
2 tablespoons parsley, chopped
1 cup green onions, thinly sliced
2 cloves garlic, minced
1 tablespoon butter
Method:
Bring water to a boil and add salt and baking soda. Add grits and cook on low heat until water is absorbed, stirring occasionally, about 20 minutes. Remove from heat and stir in butter, shredded cheddar and cream cheese and pepper.
While the grits are cooking, prepare the shrimp. Rinse the shrimp and pat dry. Fry bacon in a large skillet until crispy, then remove and set aside. Pour off most of the bacon grease, reserving about 2 tablespoons. Add shrimp to the reserved pan and cook over medium heat until the shrimp turn pink and opaque, about 3 minutes. Flip the shrimp and cook an additional 2 minutes or until shrimp are pink and opaque. Add lemon juice, parsley, green onions, garlic and butter. Saute together for 2-3 minutes. Add reserved bacon and mix well.
Spoon grits into a serving bowl and top with the shrimp mixture. Serve immediately.
Chef's Notes:
This recipe calls for either yellow or white stone-ground grits. Stone-ground grits are whole grain and retain the germ and all of its nutrients. They have a longer cooking time compared to quick-cooking or instant grits. The texture and flavor of stone-ground grits are superior to instant grits. You can find stone-ground grits in many grocery stores or online.
Provided By: Amanda F.