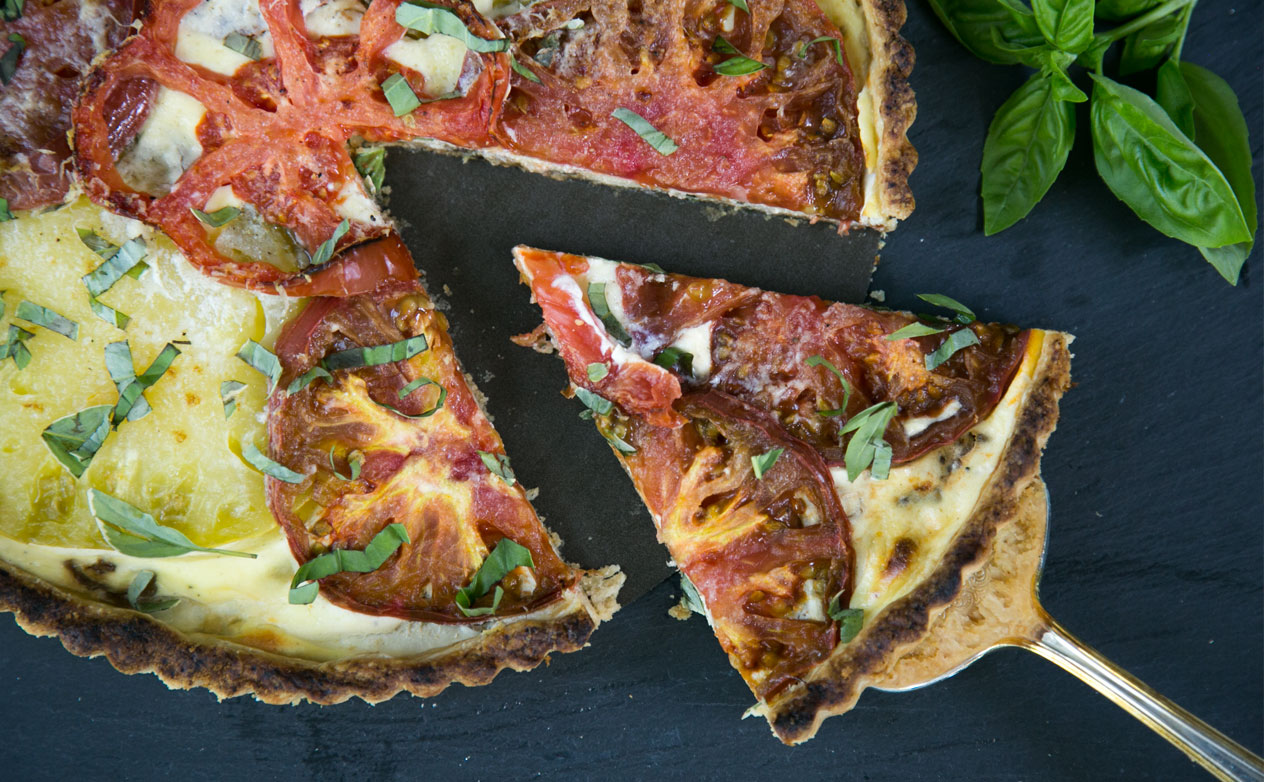 This simple tart is easy enough for a weeknight but impressive enough to serve at a party. The flavors of caramelized shallots, creamy goat cheese and tangy tomatoes are perfect together.
4-6 Servings
15 Minutes
Print
Ingredients:
1 (9-inch) prepared pie dough, thawed if frozen
3 tablespoons olive oil
2 shallots, very thinly sliced
8 ounces goat cheese, room temperature
2 eggs
1 pound heirloom tomatoes, thinly sliced
1/4 cup parmesan cheese, shredded
1/4 cup fresh basil leaves, sliced
Method:
Preheat oven to 375 degrees F.
Roll out dough on a lightly-floured surface into an 11-inch circle. Carefully place dough in tart pan. Fold over excess dough and press against side of pan to reinforce the edge. Lightly prick bottom and sides with a fork.
Line pie crust with foil or parchment and fill with pie weights (dry beans or rice work will work if you don't have pie weights). Bake in middle of oven until pastry is pale golden around rim, about 15 minutes. Carefully remove weights and parchment. Bake until golden, 8 to 10 minutes more. Cool in pan on a rack.
While tart shell is baking, heat 2 tablespoons oil in a 12-inch heavy skillet over moderate heat. Add the shallots and cook, stirring frequently, until shallots are caramelized and a deep brown color (about 20 to 25 minutes).
In a medium bowl, combine goat cheese and eggs. Mix until combined. Season with salt and pepper. Spread shallots over bottom of tart shell. Spread goat cheese mixture evenly over the shallots. Arrange tomatoes on top, slightly overlapping, Sprinkle with parmesan cheese, salt and pepper to taste and drizzle with remaining tablespoon oil.
Put tart pan on a baking sheet and bake for 15 minutes. After 15 minutes, turn the broiler on to low and cook for an additional 2-3 minutes to brown the top. Remove the tart from the oven and allow to cool for 10 minutes, then top with chopped basil. Tart can be served warm or at room temperature.
Chef's Notes:
Heirloom tomatoes are grown from seeds that have been passed down from generation to generation. Compared to conventional tomatoes they have a richer flavor, and more varieties of colors and shapes. When purchasing heirlooms don't skip the ones that look misshapen or have cracked skins; as long as they aren't leaking juice, they're fine. Choose tomatoes that feel heavy for their size.
Provided By: Amanda F.