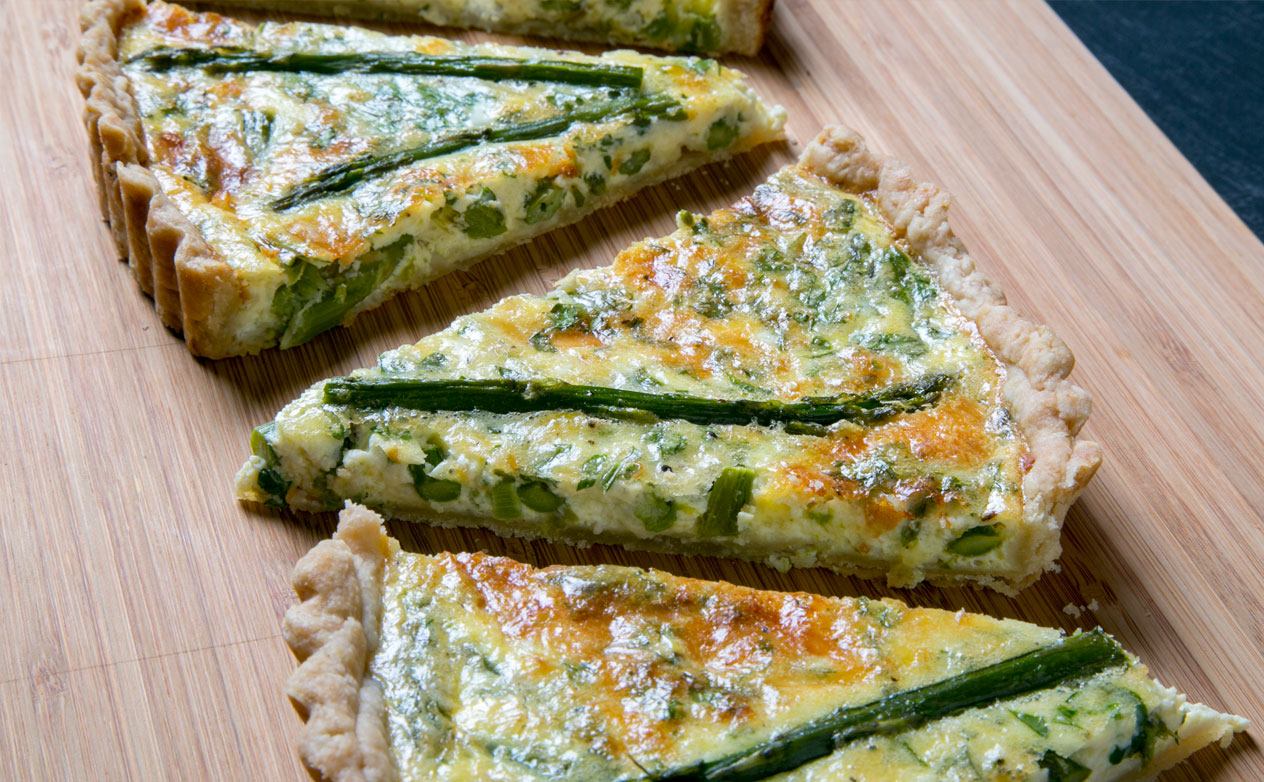 Asparagus is at its best in the spring. Showcase this great spring vegetable in an easy and beautiful quiche.
6 Servings
30 Minutes
Print
Ingredients:
1 9-inch pie crust, store-bought or homemade
1 pound asparagus
1 tablespoon olive oil
3 large eggs
1 1/2 cups heavy cream
1/4 cup fresh parsley, chopped
1/2 teaspoon salt
1/2 teaspoon pepper
7 to 8 stalks asparagus, bottoms trimmed
1/2 cup grated Gruyere
Method:
Prebake the crust:
Preheat the oven to 425 degrees F.
Line a 9-inch pie dish or tart pan with pie dough. Prick dough several times with a fork. Cover with aluminum foil or parchment paper and fill with pie weights (dry rice or beans work too). Bake for 7 to 8 minutes, until the pie shell begins to feel firm. Remove from oven and set aside.
Roast the asparagus:
Break off and discard woody ends of asparagus and place asparagus on a baking sheet. Drizzle with olive oil, add salt and pepper to taste.
Roast in the oven for 8-10 minutes, or until tender and lightly browned in spots, turning halfway through.
Remove asparagus from the oven and allow to cool until you can handle. Reserve 6 asparagus spears for decorating the top of the quiche. Slice the rest into 1/2 to 3/4-inch pieces and place in a medium bowl.
Prepare the filling:
Mix together eggs, heavy cream, parsley, salt and white pepper in a medium size bowl.
Place the chopped asparagus in the bottom of the quiche pan. Pour the egg mixture over the asparagus. Sprinkle with Gruyere cheese. Arrange the reserved asparagus spears on the top like the spokes of a wheel. Bake for about 30 minutes, until puffed and brown. Serve hot or at room temperature.
Provided By: Amanda F.