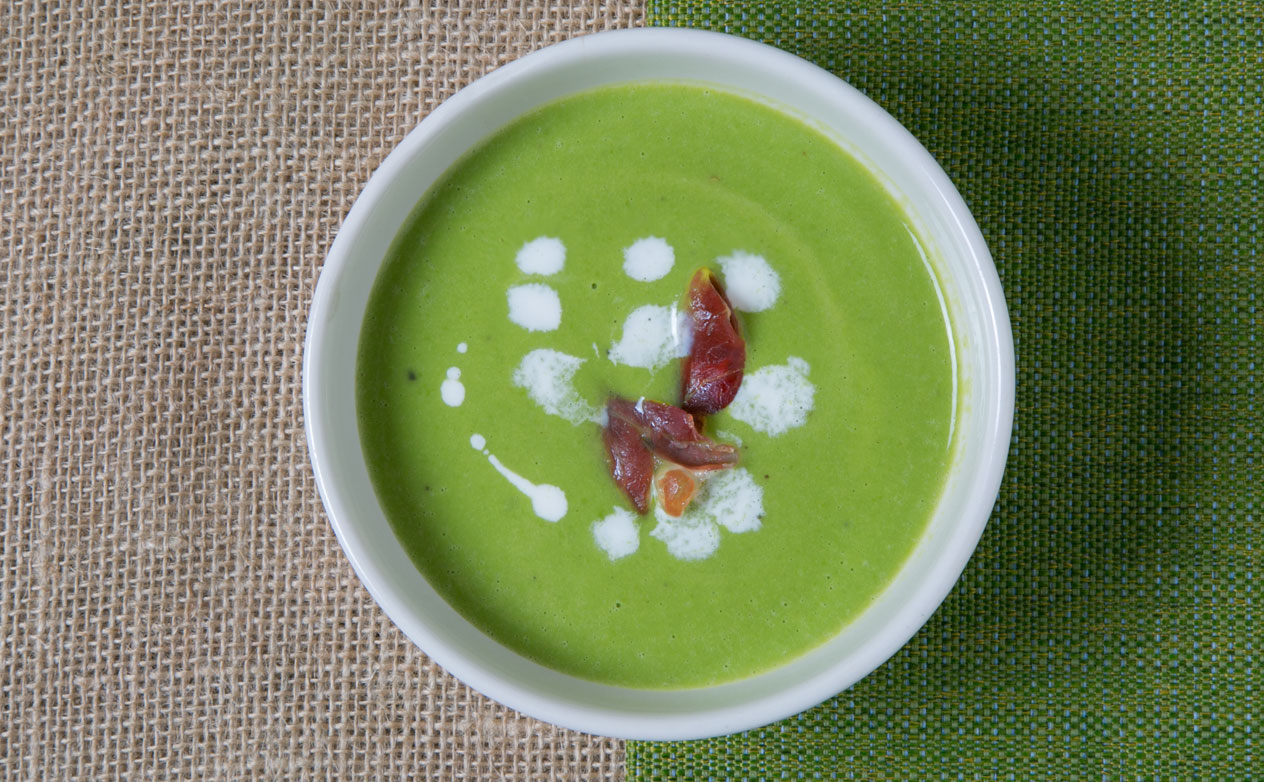 This refreshing soup is perfect for early spring when everyone craves light, fresh flavors. Use fresh peas if you can find them!
6 Servings
15 Minutes
Print
Ingredients:
3 tablespoons olive oil
1/2 cup shallots, chopped (2 large shallots)
1 tablespoon garlic, minced (3 cloves)
4 cups chicken stock
2 pounds frozen peas
2 ounces goat cheese
1/4 cup half and half
Fresh lemon juice (optional)
Kosher salt and freshly ground black pepper
6 slices prosciutto
Method:
Pea Soup:
In a large pot, heat 2 tablespoons of olive oil over medium heat. Add the shallots and cook for 3 to 5 minutes, stirring occasionally, until tender and lightly browned. Add the garlic and cook for 1 additional minute. Add the chicken stock, frozen peas, 2 teaspoons salt and 1 teaspoon pepper, and bring to a boil. Lower the heat and simmer for 5 minutes.
Using a blender, puree the soup in batches. Add the goat cheese and half and half to the last batch of soup that you puree. Pour all the soup back into the pot, add a squeeze of fresh lemon juice and more salt and pepper to taste.
Crispy Prosciutto:
Preheat the oven to 425 degrees. Place the ham in a single layer on a sheet pan and roast for 5 to 8 minutes, until crisp.
Serve the soup with crumbled bits of prosciutto on top and a drizzle of olive oil.
Provided By: Amanda F.