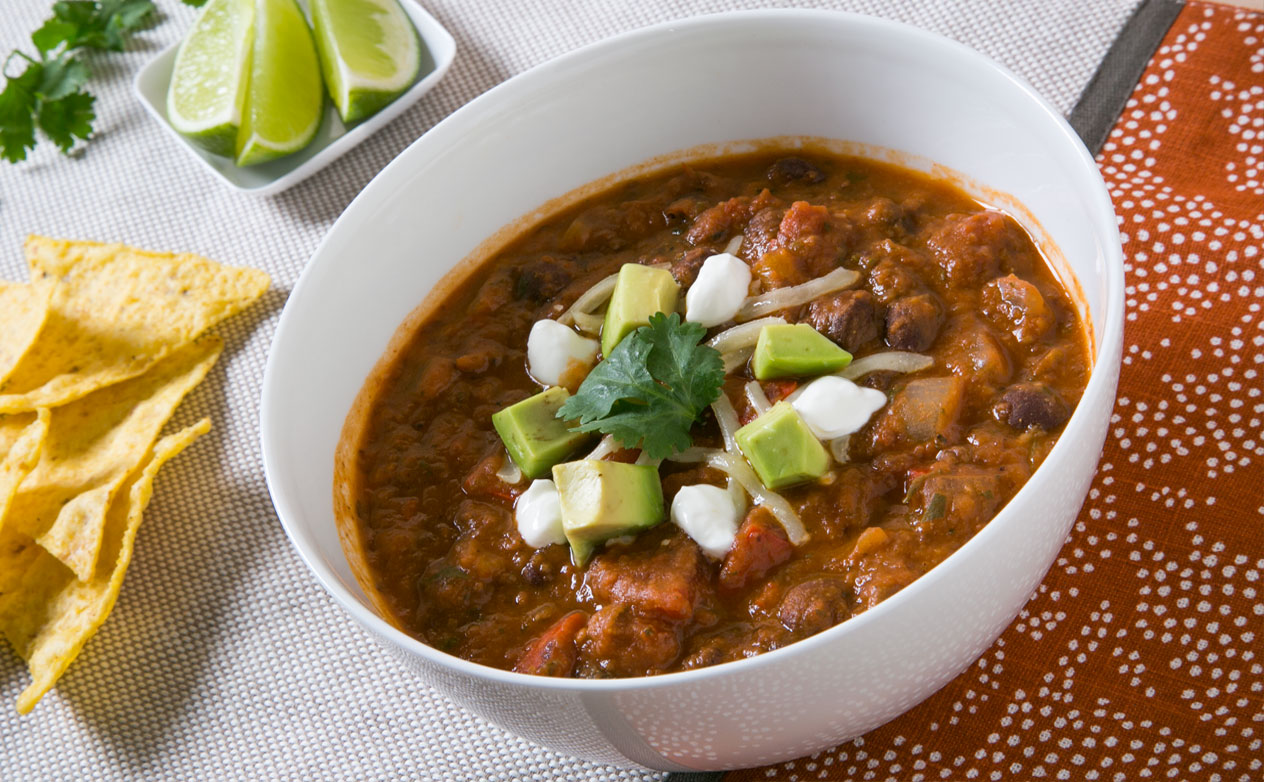 What is so great about this soup? Well, it's vegan, super filling, full of veggies, and costs next to nothing. When it's time to serve, go wild with the toppings! We like avocado and shredded cheese.
10 Servings
40 Minutes
Print
Ingredients:
1 tablespoon vegetable oil
1 1/2 cups onions, chopped
1large red bell pepper, chopped
3 cloves garlic, minced and rubbed into a paste
salt
1 jalapeno pepper, minced
2 teaspoons cumin
1 teaspoon smoked paprika
1 cup water
2 cans (15 ounces) chopped tomatoes
2 teaspoons dried oregano
2 cans (15 ounces) black beans, drained and rinsed
2 tablespoons lime juice
1/2 cup chopped cilantro
Garnishes: chopped cilantro, lime wedges, shredded cheese, avocados, sour cream
Method:
In a large pot, heat the oil over medium heat. Add the onions, lower the heat to medium-low, and cook the onions until they are soft and translucent, about 8 minutes.
When onions are soft, add the red pepper and jalepeno; continue cooking for about 5 minutes. Then add the garlic and stir until fragrant, about a minute. Stir in the cumin and smoked paprika. Cook for an additional minute, then add the water and the tomatoes. Add the dried oregano and raise the heat to medium. Bring mixture to a boil, then reduce heat and simmer, partially covered, for about 5 minutes.
After 5 minutes, add the beans to the pot and continue to simmer, covered, for about 15 minutes. Remove about 2 cups of the soup and puree it in a blender. Add the pureed soup back to the pot. Add lime juice and cilantro. Taste for salt and keep the soup on low heat until ready to serve.
Serve with desired garnishes.
Provided By: Amanda F.