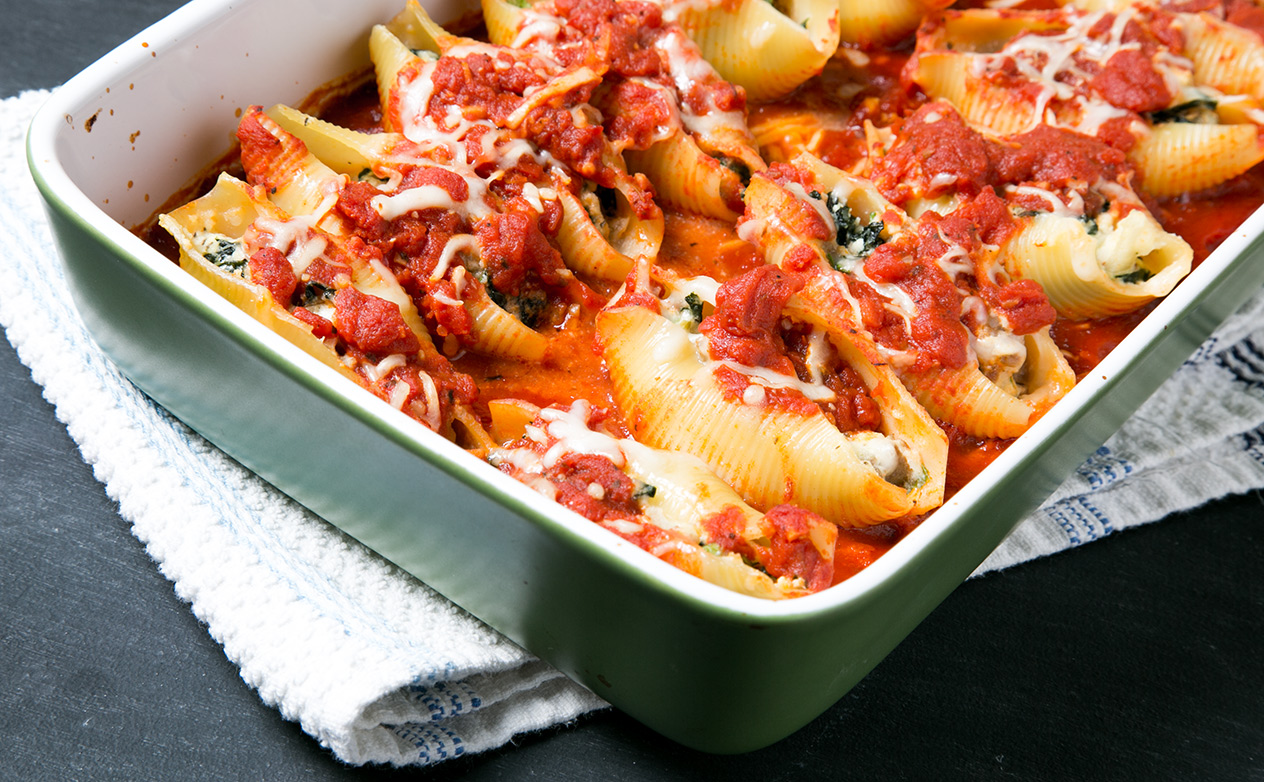 A hearty and delicious meal your family will eat any night of the week! We upped the nutrition on this classic Italian dish by adding leafy green kale to the traditional sausage and ricotta cheese filling.
8-10 Servings
30 Minutes
Print
Ingredients:
12 ounce box jumbo pasta shells
1 tablespoon olive oil
1 pound Italian sausage, bulk or links with casing removed
1 heavy pinch red pepper flakes
1/2 medium yellow onion, diced
1 bunch kale, roughly chopped (preferably Lacinato or Tuscan Kale)
2 cloves garlic, minced
15 ounces ricotta cheese
1 large egg
1 teaspoon dried oregano
1 teaspoon dried basil
1/2 cup Parmesan cheese, grated
1/2 cup Italian parsley, finely chopped
Freshly cracked pepper
Pinch kosher salt
6-7 cups marinara
1 cup mozzarella cheese, shredded
Method:
In a medium non-stick skillet, heat 1 tablespoon of olive oil over medium high heat. Add Italian sausage and red pepper flakes; cook sausage, breaking up with a wooden spoon, about 4-5 minutes. Add onion and saute with the sausage until translucent, 2-3 minutes. Add chopped kale and continue to cook until kale softens, another 3-4 minutes. Add in minced garlic and cook for another 2 minutes, making sure not to brown garlic. Turn off heat and let sausage and kale mixture cool.
While your sausage mixture cools, cook pasta shells according to package instructions. Drain noodles, and lay shells on a baking sheet lined with paper towels. Set aside to cool.
In a large bowl mix ricotta, egg, oregano, basil, Parmesan cheese and Italian parsley. Stir in sausage and kale mixture. Season with freshly cracked pepper and a pinch of kosher salt, stir to combine.
Preheat oven to 375 degrees F.
Cover the bottom of a 13 x9 baking dish with 2-3 cups marinara. Fill each shell with 1 1/2 tablespoons of the sausage kale mixture. Layer shells in the prepared baking dish and pour remaining marinara on top, making sure to cover each shell. Sprinkle the top with mozzarella, cover baking dish with aluminum foil bake for 30 minutes.
Take off aluminum foil and cook for another 5-10 minutes until cheese is lightly browned and sauce is bubbling.
Chef's Notes:
For a week where you need to get dinner on the table for your family fast, simply divide the recipe into two smaller baking dishes and place one in the freezer before baking. When ready, remove the pan from the freezer and bake for 45 - 50 minutes at 375 degrees F.